A proposed change to the Madison School Board's policy governing public testimony would reduce the time limit individuals have at the podium when more than 20 people intend to speak.
Currently, speakers are given up to three minutes to speak at School Board meetings, work groups and committee meetings when a public hearing is noticed. The revised policy would still allow people three minutes, unless more than 20 people have registered to speak. In that case, each person would be granted two minutes.
Those requiring an interpreter are allowed six minutes to speak, so the proposal would grant them four minutes at the microphone if more than 20 people are registered.
"I don't think we should be putting (more) limits on it," School Board member TJ Mertz said of public testimony.
Dan Rossmiller, director of government relations for the Wisconsin Association of School Boards, said boards are under no legal obligation to have public testimony periods.
If they decide to allow public comments, Rossmiller said, limitations on time or whether someone can speak on an issue not on the board's agenda "are quite common."
But school boards cannot discriminate against speakers with certain viewpoints, Rossmiller said.
The Madison City Council has a three-minute time limit for people providing public comment.
Mertz called the Madison School Board proposal a "reasonable version of a bad idea," adding that he believes other possible changes, such as barring speakers at regular School Board meetings from commenting on items that are not on the agenda or designating a set block of time for public speaking, would be worse.
In an Oct. 18 memo to the School Board, Madison School District attorney Matthew Bell said the revisions are meant to give the public "ample opportunity" to speak "while also allowing the board to complete the action items set forth on any given agenda in a timely manner."
Neither Bell nor School Board President Mary Burke returned calls for comment Thursday.
Mertz said he does not know who requested the proposal be drafted. The memo by Bell says only that "the board requested suggestions regarding revisions" to the public testimony policy.
There is currently a provision in the School Board's public hearing policy, known as Policy 1222, that allows the board or a schools committee, by a majority vote, to put further limitations on public speaking.
"We have that tool if somebody wanted to invoke it," Mertz said.
He said he sees the proposal as a product of recent long public hearings, particularly involving the future of a contract with the Madison Police Department that puts armed, uniformed police officers, known as educational resource officers (EROs), in high schools, which has drawn passionate testimony.
Mertz said he thinks that "regardless of what the topics were, it's the length not the content," of public testimony that is driving the proposal.
At the School Board's Sept. 24 meeting, 34 people registered to speak, largely in regard to EROs, during a public testimony period that took about 1½ hours of the 2½-hour meeting.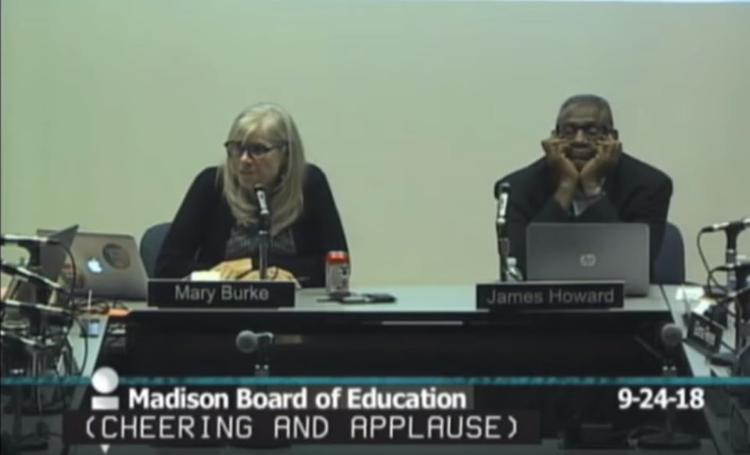 On Monday, the School Board had planned a special workshop meeting, which was not to include public testimony, to discuss the proposal, but it was canceled at the request of Mertz, he said.
"I think the whole idea of contemplating a change in public testimony without having public testimony at that meeting is absurd," Mertz said.
Mertz said he advocated for the meeting to be canceled because he did not believe it conformed to the board's policy that governs the revision of board policies.