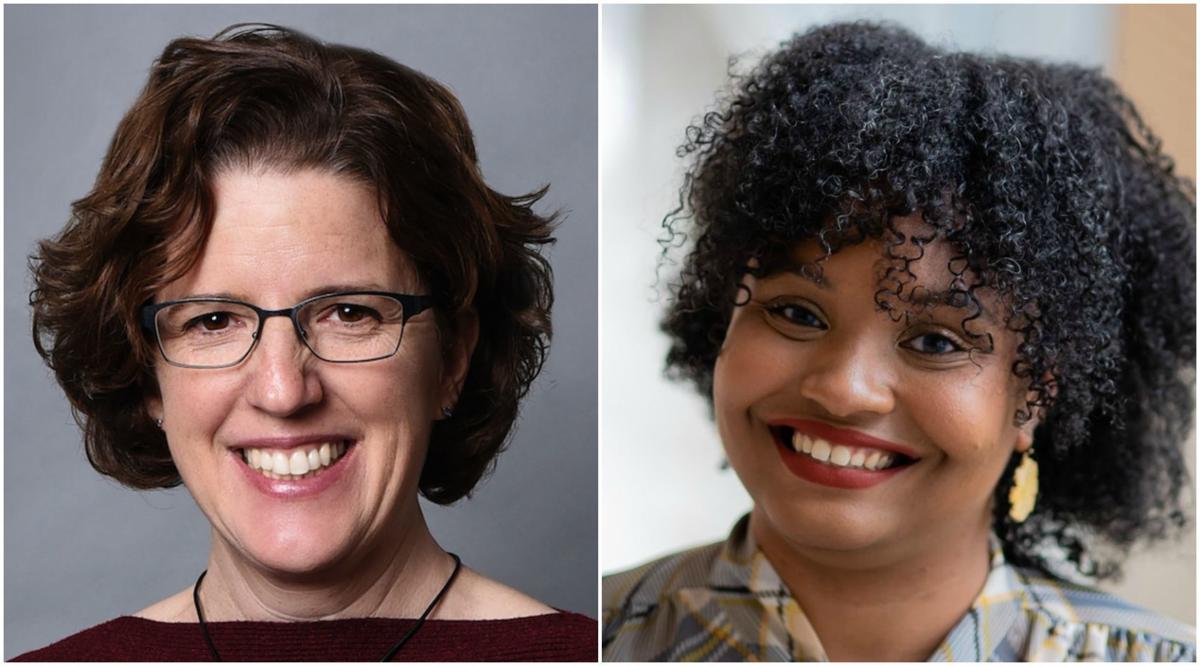 Christina Gomez Schmidt and Maia Pearson both point to their respective experiences with the Madison School District as what sets them apart from the other in a contest for an open Madison School Board seat.
Pearson, a state Department of Revenue agent, said her three children currently attending Madison schools are the third generation of her family to be in the city's public school system, giving her insight on the challenges families, particularly African Americans, face in the district.
"All of these generations of children being raised in Madison schools definitely informs my decision of why I am running," Pearson said.
Gomez Schmidt, the director of enrichment for Galin Education, where she develops after-school and summer classes for middle and high school students, said a decade of serving on a School District advisory committee for advanced learning has given her experience developing a district-wide plan for talented and gifted students as well as figuring out ways how to implement it at the school level.
"I feel that knowledge will enable me to get right to work making positive change happen, supporting teachers and staff, and improving academic achievement," she said.
Gomez Schmidt and Pearson are vying for the Seat 6 position on the School Board, which is being vacated by Kate Toews, who decided not to seek reelection. The two emerged from a three-way primary in February to advance to the April 7 spring election.
The term is for three years.
Gomez Schmidt, 48, said her priorities include seeking a new, research-based reading curriculum for elementary students, building trust in the district with families, improving accountability and transparency, and effectively managing the budget.
The 32-year-old Pearson wants to focus on finding a path to full-day, 4-year-old kindergarten, giving teachers more autonomy over curriculum, bolstering partnerships with governments and nonprofits, and ensuring school safety, while expanding the concept beyond physical safety to also include student and staff emotional and mental safety.
Gomez Schmidt has the backing of current Seat 6 holder Toews and recent former board members Mary Burke, James Howard and Dean Loumos.
Madison Teachers Inc. has endorsed Pearson in the race. She is also being supported by current board members Savion Castro, Ananda Mirilli and Ali Muldrow.
Weighing in on issues
Whoever wins the open seat in April may have a say on whether to drop a high school from a school-based police officer program.
Last year, the School Board approved continuing a contentious program to station school resource officers, or SROs, at each of the four main high schools. The three-year contract, though, includes a June 10 deadline for the School Board to drop one of the four high schools from having an officer at the start of the 2021 calendar year.
Gomez Schmidt said she would not support a reduction. She views the officers as relationship-builders and better suited to de-escalating conflicts in a school than an outside officer unfamiliar with students or the building.
Pearson said she's unsure how she would vote if the reduction clause comes before the board.
"I've had positive experiences with SROs, but also my family's had negative experiences," she said. "I definitely see all sides of the issue."
On what the district's biggest personnel challenge is, Pearson said it's low staff morale.
To raise morale, she said teachers should be given more freedom in the classroom and provided with more support staff, such as counselors and special education assistants, freeing up more time to teach.
In addition to offering good pay and health insurance, she said teachers can be retained by "recognizing the professionalism of teachers and involving them in the decision-making that happens at the district-level."
Both candidates say the long-standing, racial achievement gap is influenced by factors outside of the district's control, such as a lack of affordable housing, disparities in the criminal justice system and varying access to health care.
Pearson views full-day 4K and incorporating other cultures into classroom curriculum — "outside of one month" — as strategies to close the gap.
Gomez Schmidt sees a new reading curriculum for kindergarten through fifth grade as crucial in improving outcomes, along with "relevant and rigorous" coursework at the middle and high school levels.
When new Superintendent Matthew Gutierrez starts the job June 1, Pearson would like him to prioritize expanding 4-year-old kindergarten to full day.
"I feel really strongly about that," Pearson said, adding she had difficulty arranging transportation for her children between day care and the district's part-time, preschool program.
Gomez Schmidt said she was encouraged when he visited Madison earlier this month and said he wants to focus on unifying the community and providing rigorous academic opportunities to students.
"I will be interested in working with him on his transition into the district and really figuring out what the goals are going to be and the metrics that we're going to use to determine success and progress and holding him accountable for how we're going to make that happen," she said.
Be the first to know
Get local news delivered to your inbox!