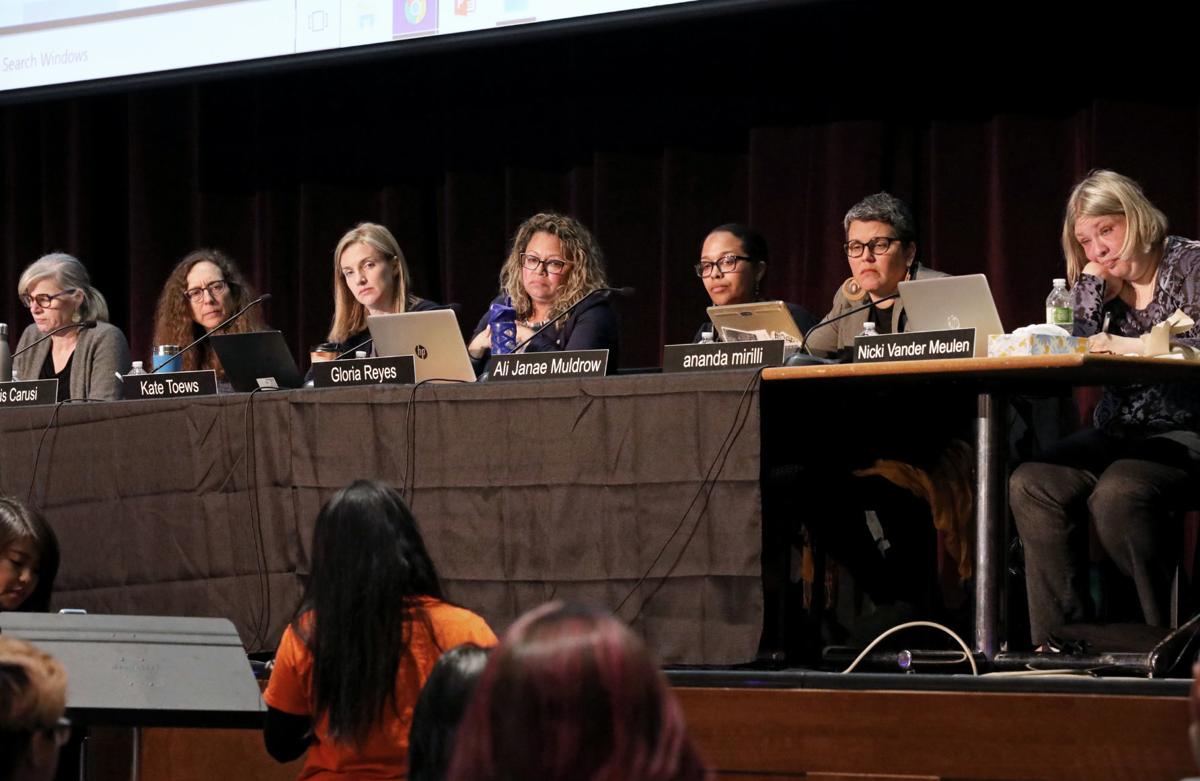 Despite concerns from some about segregating students with disabilities, the Madison School Board on Monday narrowly approved the $4 million purchase of a South Side building to house some of the district's special education programs, with some conditions.
The board voted 4-3 to buy the 30,000-square-foot office building at 333 Holtzman Road to house four "intensive intervention programs" now located in a leased building on Olin Avenue. About three dozen elementary and middle school students are enrolled in the programs.
Board President Gloria Reyes asked Monday to delay the decision to give community members more time to ask questions and hear about the proposal.
Conditions include not expanding the programs to high school students until a study of effectiveness is done, creation of a plan for sustainable energy for the building and a requirement that a playground be built.
Martha Olsen, assistant director of special education student services, said the building will give students a customized space, classrooms, a cafeteria and eventually a playground. She said it is a big step up from the current facility on Olin Avenue, where students share the building and parking lot with other tenants who provide services for adults, including a drug clinic.
"It's not our space, we have to rent," Olsen said. "Please, give them a place that feels like a school. They deserve it."
But others argued buying the building would be supporting a permanent space for students to be segregated. They said the school district should find a way to meet the needs of students with disabilities and mental illnesses without segregating them, such as using existing space in under-capacity schools for the programs.
About 15 people spoke against the purchase, and only three in support. Many against it said students with disabilities should not be isolated, and all students learn better when they are together.
Ron Giordan — whose wife founded Gio's Garden, a nonprofit that helps parents raising children with disabilities — said his son was born with a rare seizure disorder that caused him to have 100 seizures a day when he was younger. But being in public schools helped him learn, grow and build relationships.
"Without the mainstreaming, my son would not be re-learning to speak," Giordan said.
The district could buy a 30,000-square-foot building to house four "intensive intervention programs."
You have free articles remaining.
District staff have said placement in the programs is often the last option available to help students with significant challenges, and the ultimate goal is to transition students back to a traditional school setting.
Two social workers, a full-time psychologist, special education teachers and special education assistants work with students in the programs. Board member Gloria Reyes said the programs provide a "smaller, highly personalized learning environment."
The four programs are NEON, for middle school students with disabilities and emotional or behavioral challenges; Primary Steps and Next Steps, for first- through eighth-grade students with disabilities and mental health challenges; and Restore, an alternative option for students facing expulsion.
The building could also provide space for professional development, meetings and training.
Although the building will cost $4 million, the purchase eventually will save the district money. The purchase of the building, currently the headquarters for Hy Cite Enterprises, a cookware distribution company, would save the district $250,000 a year now spent leasing the space on Olin Avenue.
"This frees up money in our special educations' budget in a pretty significant way," board member Ali Muldrow said.
Money to buy the building would come from the closure of city tax incremental financing districts. Muldrow said the money cannot be used to bolster staff for special education services because the money can only be used for one-time purchases, not recurring expenses.
But board member Kate Toews said the money could be used as a one-time expense to upgrade the school's existing buildings to better serve students with disabilities.
"We have a lot of under-utilized space," Toews said.
Board member Nicki Vander Meulen, who is on the autism spectrum and frequently advocates for children with disabilities, agreed that having the programs stay within the schools is best. She said segregation is "not appropriate."
But Reyes emphasized that the programs are meant to be temporary.
"Our students will not remain there," Reyes said. "At a time when they're ready they can go back to their own school."