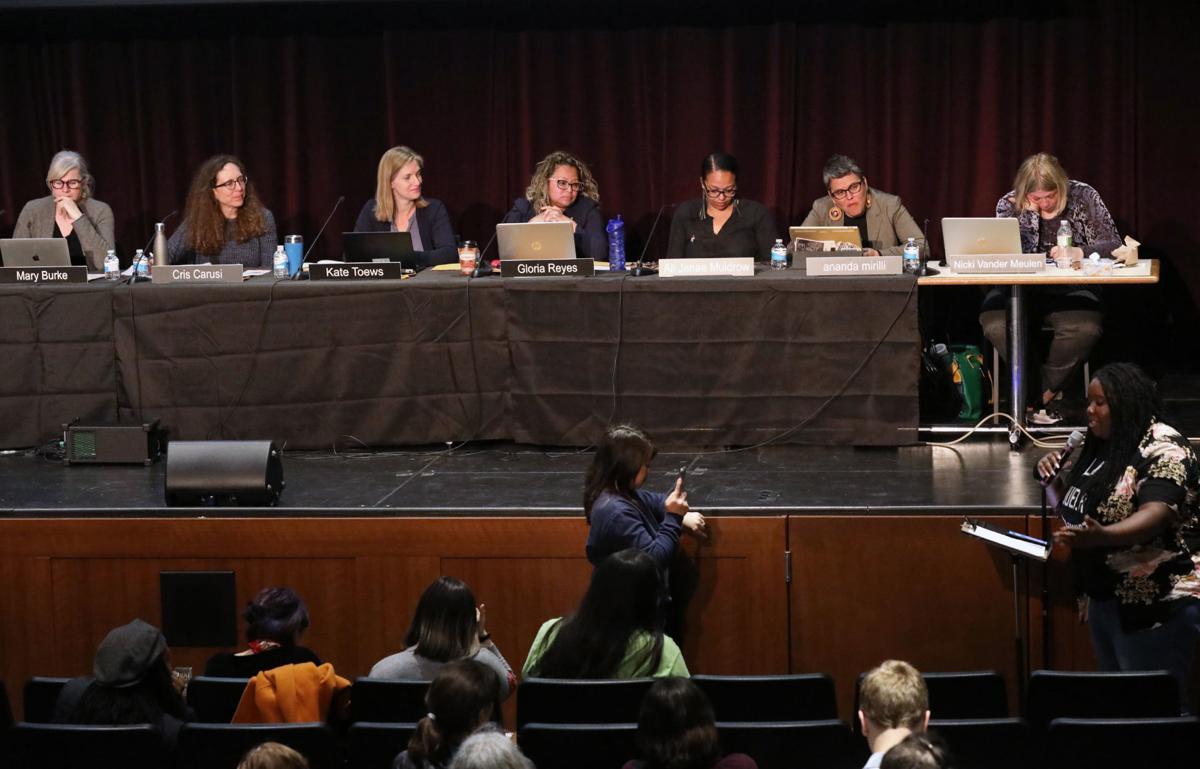 The Madison School Board approved late Monday a $463 million preliminary budget for the 2019-20 school year, while board members also called on potential new state funding to be used to provide district employees a larger wage bump than first budgeted.
With the state potentially allowing the district to spend more than expected, the board approved a "contingency motion" that calls on additional money to go to larger staff salaries.
In April, the district released a budget with a 0.5% base wage increase for the approximately 4,000 employees.
District officials initially assumed the state would include a $100-per-pupil increase in the biennial spending package. But the school spending package that passed the state Legislature's budget-writing committee in May calls for a $200-per-pupil increase, representing potentially $2.7 million in new spending authority for the district.
The $2.7 million in funding could provide an approximately 1.5% raise. The board unanimously passed the budget and "contingency motion," with Ali Muldrow recusing.
The raise would still be less than what some board members and the teachers union, Madison Teachers Inc., have been calling for at 2.44%, which is the highest allowable under state law.
"This motion is not perfect," said member Cris Carusi. "I hate the fact that we're making our staff wait for the state of Wisconsin budget."
The state Legislature is scheduled to vote on its 2019-21 budget this week.
The board also approved an amendment by Nicki Vander Meulen that would provide $30,000 to Simpson Street Free Press to help fund the out-of-school student newspaper if the organization successfully completes a partnership agreement with the district.
You have free articles remaining.
Overall, the $463 million preliminary budget funds new "strategic equity projects" and results in a slight staff reduction because of an expected decrease in elementary enrollment. It relies on $327.1 million in property taxes, which is a 6.2% increase.
The operating budget, which includes costs traditionally associated with education like teacher salary and busing, is slated to be $418.7 million.
The owner of an average-value house, estimated at $294,833, would have their property taxes increase by $86 for a total of $3,240 on the district's portion of the property tax bill.
If the state budget holds and the district gets more taxing authority, property taxes on an average-value house are estimated to rise by $107.
Some of the other initiatives in the budget include:
$350,000 for a Black Excellence Community Coalition Fund to support programs for black youth based on community input.
$320,000 for a "micro school" concept to educate up to 25 students significantly at risk of not graduating, after the idea was piloted last year for La Follette High School students.
$90,000 to expand a mental health program from eight schools to 12 schools.
A group of black parents and community members also presented recommendations Monday on the district's Black Excellence initiative, such as addressing racial disproportionality in discipline and creating a report using quantitative and qualitative data on the experience of black students.
The School Board will take a final vote on the budget in October.
Belmore will start Aug. 1 and work with Cheatham for the month before Cheatham goes to Harvard University for a teaching position.
Belmore previously served as interim superintendent during the 2012-13 school year before Cheatham was hired. The contract calls for Belmore to make an annual salary of $247,606.