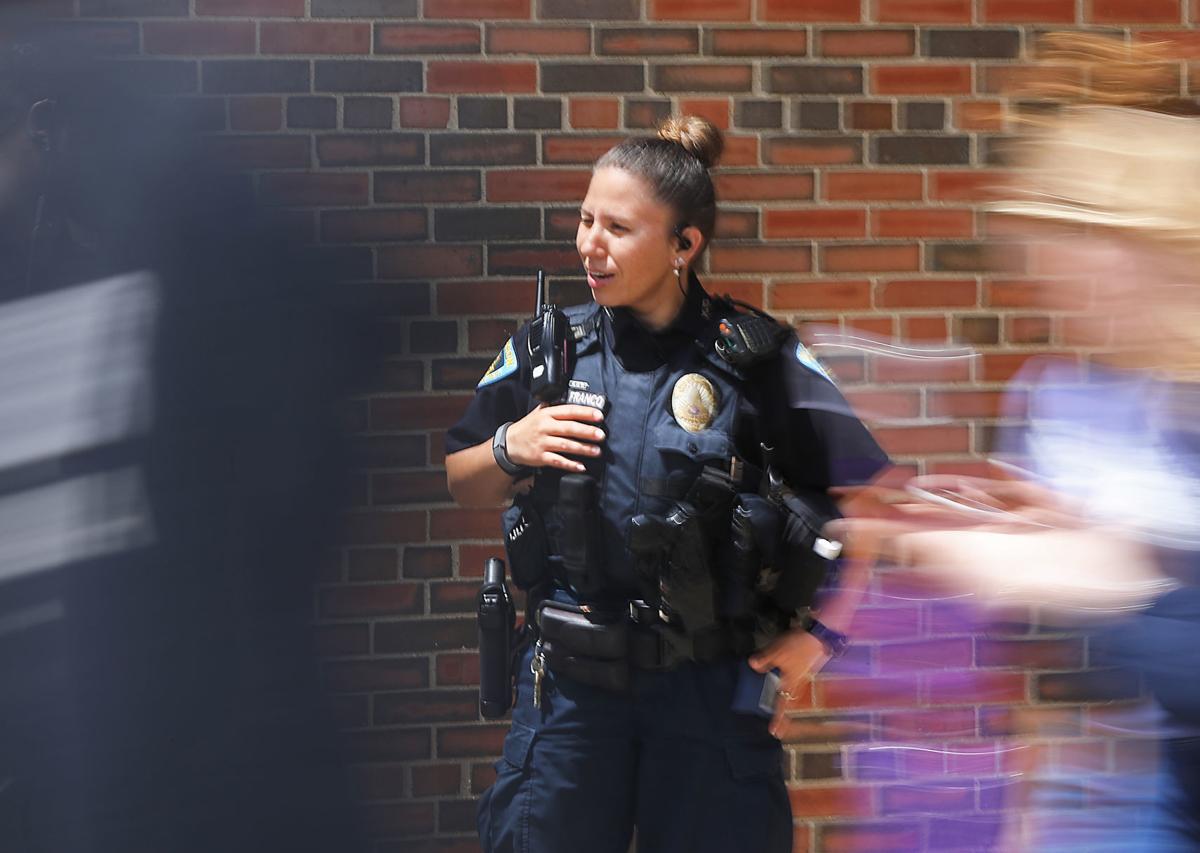 Madison police officer Tray Turner entered the Memorial High School gym and removed his bulletproof vest, duty belt and uniform shirt. Within 10 minutes, his challenger had left him winded and defeated.
"When I'm on fire, I'm on fire," the student boasted after beating the 49-year-old Turner in a one-on-one basketball game.
Turner joked in response: "I'm going to take it back next week and send you home sad for the whole summer."
On the other side of the city, an East High School student popped into the office of police officer Zulma Franco. The graduating senior wrote a farewell message on Franco's whiteboard while also telling her she wants to get a tattoo. Franco showed the student her own ankle tattoo and cautioned her to think hard about the decision.
"Word of advice from me, put it in a place where you can hide it if you want," Franco told the student.
As two of the four Madison Police Department officers stationed at the city's comprehensive high schools, Franco and Turner said they emphasize building relationships with students, especially if it can prevent them from committing a crime.
But those relationships sometimes don't come easy, the officers said. Students have cussed at them in the hallways or ignored their commands when they try to break up fights.
Whether or not the positions, referred to as school resource officers, or SROs, will be around in the fall remains uncertain.
A current contract between the Madison School District and Police Department for the contentious program expires at the end of the month.
On Monday, the Madison School Board will take up a proposed three-year contract, which would give the district the option to pull an SRO from one of the four high schools starting in the 2020-21 school year. The proposed agreement, which was released Friday, comes after months of negotiations between the parties.
Over the course of 10 hours — five each at East and Memorial — Franco and Turner spoke with the Wisconsin State Journal about the position and their responsibilities, went about daily duties, and responded to criticisms that the presence of officers in schools disproportionately impacts students of color and feeds a "school-to-prison pipeline" as opponents have argued for more than two years at School Board meetings.
Bianca Gomez, the youth justice director for Freedom Inc., a social justice organization demanding the removal of all the SROs, said she's worked with students who have had negative interactions with the SROs, arguing police act differently when they are being observed.
"The police have been historically and contemporarily good at controlling narratives," she said. "They can choose how to interact or not interact with young people."
Gomez also challenges the community policing model, of which relationship building is a major component, as a form of surveillance on young people, arguing the model does not work at preventing or reducing crime.
Citations and arrests
Among the duties of SROs, the officers respond to and investigate criminal activities or ordinance violations on campus, break up fights, act as a liaison between the Police Department and school, and provide students with information on alcohol, drugs, the role of law enforcement, and crime prevention.
A major point of contention in the debate has been that those ticketed or arrested at Madison's four main high schools — East, La Follette, Memorial and West — are disproportionately African American.
Black students make up about 18% of the Madison School District student population. Of the 36 physical arrests made at the high schools during the 2017-18 school year, 30, or 83%, involved African Americans, according to data from the Madison Police Department.
Out of the 134 citations issued last school year, 79% were given to black people. The four high schools collectively enroll about 7,300 students.
The department figures include anyone who was arrested or cited on a high school campus, regardless of age or student status, and by any police officer, not just SROs.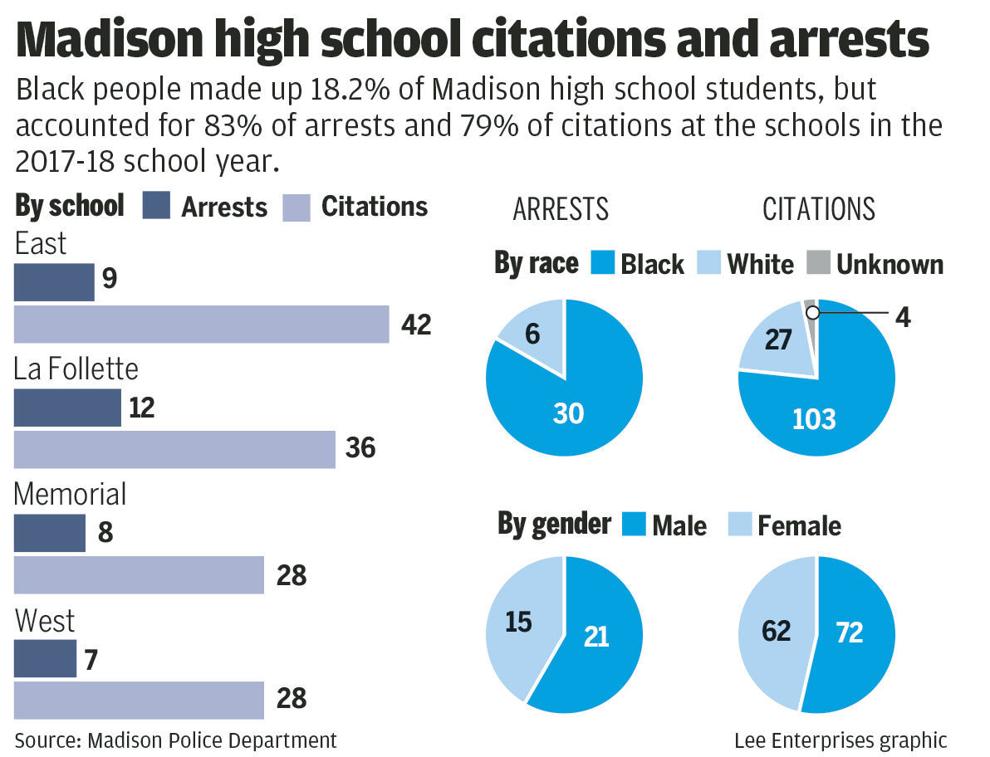 Critics of the school-based officer program have pointed to the department's figures as SROs having an ill effect on minority students. They say the officers can cause fear among communities that mistrust police and their presence distracts from learning.
Turner, who is black, said he doesn't have a good answer as to why the numbers are disproportionate, but he views it as a bigger issue than just a result of policing.
He said he does not single out any group and his arrests have been for more serious violations, such as bringing a weapon to school or stealing a car.
Franco sees the disproportionate outcomes connected to a systemic problem of people of color not having equal access to healthy food, stable housing, quality health care or good-paying jobs, which she said can traumatize children and result in more contact with police.
"As a society, because we want someone to blame and right now we're blaming police for these things, we're really walking away from really truly being able to affect some positive change that really puts our communities of color in a position of equity," she said.
The district conducted focus groups in 2017 — when an ad hoc committee was examining and making recommendations on the SRO program — to gauge the thoughts of approximately 70 students, half of whom were students of color.
An evaluation found the students in the focus groups had a "decidedly mixed" perception of SROs and their impact on school climate.
When asked what about their perception of SROs in high schools, 44% of the comments were positive and 42% negative, with the remainder a mix of neutral perceptions or other thoughts.
The responses on how SROs affect feelings of safety and a welcoming school environment were also similarly split between positive and negative responses, with varying levels of other comments.
The evaluation noted the focus groups may not be representative of the student body, as participants were selected by staff members and some students had difficulty separating the concept of SROs from the current officer serving at their high school.
Respective background
Neither Franco nor Turner planned on becoming police officers.
At age 8, Franco immigrated to the United States from Colombia. She grew up in poor neighborhoods of Los Angeles and became a teen mother at 14.
"I didn't necessarily grow up feeling like I liked police," she said. "I was critical of police."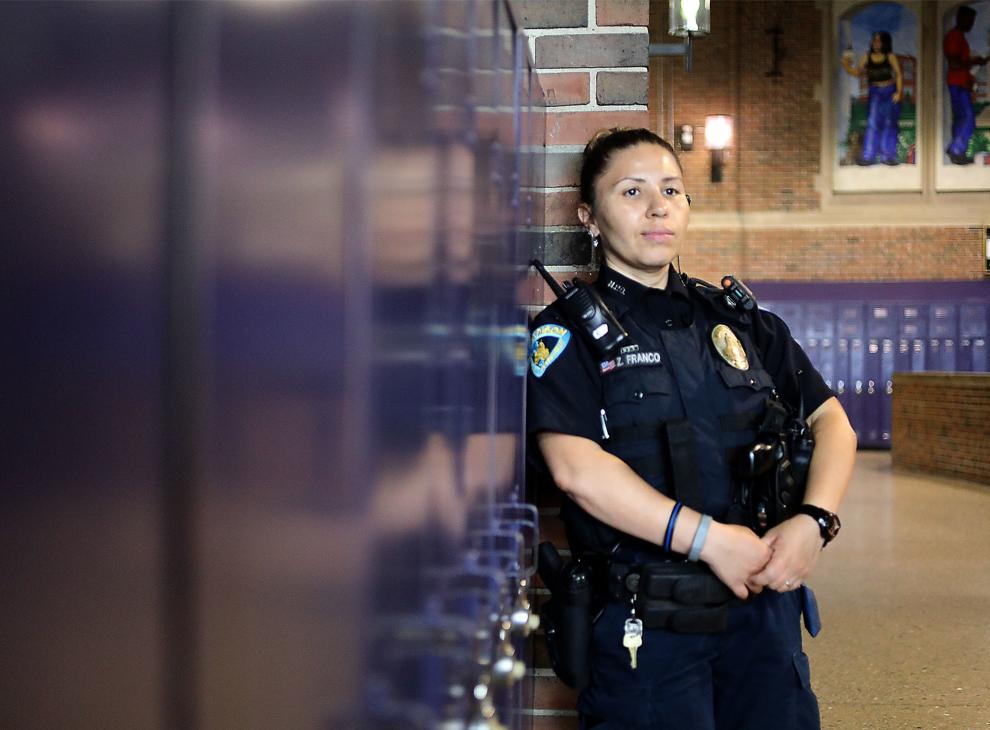 But her husband, who is also from Colombia, wanted to become a police officer and suggested moving to Madison, which they did in 2006. Franco was looking to go into nursing, but said her views on policing changed. Both applied to the department; Franco was accepted in 2009.
Now in her fourth year at East High, Franco said she uses her personal experience to try and relate to students who come from similar backgrounds or face similar challenges.
"I have always felt and still feel that it's with youth that you can make the biggest impact," Franco said. "If you are able to find ways to get through those barriers, it's probably where you're going to see the most kind of payout for what you put in."
Turner, a former longtime officer in the U.S. Marines, took an early retirement from the military in 2013. He wanted to spend more time with his wife and two children, who lived in Madison for much of the time he was deployed across the country and world. Back in Wisconsin permanently, Turner joined the police department.
"I never had any true desire to be a police officer necessarily, but it was an opportunity to keep serving and have the chance to go home every night while my kids were just starting high school," he said. "I really enjoyed the military, but I didn't enjoy that much time away from my family."
Turner grew up in the predominately black north side of Milwaukee.
"It seemed like if I saw a police officer, it was usually a white man looking for a black guy they think had done something wrong, so it was pretty much negative," he said. "You go into it and you learn a lot more. I figure as you mature, you learn that's probably not what policing is. My mindset is that's definitely not what policing should be."
Turner applied for the SRO job after taking on a volunteer coaching position with La Follette's wrestling team on which his son participated.
"I really enjoyed that, just working with kids," said Turner, who became Memorial's SRO in the 2017-18 school year.
A look at the job
There is no typical day on the job, both officers said, and the State Journal's visits took place on what the officers described as slower days.
Students asked Turner to answer questions about teen pregnancy for a class project. He also advised a staff member on how to report damage to property after their car was scratched in the school parking lot, and he followed up with a parent whose child was reported as a runaway but was in school that day.
Franco pulled a card out of an ATM at the request of a student who just had her nails done. Another East High student reported to Franco that his wallet was stolen. She conducted an hour-long investigation and learned someone had used his credit card at a nearby gas station over the lunch hour. Someone else later discovered the wallet and returned it to the student.
During lunch at Memorial, Turner went to the field house where students can go for open gym.
The place can be a congregating spot for adversarial cliques — self-styled, neighborhood youth gangs — creating tension, Turner said.
That day, though, the field house was relatively calm. Turner watched a basketball game for a couple of minutes, saying there was more talk and less defense on display from how he learned to play.
Neither officer responded to fights, which Franco said happens for her on a weekly basis.
Opponents to police in schools say many of the responsibilities of SROs could be better handled by social workers, special education teachers, counselors and other staff who do not carry a firearm.
"That's a job for a social worker; that is a job for a teacher; that is a job for a counselor; that is not the job of police," Gomez said of relationship building.
Both officers said other staff could take on the majority of their duties. They said the main exceptions are responding to someone who has brought a weapon to campus or providing police information on problems outside of school that involved a student, such as a domestic abuse issue or an ongoing beef between groups.
"Can people respond to the things I respond and take care of them? In theory, sure," Franco said. "To me, I'm just talking to kids and there are connections that are made. It's not my job, essentially, but it's just something I enjoy, and so I make these connections and develop these relationships."