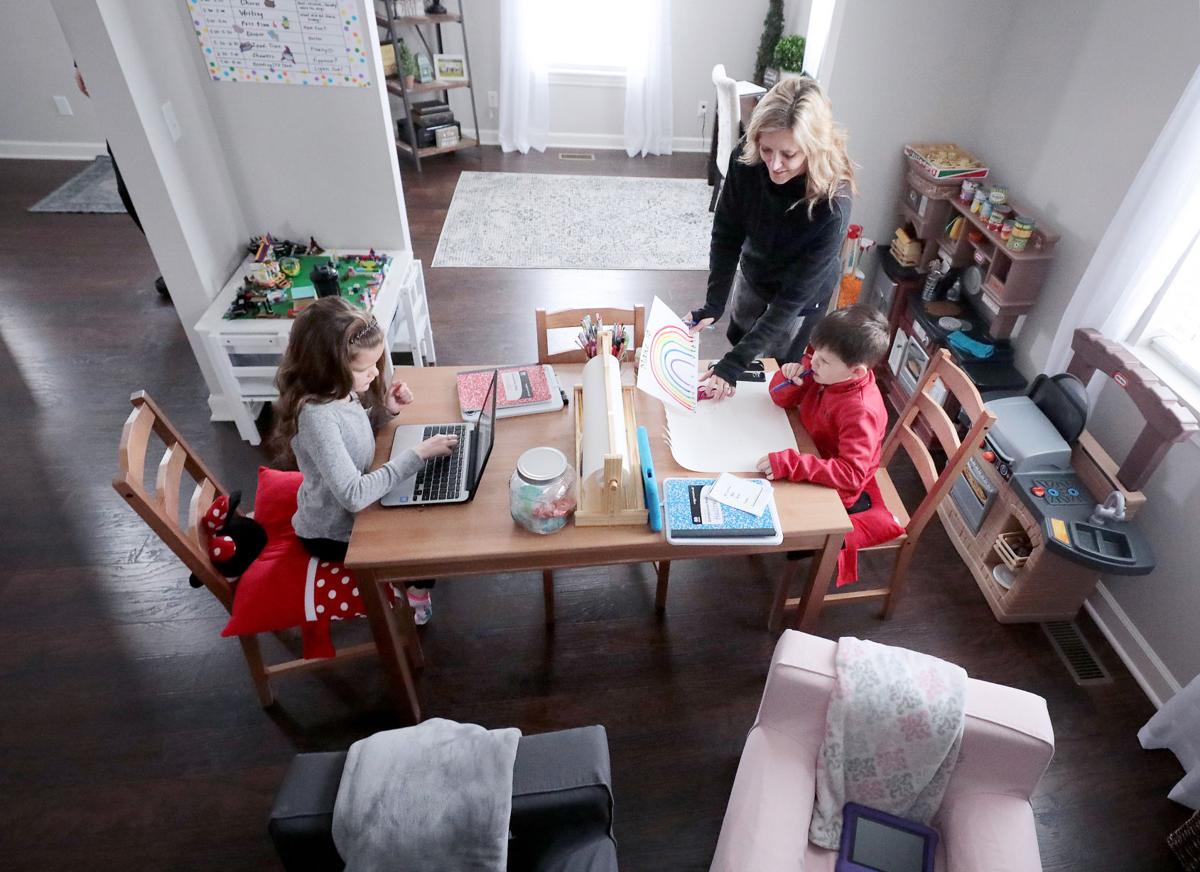 On March 10, 2020 — a sunny day that suggested a bright spring to come — Madison school administrators, board members, students and reporters crammed into an elementary school library to hear from the man hired by the Madison School District to be its next superintendent.
Matthew Gutierrez, a Texas educator, took questions on police in schools and grading scales. There was little discussion about the novel coronavirus that was already ravaging other countries and within a week would bring reporters back to another press conference — now in chairs spaced 6 feet apart — to learn schools would be closed immediately, joining schools around the country shuttered to contain the spread of the fast-moving virus. Schools would close statewide two days later. 
Now, nearly a year later, the district is closing in on providing one million meals for children still learning at home, and many Madison parents and students are stressed, exhausted and eager for classrooms to reopen. According to a district survey, a solid majority of parents of the youngest students will send their children back when the schools begin reopening in phases on Tuesday.
Going virtual was the right thing to do with the virus was raging, said Elizabeth Cantu, an East Side mother of four, ages 2 through 7.
"But now that they're reopening school I find it more important for them to actually go in person to receive more education from teachers because teachers will be able to have more time for them instead of a 20-minute zoom class, which doesn't even allow them time for kids to ask them questions," she said.
Mother of five Liz Windsor-Engnell said virtual learning has been especially difficult for her 12- and 15-year-olds, who have yet to see the inside of the middle and high schools they started "attending" in September.
Both are good students, but with the online-only format, "there have been significant challenges for both of them." The 15-year-old, she said, is a social learner, while online-only means there are a lot of online distractions for her 12-year-old.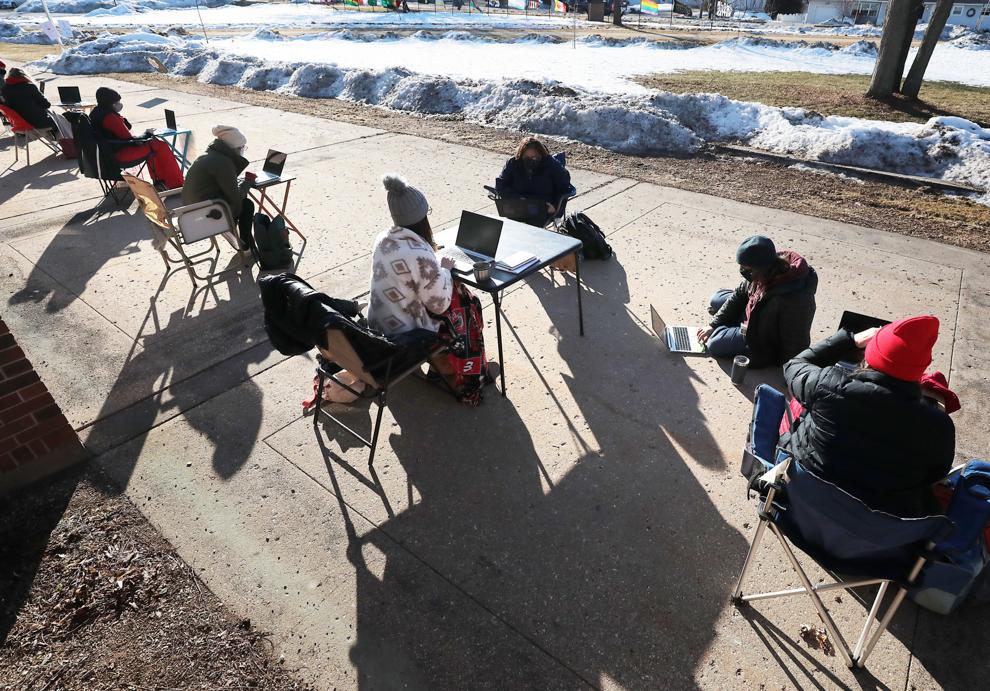 Lessons learned
"If you would have told me last March that we'd be virtual for a year, I'd never, ever would have believed it," said Jay Affeldt, executive director of student and staff support in the Madison School District.
And while COVID-19 has exposed faults and exacerbated disparities in the state's public education system, Madison officials say it has also provided lessons for how educating students can improve post-pandemic.
Madison School District administrators expect several practices will continue after the coronavirus is brought under control:
Online platforms like Zoom let teachers engage with parents more frequently.
Live-streamed feedback sessions reach families who might not otherwise have been able to attend an in-person meeting.
All students will continue to be able to bring home district-owned devices.
Even online fitness and art classes through the district's community programming arm are expected to continue after COVID-19.
"I'm convinced that — although this year's been something else — we're going to come out of this better than we were when we went in," said Chad Wiese, the district's executive director of building services.
Outgoing School Board President Gloria Reyes said she finds hope in how the community has rallied around students, from community-based efforts to feed students to raising money to prevent families from being evicted.
"I didn't know we were so behind in this pandemic as a nation," she said. "I never thought we were going to be here a year into this."
For some schools outside of Madison, it hasn't been anywhere near a year. Many private and religious schools reopened to full-time, in-person learning in September after persuading the state Supreme Court to block a local public health order that would have prevented them. Suburban and more rural public schools have been reopening in recent months under hybrid models. 
Madison different
That back-to-school sentiment hasn't been as strong in Madison, where kindergarteners are set to begin in-person instruction Tuesday followed by first grade, second grade and 4-K students in subsequent weeks. No dates for returning older students have been announced.
Those small steps toward normalcy have spurred sharp disagreements between district administrators and the teachers union. Last week, Madison teachers staged a "teach-out" to protest what they view as a rushed and dangerous return to school weeks before most of them are due to be vaccinated.
But while Madison parents see the toll the long layoff is taking on student learning and mental health, many also sympathize with teachers and laud their efforts teaching online.
Windsor-Engnell said she wishes the school district's approach during the pandemic had been more "nuanced" and allowed for at least some in-person learning for the families that needed it. She's especially concerned about how the long shutdown will affect student mental health, and estimated her children are absorbing about 50% to 60% of the education they would be getting in person.
Still, she said her North Side family doesn't have any health conditions that puts them at greater risk for the virus and that in some ways that puts them in a "privileged position."
Virtual learning last spring was a "hot mess for everybody," said Ana Luyet, who lives on Madison's Near West Side with husband and two teenage daughters, 13 and 15, "but everybody did the best they could with the tools at their disposal."
Teachers have "legitimate concerns" about their safety in returning, she said, and she'd like to see all teachers vaccinated before older students return. She's fine with the comparatively slower pace of reopening in Madison but acknowledges that's not the case for a lot of families who would have benefited from an earlier return. There's no "perfect answer" to these questions, she said.
She would let her daughters decide whether they go back this school year, if it becomes an option for the seventh-grader and freshman. But Luyet has concerns about how schools would enforce mask-wearing, distancing and other restrictions.
"One thing I would add: Acknowledging how incredibly hard educators have worked this year — especially those who are teaching and parenting at the same time," the Near West Side resident said. "I can't imagine how hard this year has been for them."
'Never in a million years'
In January 2020 — at the urging of Madison's head nurse, Sally Zirbel-Donisch — administrators dusted off a pandemic plan put together for the H1N1 pandemic of 2009, Affeldt said.
But it needed serious updating, he said, as it "wasn't written around virtual instruction. It wasn't written around mitigation strategies in schools."
Twice-a-week coronavirus preparation meetings became more frequent when Dane County recorded its first positive case in late January, Affeldt said, and briefings at the time for school principals were done with administrators huddled around a conference phone instead of the then-little-known Zoom platform.
Even by mid-March, some expected a school shutdown would last a few weeks. Affeldt said: "We planned initially like it was a temporary adjustment."
Throughout last summer and fall, there was a persistent belief the district would be able to safely phase students back into classrooms within a few weeks, Affeldt said. But as the pandemic progressed and the situation worsened, the goal remained an elusive, moving one, he said.
"This has been a year that we've been living in both worlds the entire time, having to get good at the virtual and then also make sure we're all set to go when students actually come back," Wiese said.
In February, Superintendent Carlton Jenkins announced the district's plan to phase in the return to school starting with the youngest students. Jenkins was hired after Gutierrez backed out of the job, citing the need to confront the pandemic in his own district.
Cantu said she is fine with the pace at which the district is returning students and appreciates the teachers who will be going back into school buildings.
"I still am a little hesitant since I know that a lot of teachers aren't vaccinated yet ... But I feel like all the precautions that they're starting to take, I feel that they'll be more comfortable," Cantu said. "This year is bringing a little light to the darkness that we were going through."
---
How the COVID-19 pandemic unfolded in Madison and Wisconsin