Just before 5 p.m. Wednesday, as Falk Elementary's Safe Haven after-school program was winding down, students lined up to wash their hands for dinner.
The menu for the Madison School District's new dinner program included turkey sandwiches, fruit cups, broccoli and chocolate milk.
It's healthier food than the soda, sugary candy, snacks and fast food some students will eat before going to evening activities or homes with working parents who prepare later meals, after-school program director Kelly Zagrodnik said.
"A lot of our kids are busy," Zagrodnik said. "(The dinner program) helps them do an activity and not run to McDonald's."
Jack Eich, the father of a Falk third-grader who participated in the program Wednesday, said he and his wife get home from work around 5:30 p.m. and don't usually prepare dinner until about 7 p.m. The after-school dinner program provides a healthier, more filling alternative than the snacks their daughter requests before gymnastics class.
"It's well thought out," Eich said.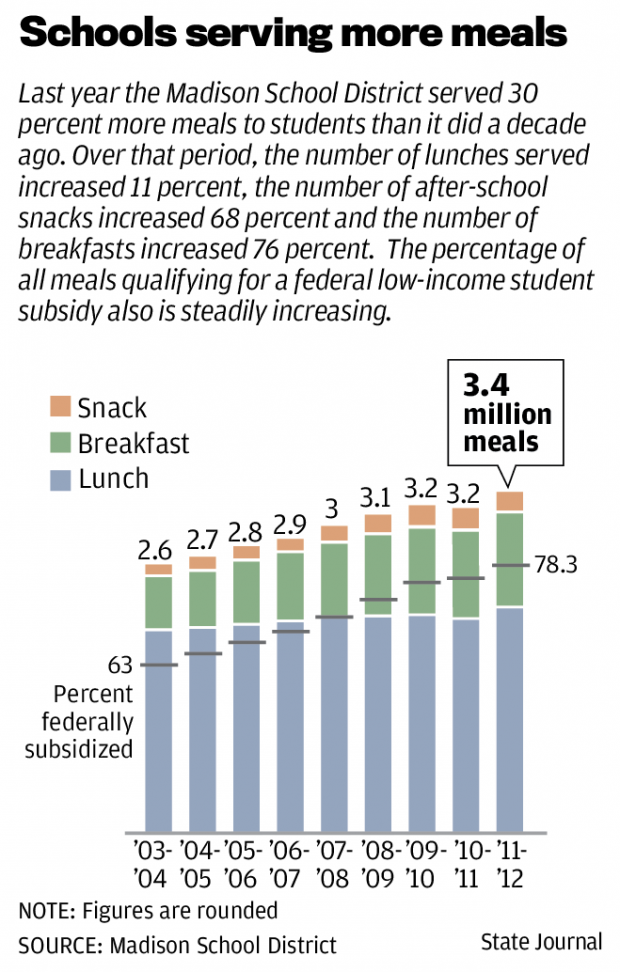 District officials say the dinner program will improve student nutrition, encourage more participation in after-school academic programs and eventually lead to community dinners that will welcome more parents into the schools.
"What's kind of unique about it is these are creative ways to help districts close the achievement gap," food services director Steve Youngbauer said.
Unlike the lunch program, eligibility for a free dinner is based on whether the school qualifies for the program based on school poverty rates, rather than the income level of an individual student. So any student participating in an eligible after-school program can eat the dinner meal for free.
The program, starting at Falk, Black Hawk Middle School and Memorial High School this year, will eventually include hot meals and a salad bar. It's projected to cost $65,000 for the three schools this year, with the cost covered by a $2.86 per-meal federal subsidy.
As dinner programs have expanded to school districts across the country, conservatives have criticized the federal program as government encroachment on the responsibilities of families. Don Severson, president of a local conservative school watchdog organization, was skeptical a dinner would be able to increase participation among parents working two or three jobs.
"It's just another attempt at government taking over and schools being detracted from their mission of education," Severson said. "It should be the parents' responsibility to feed their kids."
Mayor Paul Soglin said he is already interested in seeing the school dinner program expand to all schools as part of a broader effort to keep children engaged in the schools until their parents get off from work.
Rather than a "longer school day," as the school district has discussed as part of its achievement gap plan, Soglin wants students to have access to tutors, mentors, study skills sessions, supervised recreation and sports between the end of the academic day and a dinner offered at school.
"This progressive city is way behind other cities in that regard," Soglin said. "We should not look at this as a frill, or as an experiment, but something citywide."
Expansion of meals program
Madison students have received federally subsidized breakfast, lunch and after-school snacks for years. Madison has offered school lunches since 1967, two years before the National School Lunch Program started. The district introduced breakfast at two schools in 1987 with all schools joining the program by 2001.
After-school snacks also have been available since at least 2001. Those will still be available right after school, but don't include as many options as the dinners, which must have a serving of milk, grains and meat and two servings of fruit or vegetables.
Eligible schools for the dinner program must have at least 50 percent of students qualify as low-income. In Madison last year, 18 elementary schools, seven middle schools and East and La Follette High schools met that requirement.
To be eligible, students must take part in an academically focused after-school program, not an after-school sport. Memorial is looking into setting up a homework club for athletes between practice and the free meal so that they can participate in the free meal.
Free meals for parents?
District officials envision eventually serving free meals to parents and other family members, but on a larger scale with meals costing $6 to $8 each.
Because the adults wouldn't qualify for a federal subsidy, the district may look to community organizations and businesses to pay for adult meals, said Erik Kass, assistant superintendent for business services.
"We're really trying to leverage a lot of volunteers to help serve meals," Kass said. "One of the overall goals is to give parents positive opportunities to come to school, spend some time with their kid and get a meal out of it."
Be the first to know
Get local news delivered to your inbox!