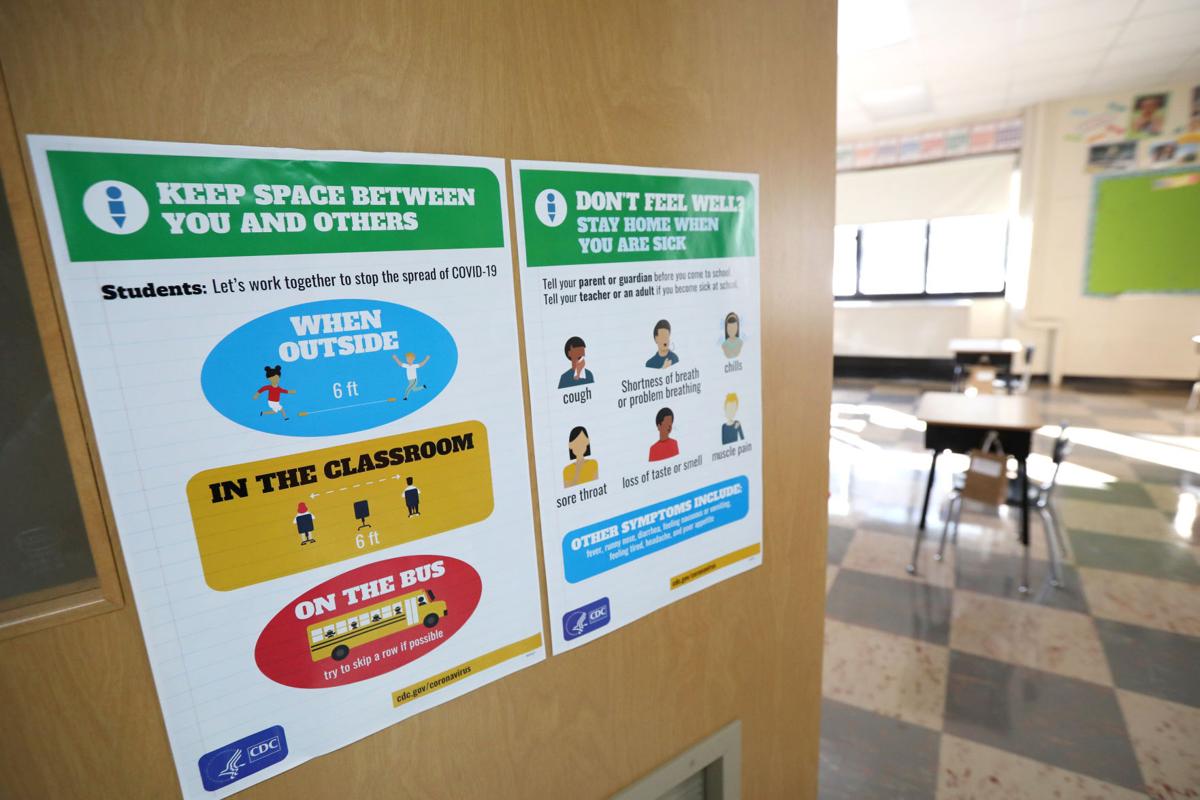 Madison School Board members and the public pressed Superintendent Carlton Jenkins for details Monday on his decision last week to resume in-person classes next month, asking about teacher vaccinations, mitigation efforts and what would happen if COVID-19 cases in Dane County increase.
"I've been fielding a number of emails and calls," Jenkins said. "Public Health (Madison and Dane County) is saying, and also (the Centers for Disease Control and Prevention), it's time to lean forward in the most safe way for our students and for our staff."
The board received 40 pages of comments between Friday and Monday from community members ahead of Monday's meeting. Most comments involved questions about the recent decision to reopen elementary schools for children in grades K4-2 in a gradual process beginning March 9.
Jenkins said in January he would take responsibility for the decision instead of putting it to a School Board vote. Board members said they knew a return to in-person learning was imminent ahead of Wednesday's decision.
Jenkins cited data that suggests transmission among students in grades 4K-2 is low. He also emphasized that he has been in constant communication with Madison Teachers Inc. and district staff.
"There comes a point sometimes you make a decision even during collaboration to move forward," Jenkins said. "We wouldn't make a decision that's not in concert with science."
Jenkins said the district will continue to work with MTI and staff for a smooth transition. However, if community spread of COVID-19 increases after March 9, the district might return to online-only learning.
"We will never allow the safety of our students and of our staff ... to be in jeopardy," he said.
Shots for teachers
District administration has been lambasted by community members over the past few days for deciding to return to in-person learning before all teachers have had the opportunity to be vaccinated.
But the district said according to CDC guidelines, teachers don't need to be vaccinated before returning to school so long as multiple layers of precautions are closely followed.
At this point, the district will not require staff to be immunized once the vaccine is readily available to educators, but that could change.
Teaching methods
Staff will not be required to instruct both online and in-person students at the same time for the whole school day, said Carlettra Stanford, co-chief of Madison elementary schools.
Ideally, the school day would be broken down into time for large group learning that would incorporate both in-person and online learners and time for small group learning as well as independent work, Stanford said.
"There's also some creativity that teachers are having with concurrent instruction as well," she said. "They're creating virtual and in-person buddies at some schools."
The method could help students who are in-person and online to remain engaged, she added.
The district will provide the technology needed for teachers to hold online and in-person instruction, as well as an opportunity to learn how to use the equipment ahead of their return to the classroom.
Substitutes, supplies
District administrators also answered questions in regard to ventilation in buildings, 6-foot distancing in classrooms, access to personal protective equipment, plans for students in special education and those with behavioral needs, as well as the range of accommodations for staff who have health concerns or live with people who have health issues. Contact tracing and rapid testing will be integral in the effort to mitigate the spread of the virus in buildings as well.
Should a teacher become ill or need to be out of school for an extended period of time, the district has roughly 560 recently hired substitute teachers to help support in-person learning in their absence.
"We have our subs that are expected to do the same level of safety training that we're putting all of the rest of the staff through," said Deirdre Hargrove-Krieghoff, the district's chief of human resources. "For folks who do need to stay home and take care of an ill family member or they've been exposed or they've tested positive, we have (expanded family leave protection) which gives folks 10 days of time off to be able to isolate."
The district is also exploring COVID closure pay if individual classrooms or schools close due to an outbreak, to provide staff with continued pay while they're out of the buildings.
Safety, security
The school board during the Monday meeting voted unanimously to receive 16 recommendations of the Safety and Security Ad Hoc Committee.
The recommendations include the formation of two full-time restorative justice-based positions for all high schools, dedicated spaces for mental health support and restorative justice to take place in schools, restorative justice training for school board members, increased support for students involved in serious incidents at school, a reduction of class sizes and a concerted effort among district officials to recruit, develop and keep educators and staff of color, among other recommendations.
"Through our collective power as a school board we must also do our job in bending the arc of our community toward justice for all people," said Savion Castro, a board member and co-chair of the safety committee. "We started this work by terminating the contract with our police department; the start was prompted by us seeing the empowering environments we want for all students not being compatible with an oppressive policing institution in America."
A committee will be formed by ad hoc members to inform Jenkins on how to put in place the recommendations and to continue the work to achieve restorative justice for students in Madison schools.
---
SHOULD SCHOOLS REOPEN? OUR READERS SOUND OFF
Should schools reopen? Our readers sound off
Readers have strong opinions about last Sunday's Wisconsin State Journal editorial, "Fauci sends a message to schools," which encouraged local school districts to develop and share plans for reopening schools for second semester. Here are some of the letters to the editor the State Journal has received in response in recent days.