Nearly a year after schools shut down due to the COVID-19 pandemic, the Madison School District's youngest students are set to return to classrooms in coming weeks.
They are far from the first. Many private schools and one public charter school in Dane County have been physically open to all or most students five days a week since late August or early September, and many say that with the proper precautions, in-person school during a pandemic can be safe.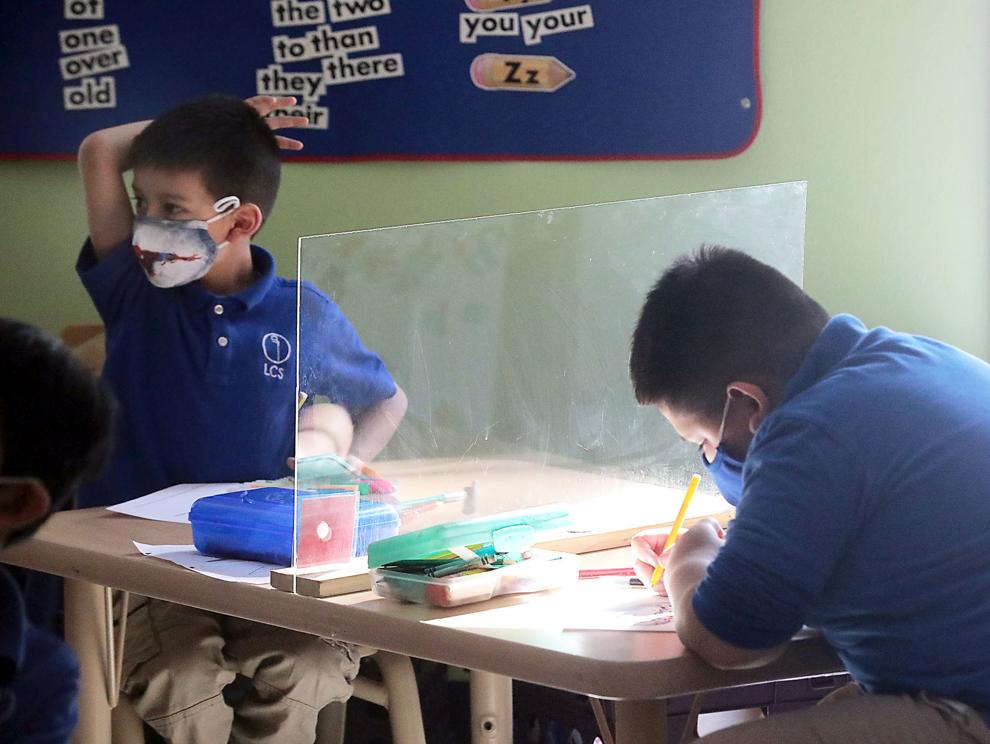 Hand-sanitizing stations, social distancing, shuttered common areas, temperature checks, plastic desk shields, staggered schedules and testing protocols were among the common sights and practices witnessed by the Wisconsin State Journal during tours of three such schools over the last two weeks.
Masks were ubiquitous, even among the youngest who, with prodding from staff and incentives, seem to have accepted the reality that face coverings long ago stopped being optional.
At One City Elementary School on Madison's South Side, principal Faren D'Abell estimated that at the beginning of the school year, some 65% of students were wearing masks correctly and consistently.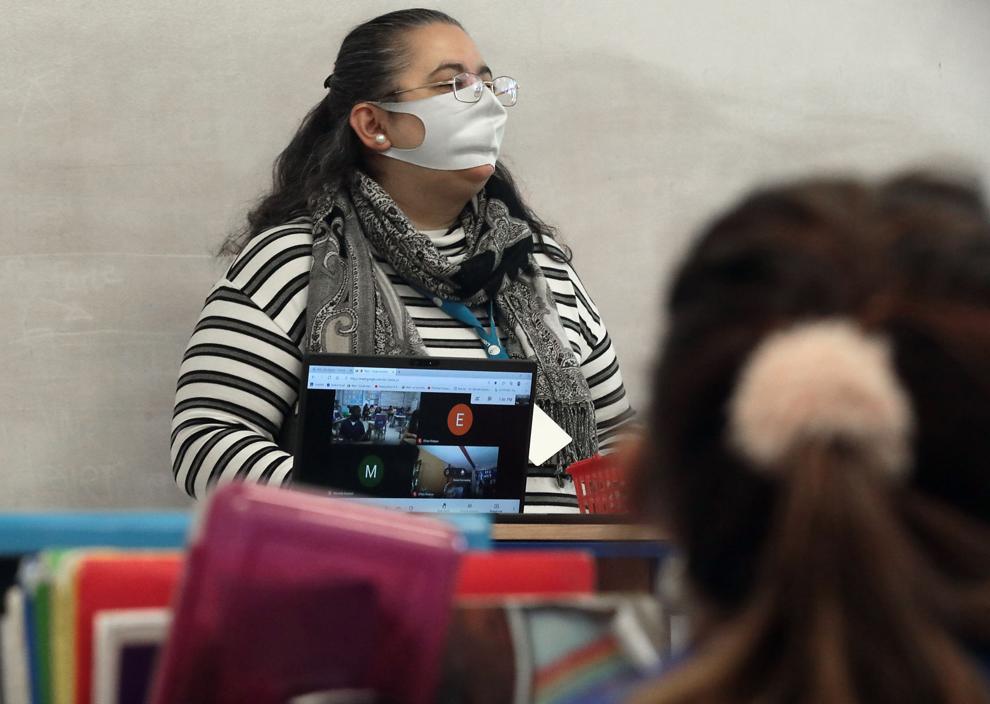 On a recent Friday, he went quietly around the school passing out "mints for masks" to students and staff who were complying with the mandate, with no break in teaching. He estimated the compliance rate now to be about 95% among One City's 136 children in grades 4K through second.
At the private Lighthouse Christian School, Principal Tia Sierra said all the common areas but the gymnasium have been closed, students eat lunch in their classrooms, and instead of students going from classroom to classroom for different subjects, teachers take their materials to the various classrooms on wheeled carts.
The school on Madison's Southwest Side serves 220 students in 4K through eighth grade, with another 32 in preschool.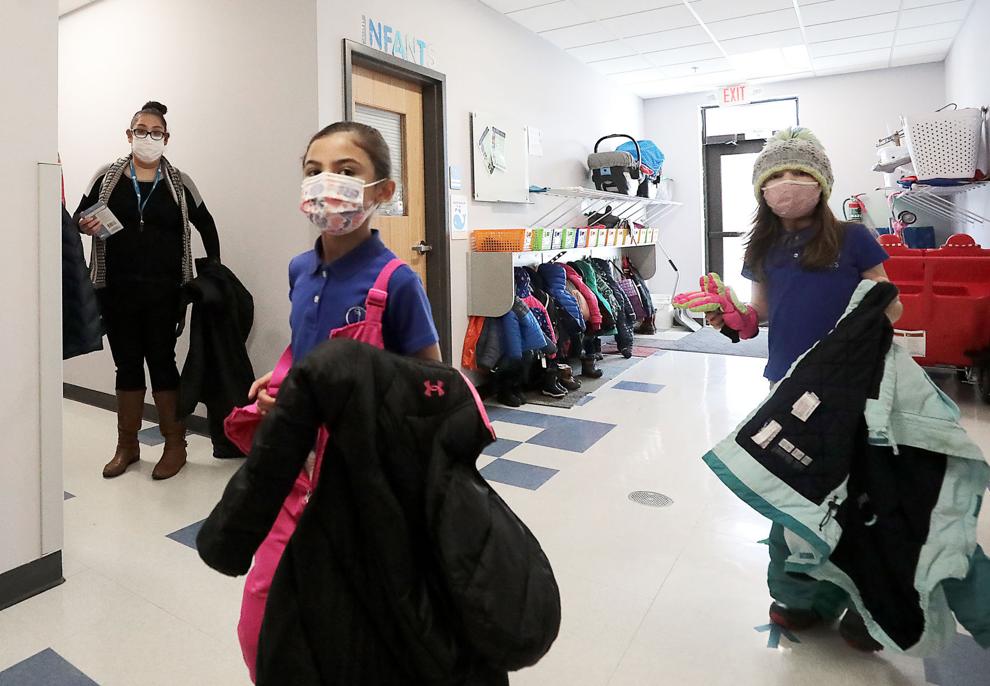 "They're not going to keep their distance all the time," Sierra said. "They're not going to keep their masks on all the time. It's not going to be perfect. But once you just get past that initial fear of just stepping into it, it's not as burdensome as you think it might be."
Edgewood Campus School 4K teacher Diana Albrecht said she's been reassured by cleaning, mask-wearing and other precautions at the Catholic school, which has 309 students in grades 4K through eight.
Her students are not required to wear masks under the county's public health order, but they do anyway, and Albrecht, who is 60 and has some health issues, said "I have felt really very safe."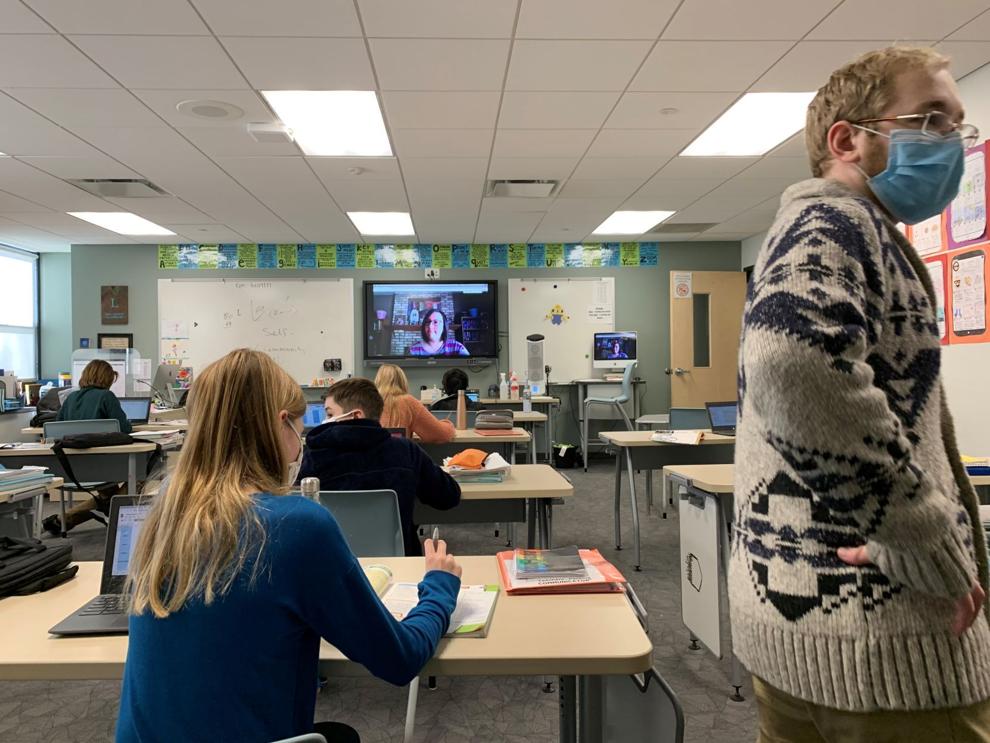 Little transmission
Sierra said that there's only been one case she knows of in which the coronavirus was transmitted in the school: Two teachers who share an office both came down with the disease after one of them was infectious but hadn't yet shown symptoms.
As of Tuesday, the school had initiated eight full classroom quarantines starting between Sept. 29 and Nov. 25 — some occurring simultaneously — after a student or staff member in a classroom tested positive. Sierra said she knows of no student who tested positive after being in a classroom that was quarantined.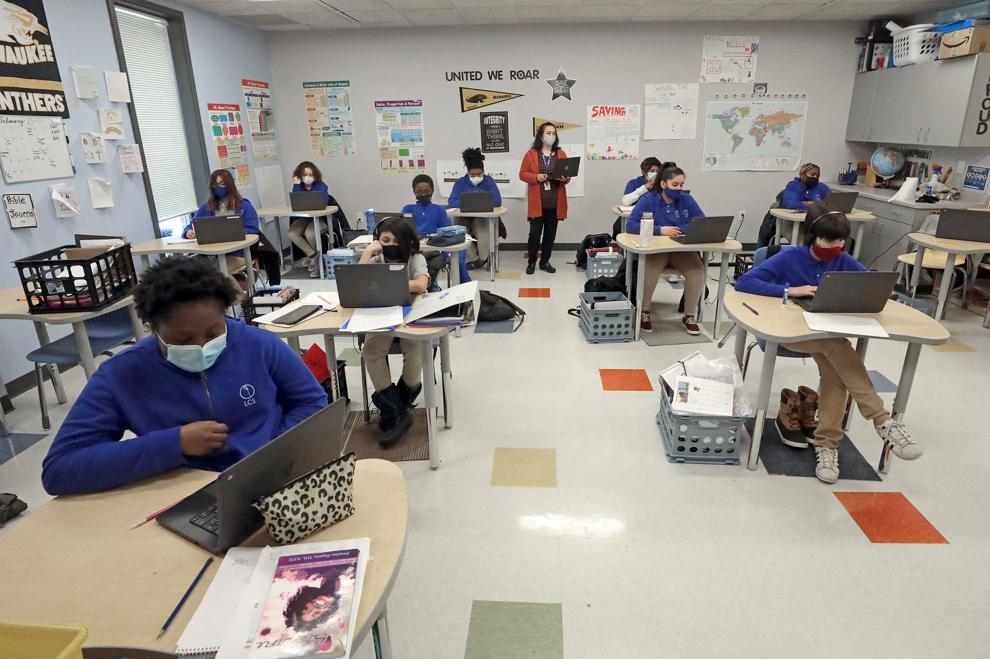 One City said it's only had to quarantine one class, at the beginning of the school year, and Edgewood said it's not had to quarantine any.
Official numbers from the joint Madison and Dane County public health department have generally borne out the low risk of in-school coronavirus transmission that public health researchers have found elsewhere.
From Sept. 1 to Wednesday, Public Health Madison and Dane County conducted 206 facility investigations in schools; 175 of those investigations found 317 cases but no evidence the cases were the result of transmission in the schools. Thirty-one of those investigations found clusters of infection comprising 173 cases where there was evidence that transmission may have occurred within a school.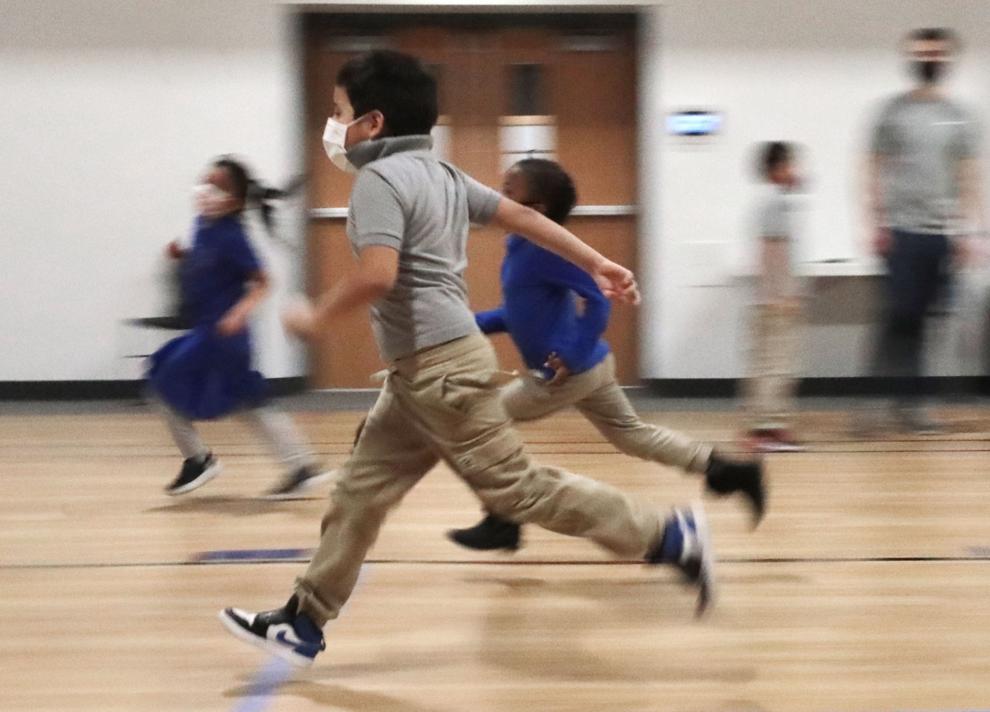 But no one whose COVID-19 infection could be traced back to in-person learning at a school has been hospitalized or died from the virus, the agency said.
Danyella Portillo, who has a 7-year-old son and 5-year-old niece at One City, said it was One City's COVID-19 temperature-screening protocol that flagged her niece's infection and spurred all the members of her then-five-person household to get tested. They all tested positive and Portillo caught the worst of it, getting hospitalized twice.
Without that early warning, she said, she might not have been able to get a crucial antibody transfusion treatment that to be effective must be administered shortly after symptoms appear.
"I literally owe my life to One City," she said.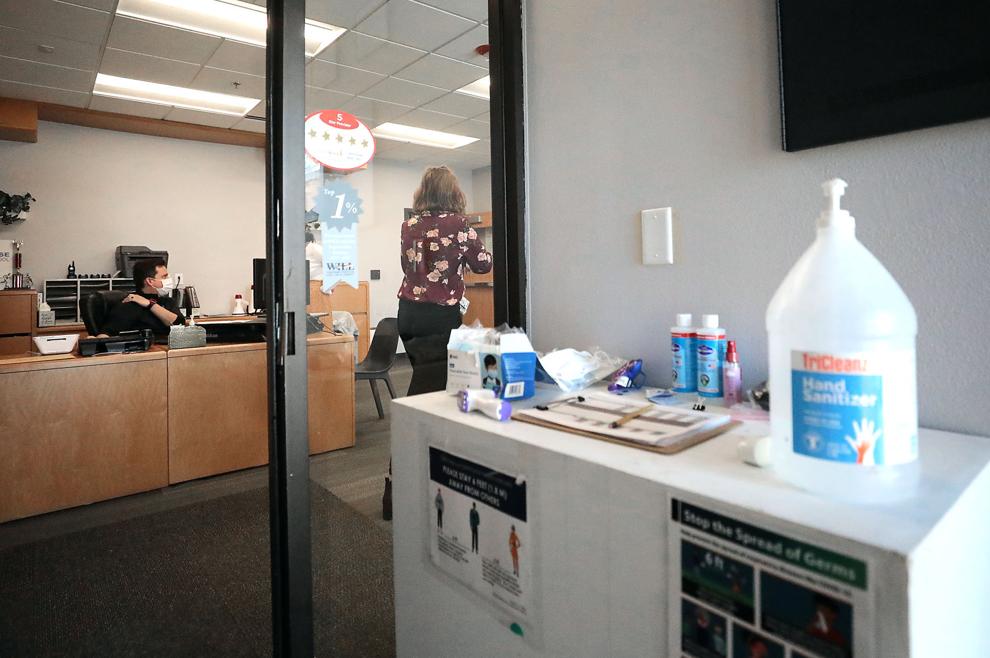 Diverse enrollments
Across the United States, Black and Latino communities have suffered disproportionately from COVID-19, raising questions about whether the school-age children from those communities should be in group settings outside of the home where the likelihood of infection could be higher. At the same time, students of color and low-income students are most at risk of falling behind academically when deprived of in-person instruction, research has shown.
Both One City and Lighthouse have majority-minority enrollments, with One City about 20% white. The breakdown at Lighthouse is about 50% Latino, 25% Black, 10% white and 5% other races. Edgewood is about 63% white, according to principal Anne Palzkill.
About 41% of students at One City are considered low-income, but very few from Edgewood are. About 80% of students at Lighthouse receive state vouchers for tuition, meaning they have to fall below certain household income levels, including $57,000 for a family of four.
D'Abell said he's seen no difference in infection rates among the schools' families based on ethnicity, while Sierra pointed to the downsides of virtual leaning for many students of color and low-income students.
Teachers, "especially working with this demographic, they know how crucial it is that these kids are learning in person," she said. "There just isn't the same amount of achievement."
About 20 of the school's students have chosen a fully virtual option, she said, and some who had been virtual returned to in-person. D'Abell similarly said the vast majority of One City students, about 70%, have chosen in-person learning, and a few who initially went the virtual route have chosen to come back to in-person. At Edgewood, the percentage of students opting for fully online dropped slightly from the first to second semester, from about 12% to about 9%.
Sierra estimated that about half the families whose children attend her school lost their jobs with the onset of the virus nearly a year ago. Many of them do factory and restaurant work, she said, and as jobs have come back they've needed to return to work to support their families. Many students also have parents who only speak Spanish and therefore can't help their children with work done online, she said.
Advice for Madison
In its reopening plan, the Madison School District commits to many of the safeguards non-district schools implemented when they returned to in-person learning, including mask-wearing, sanitizing, limits on who can be in school buildings and daily symptom monitoring.
Still, there are differences between private or public charter schools and the Madison public schools that could make returning to in-person more difficult for Madison.
Lauren Costello, a former Madison School District teacher who now oversees grades six through eight as the assistant principal at Edgewood, said Edgewood's experience is not directly transferable to the Madison public schools.
"I know the challenges that they have and they're 10 times what we have," she said. She and D'Abell both pointed to the need for enough space to properly distance students, and Costello said Edgewood doesn't need to worry about busing and has a much smaller staff than Madison.
Large public school districts can "definitely" do in-person learning safely, D'Abell said, but One City's experience "wouldn't transfer if the teachers union is not willing to be flexible." Madison is among the few districts statewide that continue to have robust unions.
"I think everyone agrees that in-person education is more successful than remote education, so if we're focusing on educating our scholars, especially our scholars of color, I would hope that the teachers unions would be working together to find out the best ways to educate the kids and keep everybody safe at the same time," D'Abell said.
Sierra acknowledged that in-person school during the pandemic is "much more work" for staff.
"We told teachers right from the start — don't put too much pressure on yourself," she said. "The more important thing is getting them into school everyday, getting them reading, getting them writing, getting them doing math. Other than that, I don't care if you get to everything. ... We just need them back and learning again."
In a Feb. 11 open letter, the Madison teachers union, Madison Teachers Inc., said that without satisfactory answers to a number of questions about virus metrics, building improvements, vaccinations and other issues, "we cannot and will not encourage our members to support any district plan for re-entry."
Madison district spokesman Tim LeMonds said on Tuesday that the district had "not seen any indication teachers will not report to work."
MTI executive director Ed Sadlowski did not respond to requests for comment.
---
Should schools reopen? Our readers sound off
Readers have strong opinions about last Sunday's Wisconsin State Journal editorial, "Fauci sends a message to schools," which encouraged local school districts to develop and share plans for reopening schools for second semester. Here are some of the letters to the editor the State Journal has received in response in recent days.