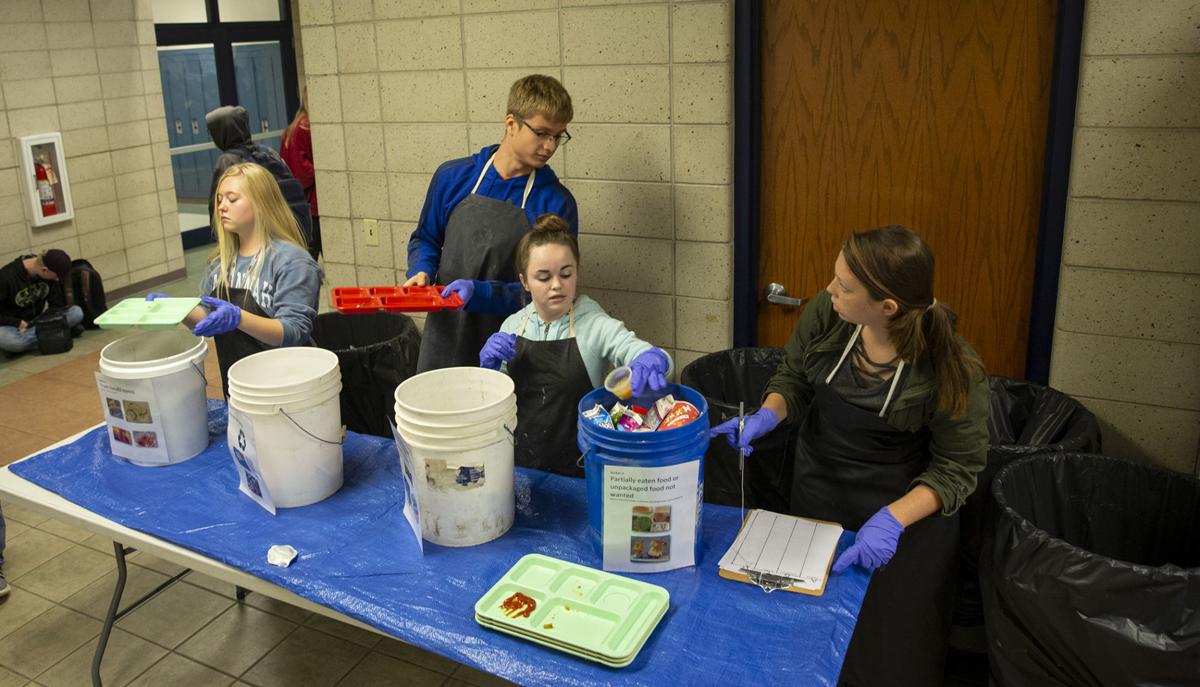 REEDSBURG — Sorting lunchroom waste at Reedsburg Area High School was an "eye-opening" experience for students.
"I learned that a lot of kids don't eat their fruits," said sophomore Alexis Leatherberry, secretary of the Reedsburg Science Club that organized the sorting. "I know that we as a school eat a lot of processed food and that creates a lot of trash. … I bring a cold lunch every day. I try to bring Tupperware dishes so I can reuse them but not everyone is like that."
The project was a new twist to the Wisconsin Science Festival produced by the Wisconsin Alumni Research Foundation (WARF), UW-Madison and the Morgridge Institute for Research. This year the Wisconsin Society of Science Teachers and the Wisconsin Science Festival are partnering on a Statewide Science Challenge open to all K-12 schools.
The 2018 challenge is called "Lunchroom Leftovers" and student teams are conducting detailed analyses of food waste in their school cafeterias. The data will be collected statewide and made available through the Field Day Lab program's Siftr.org site that showcases results via a statewide map. The statewide data will be available to view at siftr.org/lunchroomWI/.
The goal behind the science challenge is to enliven the traditional model of the school science fair and provide accessible opportunities to learn about science. The Wisconsin Science Festival ran Oct. 11-14 but teams formed as a school, classroom or club can take part in the challenge throughout the school year.
The data collection involves collecting food waste from lunchrooms and sorting it into four labeled buckets: One for partially eaten or whole unpackaged food left on a plate or tray, the second for packaged, uneaten food (still in wrapper), a third for recyclable items and the last for trash (non-food items).
Every time a bucket gets filled up it is tallied on a tally sheet and then entered into Siftr. Then the bucket is emptied into trash or recycling bins and used again.
Members of the Reedsburg Science Club took on the project last Thursday. Senior Maxwell Harsch, club president, said he expected the students would collect more garbage than anything.
"But there was significantly more than I thought there would be," he said.
Many of the students were throwing away sealed containers of applesauce. Calvin Snitker, adviser of the science club that he started this year as a new science teacher, said the cafeteria cooks are aware that some of the packaged items are thrown away. But they are part of the requirements for the free and reduced lunch program.
"We are just throwing out food that is perfectly usable. This is eye-opening," Snitker said. "There are options with the main course and I think that definitely helps out with the waste. … I think one of the big things they saw, too, is the amount of recycling just getting thrown away."
Amy Workman, a science teacher at Reedsburg who assists Snitker in running the club, said she was involved in setting up the challenge as a fellow in the Field Day Lab Fellowship program that operates out of the Discovery Center at UW-Madison to improve citizen science education in K-12 schools. She then proposed the idea to the science club members.
Workman said the challenge exposed how many recyclable items are being thrown away. The findings will lead the science club, which is in charge of the recycling efforts in the school, to make some educational fliers and possibly a video to help create more awareness.
The club also could look at some of the unopened food being thrown out and figure how to deal with it so it is no longer a waste product, Workman said.
"It would be a fantastic result if students learned something about their lunchroom waste stream and generated new projects they could take to local and regional science fairs and other science showcases in their communities," said Travis Tangen, education and outreach manager for WARF.
Be the first to know
Get local news delivered to your inbox!