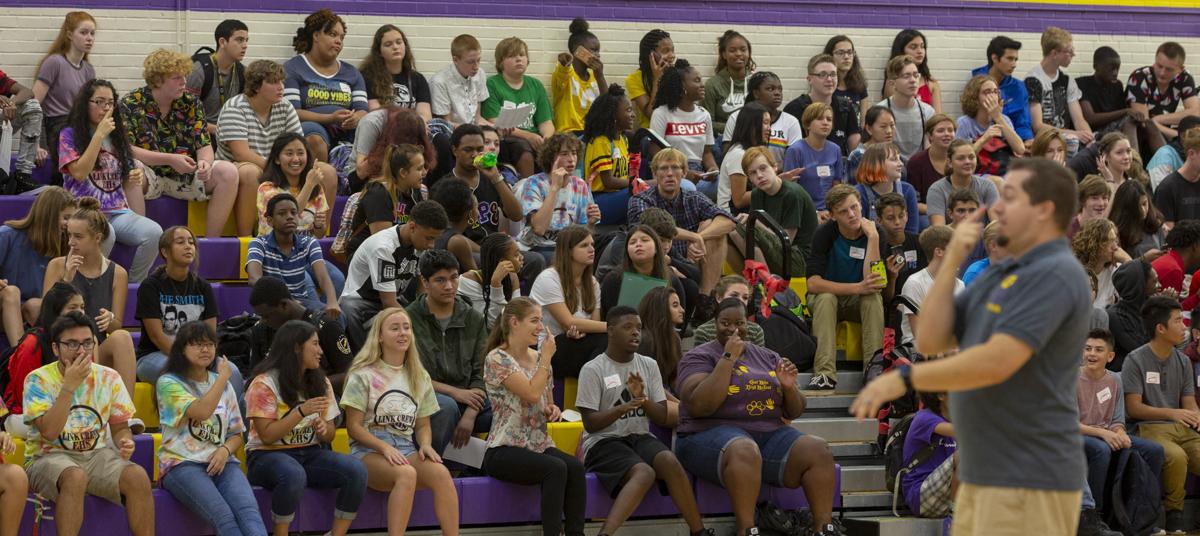 The latest round of tests administered to Wisconsin public school students show less than half of students in grades 3 through 8 scoring proficient or better in English/language arts and math, benchmarks that haven't been surpassed in the previous two years either, according to results released Tuesday by the state Department of Public Instruction.
More than 455,000 students across the state took the exams sometime between March 19 and May 4.
For the third year in a row, students in grades 3 through 8 took the Forward exam, which tests English/language arts, math and — depending on the grade — science and social studies.
Statewide, 40.6 percent of students performed proficient or better in English, 41.1 percent in math and 42.5 percent in science.
DPI officials also released scores from the ACT exam, required of all high school juniors and used in college admissions to test student readiness. In the fourth year of this mandate, the composite ACT score for 11th-graders was 19.7 out of a possible 36, down from 20.0 in the previous school year.
"By and large, we have some consistency arising," DPI spokesman Tom McCarthy said. "There is not a lot of change."
Officials point to slight, steady gains in statewide math scores — all but one grade saw improvement from the previous year — and say educators are becoming more familiar with the test's standards.
Educators had administered the Wisconsin Knowledge and Concepts Examination (WKCE) for years. But in 2014-15, the WKCE was replaced with the Badger exam, a test built around the controversial Common Core standards. A year later, Wisconsin leaders said the Badger exam had technical glitches and significant cost overruns. The Forward exam was selected as the replacement test, meaning students took a different state exam for the third time in three years.
The changes in tests during that period made drawing meaningful comparisons difficult, officials said. Now, with three years of the Forward Exam under their belt, officials say they can better analyze results.
All but one grade saw a statewide decline in their English/language arts score.
The data also reflect the pervasive disparity in test scores among different racial, ethnic and income groups, a troubling trend that's gotten worse in recent years, according to statewide data.
In 2015-16, 15.1 percent of black students scored proficient or advanced in third-grade English/language arts. That dropped to 13.7 percent in 2016-17 and to 12.7 percent in 2017-18.
For Hispanic students, 26.5 percent of third-graders scored proficient or better in 2015-16 in English/language arts. The following year, 25.2 percent scored the same; last spring that dropped to 22.3 percent.
Depending on how the data are crunched, the achievement gap closes a bit among some groups, but not in the way officials would like.
"Our white students are slipping in performance a little bit and our other subgroups are staying rather constant," McCarthy said. "It's not a gap closure we would celebrate."
Madison School District
Madison School District officials were not surprised by their students' scores, which showed the district trailing statewide scores by a few percentage points in every subject and at every grade level on the Forward Exam.
You have free articles remaining.
"When we get results like these, they're really nothing new to us," said Andrew Statz, the district's head of data and accountability. "It's really confirming a lot of the things we already know."
District officials prefer to rely on Measures of Academic Progress (MAP) scores, which are administered three times in a single school year and provide administrators with results in weeks rather than months.
The comparatively lower Forward scores are attributed, at least in part, to the district's higher rate of students opting out of the Forward Exam, Statz said. One of the most common reasons parents cite for opting out is the number of tests students already take.
Between 3.5 percent and 3.8 percent of district students did not take the Forward exam last spring, depending on the subject, compared to a statewide opt-out rate of 1.9 percent.
The higher opt-out rate matters because the Forward Exam scores students opting out as not proficient, dragging down a district's average.
On the ACT, district students outperformed their statewide peers in all three subjects tested — English, math and science — but scores dropped slightly from the previous year.
When test scores are broken down by race or income, the district's achievement gap emerges.
District students with parents considered economically disadvantaged scored a 16.6 on the ACT while non-economically challenged students scored a 24.3.
On the Forward Exam, nearly 61 percent of white third-graders in the district tested proficient or advanced in English/language arts, but only 11.6 percent of black students and 13.2 percent of Hispanic students scored the same.
The district's eighth-grade math scores show 48 percent of white students performing proficiently or better while about 6.7 percent of black students scored the same.
Over the summer, district officials vowed to do better for black students, which make up about 18 percent of the district's students. Officials plan to create a "community coalition" and conduct "culturally responsive" training, among other initiatives.
"There's no known strategy for this work (to close the achievement gap)," Statz said. "There's no page in a playbook we can borrow from another district. We have to engage in those strategies."
Other Dane County districts
Dane County's smaller school districts saw some of the largest year-to-year swings in performance because changes among a small number of students have a greater effect on overall scores.
More than half of the Deerfield School District's sixth-grade students scored proficient or better in math in 2016-17. But the following year, less than a third of students passed the same test, accounting for the largest year-to-year decline in a single grade among the 16 Dane County school districts.
But Deerfield, with about 750 students, also had one of the largest year-to-year improvements in its average eighth-grade English/language arts score, which jumped 23.4 percentage points.
The same goes for the Belleville School District, where officials saw increases and decreases as large as 20 percentage points.