Only one college loan was awarded last school year from a state program aimed at diversifying Wisconsin's teaching pool.
Now, a group of bipartisan lawmakers is seeking to expand the eligibility for the forgivable loan program after changes the state Legislature made four years ago resulted in a substantial drop in loans awarded.
The state's Minority Teacher Loan Program offers loans to African American, Latino, American Indian and certain Southeast Asian populations to attend a Wisconsin college in pursuit of a teaching degree. They can have the loans completely forgiven after four years of teaching by meeting certain requirements.
But limitations to the program eligibility made in the 2015-17 biennium budget made it more difficult to qualify for the loans.
Since 2015, loan recipients must agree to work at a public or private school only in Milwaukee, teach in a high-demand field and receive a rating of proficient or distinguished in a teacher evaluation. If the requirements are met, 25% of the interest and principal on loans is forgiven per year.
Before the changes, recipients could pursue any teaching discipline and work at a Wisconsin school with a minority student population of 29% or more —a threshold about 60 school districts meet, according to the Legislative Fiscal Bureau.
In the three school years prior to the eligibility changes taking effect, the program awarded 212 loans. Only 11 loans were awarded in the three school years after the changes, including just one in 2017-18.
Connie Hutchison, executive secretary of the Higher Educational Aids Board, which runs the loan program, said she thinks student interest in the loan dropped because of the limitation on where recipients could teach, saying some people have preferences to live in other parts of the state.
"If you narrow it to just one specific place, people aren't even sure they're going to get a job in Milwaukee," she said. "If they're taking out a loan, and their only option is one school district, that's not really much of an incentive for people to take out a loan ... they're depending on to be forgiven."
A bipartisan bill would instead allow loan recipients to get their loans forgiven if they work at schools composed of 40% or more students of color, which is the case in about 25 school districts, or a tribal school, while still working in a high-demand field such as special education, math or bilingual teaching.
"I think sometimes we lose sight that there are people of color outside of Milwaukee and Madison," said state Rep. Jason Fields, D-Milwaukee. "We do a disservice, to be honest, if we don't say, 'Hey listen, inclusion and diversity is good for everyone of us.' Let's do this outside of just Milwaukee."
You have free articles remaining.
Register for more free articles
Stay logged in to skip the surveys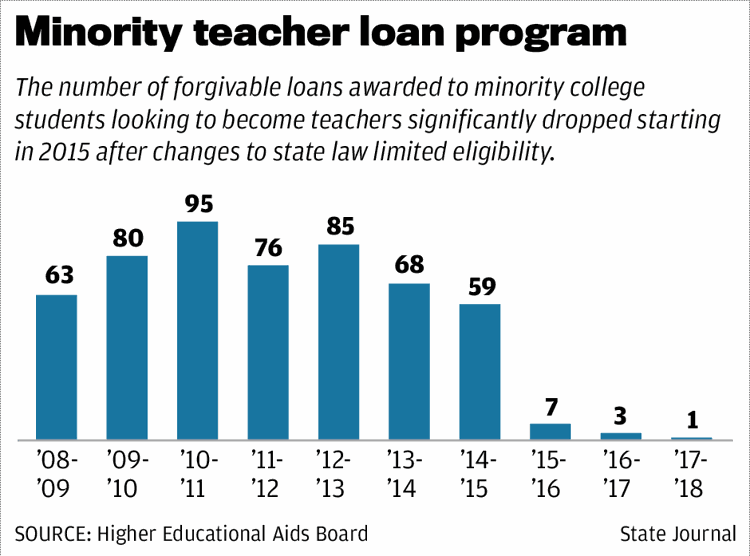 In the past six school years, the number of people who had their loans completely forgiven was 146, representing an average of 48% per year of all closed accounts, which happens when a loan is paid, forgiven or a combination of both.
Fields, who is a co-sponsor of the bill, which is scheduled to be voted on by the full Assembly on Tuesday, said he sees the previous eligibility changes as partially responsible for the sharp decline, but he also thinks the program has not been adequately marketed.
"A lot of people had no idea this even existed," Fields said, adding he talked with several African American employees at Milwaukee schools that were unaware of it.
Hutchison, who was appointed to her position in March, said she plans to contact Wisconsin colleges and universities with teacher education programs to inform them about the program as opposed to just working with financial aid officers.
Statewide, 95% of teachers are white, while about 69% of school children are white, according to data from the Department of Public Instruction. In Madison schools, 87% of teachers are white compared to 42% of students identifying as white.
"I think it's important for students to see people who look like them who are teachers. If you are in a place where you never see someone who looks like you as an educator, it might not occur to you to ever be an educator," Hutchison said.
In his executive budget, Democratic Gov. Tony Evers sought to convert the loan program to a grant program, but the Legislature's budget-writing committee rejected that plan and voted to keep the base funding for the loan program the same, at $519,000, over the next two years.
Aside from providing the option to work in more school districts, the bill would also open up applications to all Asian populations as opposed to only former citizens of Vietnam, Laos and Cambodia, or their children, who immigrated to the United States after 1975, as well as Alaskan natives.
Students seeking the loans can qualify for up to $10,000 in each of their sophomore, junior and senior years for a maximum of $30,000 in loans, which have a 5% interest rate in line with federal student loans.
The Assembly bill received unanimous support in the Colleges and Universities Committee. The Senate version has yet to receive a committee vote.