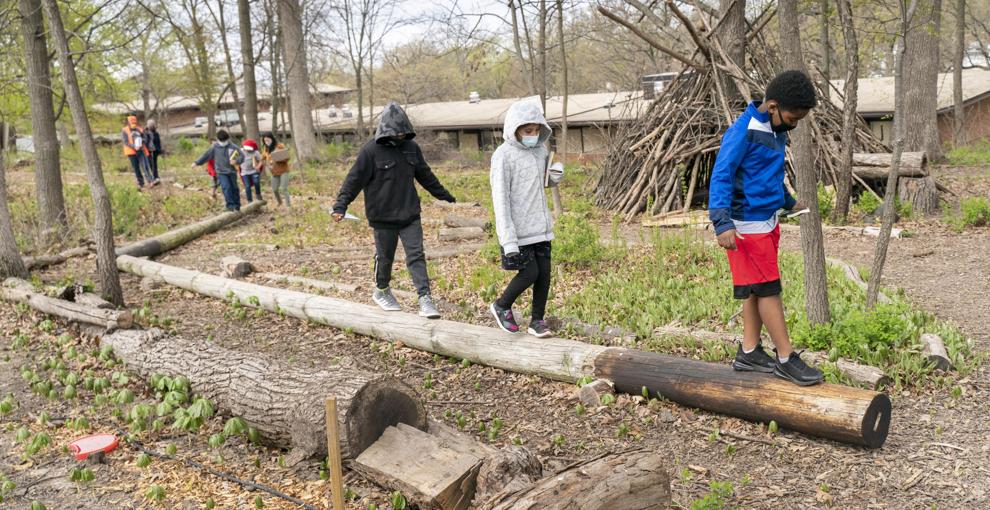 Lake View Elementary community members are raising concerns about how a nearby proposed development could affect its small forest, which has grown to become an integral part of the school's curriculum.
But the trees and the vista just beyond the school forest could be preserved under current plans for the North Side subdivision, which is generally located between Packers Avenue and North Sherman Avenue about one-half mile north of Northport Drive.
Lake View physical education teacher James Kersten said if that green space were lost, it would change the look and feeling of the school forest.
"The kids don't recognize that fence as the border," Kersten said.
He said the skyline and the sense of being in a forest would change dramatically.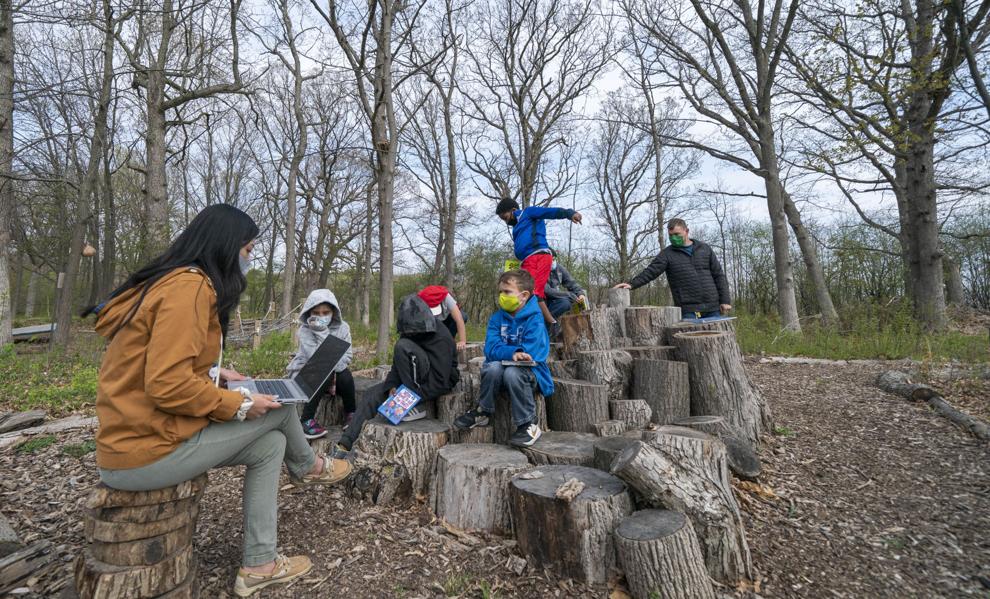 "Even if they can't touch the trees, it is still part of their forest," Kersten said. "They see the fence but the fence doesn't mean very much to a 5-year-old."
Required zoning changes are slated for the agenda of Monday's Madison Plan Commission meeting and the city planning division is recommending that they be approved.
The proposal for the "Raemisch Farm Development" subdivision calls for the 63.59-acre site, which is currently zoned as an agriculture district, to be platted with 97 lots for detached single-family residences. In addition, eight commercial, mixed-use or multifamily lots will be created.
Eric Knepp, parks superintendent, said the use and design of new parkland could fall under a joint use agreement with the Madison School District.
Lake View staff members said in addition to the school forest being important to what they are teaching at the school, it also is green space for children who are living in a place without much of it.
"(For) our students and our families, their home environments are very much apartment homes," said principal Nkauj Nou Vang-Vue. "There is very little access to engage and explore in the outdoors."
Vang-Vue said the school forest, which has five different nature stations, is less intimidating because of its size.
"It is truly like a beginner step to being outside in the woods," she said.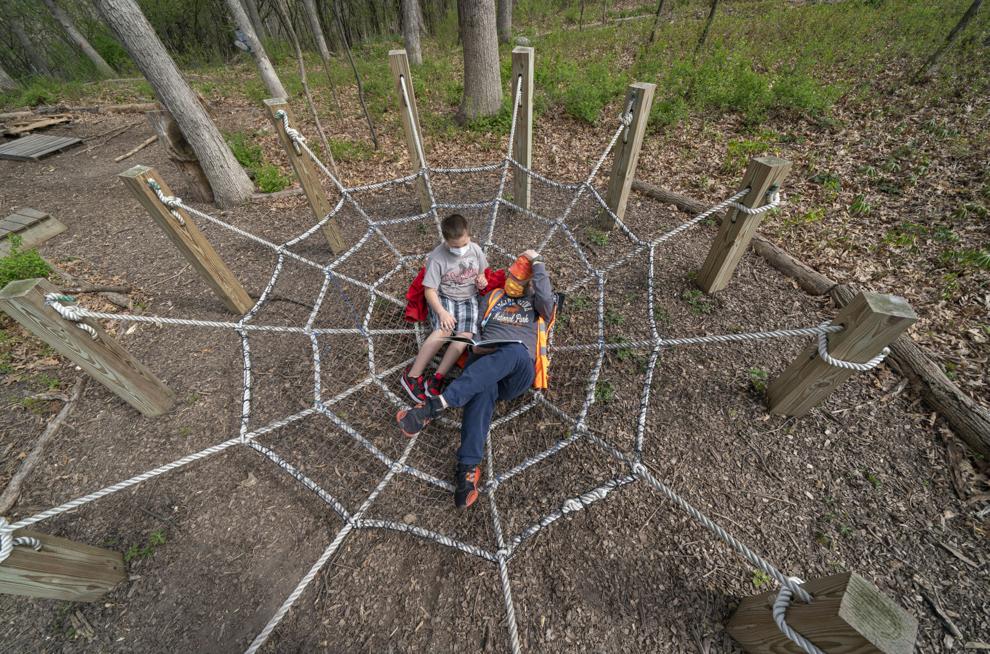 More uses
Last year as the school grappled with the COVID-19 pandemic, the school forest was used for recess because it allowed for social distancing.
Lake View looks for other ways to get students out in the school forest for subjects like math and reading. Pushing a wheelbarrow is part of physical education and so is raking. Kindergartners get exercise picking up sticks.
The students also help build structures and also do more typical physical education activities such as running a couple of laps in the forest and using the balancing beams, Kersten said.
"They just run, run, run around," he said.
Last school year, physical education was online, which gave Kersten time to work with regular education teachers to get students out in the school forest.
"I love everything about the forest," said Jy'Heir Jones last spring when he was learning in the school forest with his third grade classmates.
Jy'Heir and Emery Onyezuluba, Ralphie Rodriguez Morales and Savera Sharifi, who also were in the third grade class, all talked about building stuff in the forest.
"It's quiet and it makes me calm," Emery said.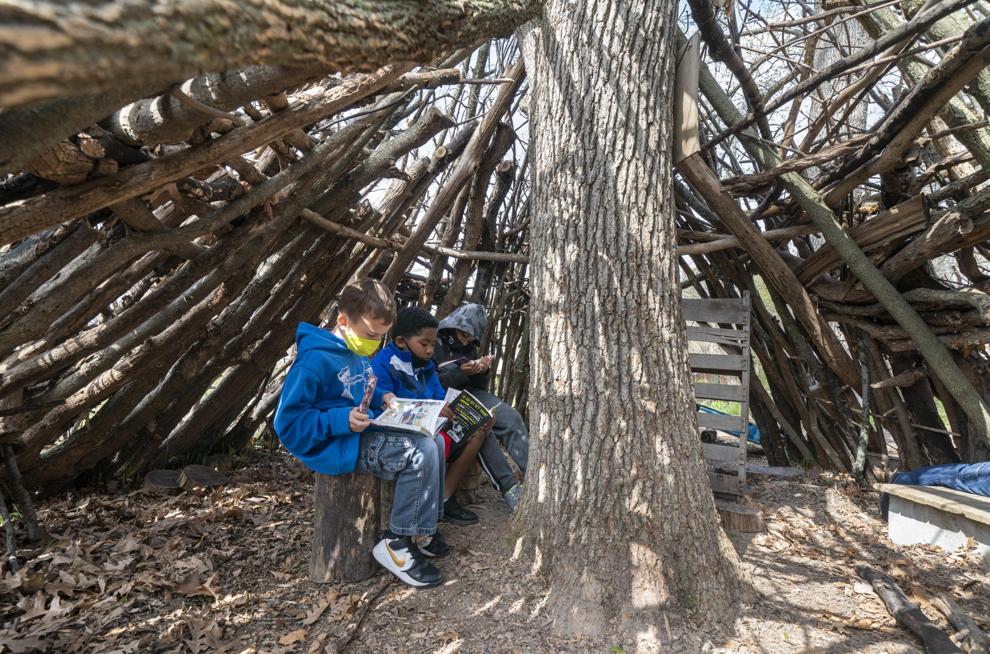 Classmate Krik Nodich said the forest means students don't have to spend the whole day inside.
"I mostly like it because there are different stations. You get to have fun and get to know other people," said Noah Upright, another third grader last spring.
Kersten's leadership efforts in developing the school forest were recognized last spring with a 2021 Wisconsin School Forest Award from LEAF, the Wisconsin K-12 Forestry Education Program. He was honored during a ceremony which also included planting a pine tree in the school forest with city officials on hand. Normally, the school plants a tree every year at nearby Warner Park but the tradition was changed because of the pandemic.