Fifth-grader Justin Cass can struggle with regulating his emotions and impulse control.
But when participating in a new class at Lake View Elementary called "Peaceful Families, Peaceful Schools," Justin is a star pupil and one of the best role models.
"It's a safe place for me," said Justin on the third night of the class last Tuesday. "It's not a place where I have to worry about anything. I can go and just have fun."
He said it also is helping him to be a better listener and to be respectful.
This is Lake View's first year designated as a community school and one of the new resources being offered to families is a violence prevention class called "Peaceful Families, Peaceful Schools."
It is being taught by Rena Kornblum, a dance/movement therapist who has developed and published a curriculum called "Disarming the Playground: Violence Prevention through Movement and Pro-Social Skills" and had already been working with students at Lake View in another arrangement. She also teaches dance/movement therapy and ballroom dance at UW-Madison.
The six-week class meets one evening a week at Lake View and the first session ends on Nov. 20. Two more sessions of six classes each will be held at Lake View after the winter break.
Families eat a meal together, do a group activity and then parents have time at the end to discuss specific concerns or goals with Kornblum while the children spend time in the gym.
"I'm hoping the family together has a set of skills they can use and a vocabulary," said Kornblum about the aim of the class.
The violence prevention classes are intended to support better behavior outcomes at school and prevent bullying.
The class teaches skills such as emotional self-regulation, empathy, interpersonal communication, self-talk, focusing, positive risk-taking, assertiveness, self-confidence and greater interpersonal spatial awareness.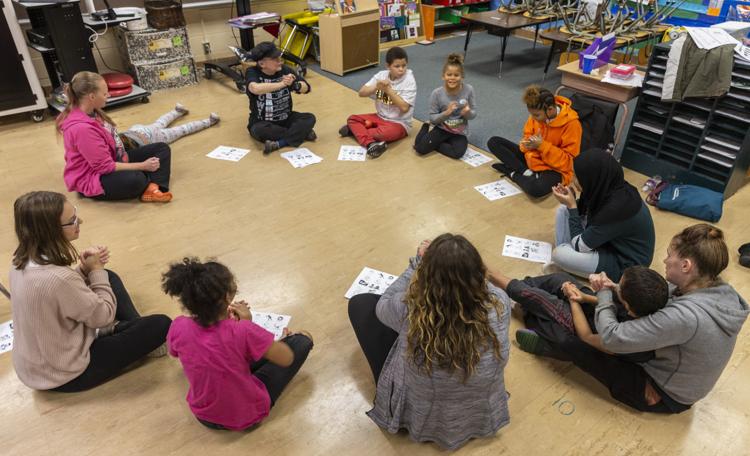 Several children said they enjoyed the exercises involving stretch cloths. In one activity meant to instill impulse control, the students tugged the cloth back to see what it would feel like to pull back and know you can stop a behavior.
In another, students moved the cloth in waves, which helped them increase their attention span by watching the leader. It also taught them to wait for their turn to lead the exercise. In another, the group of children and parents sat in a circle with the cloth stretched around them, which allowed them to feel support on their backs.
This year, the school was awarded a $9,400 grant from the Madison Community Foundation through the Jason Zivu Thomas Memorial Fund for Children to support and expand Kornblum's work. Other initiatives this year include instruction for whole classrooms, small group intensive intervention for some students, coaching for recess and after school employees, family group sessions and self-care classes for teachers after school.
Last year, Lake View had 1,745 calls for behavior support and 10 percent involved a violent act, said Rachel Deterding, community schools resource coordinator at Lake View.
Mary Cass, who is attending the class with her five children, said she sees the benefits for her boys who are "impulsive and active" and it helps at home because she can remind her children what they learned in class. The class is "helping the boys get better control over emotions and … to calm down before you get upset," she said.
Brett Moore, who is taking the class with two of his children, said he thinks there is benefit in them having a chance to interact with peers outside of the more structured school day. He said he also has picked up some stress release and breathing techniques.
Belinda Georgeson said when she heard about the class, it sounded perfect for her child.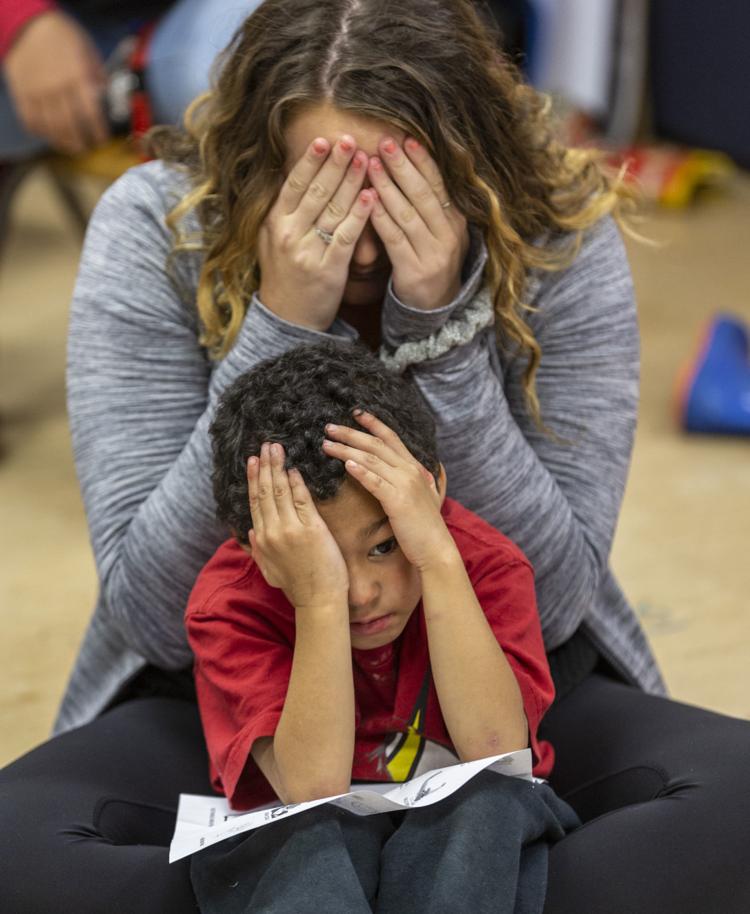 "She has a lot of anxiety and that distracts her," she said.
The long-term goal is to see a reduction in behavior support calls, said Tom Qualls, parent liaison at Lake View.
"Short term we're seeing lots of wins," including using the strategies in classrooms, he said.
This family violence prevention class is one of many services that will be offered to Lake View families this year and those who want to volunteer to get involved can contact Deterding at 608-501-3112 or rdeterding@madison.k12.wi.us.