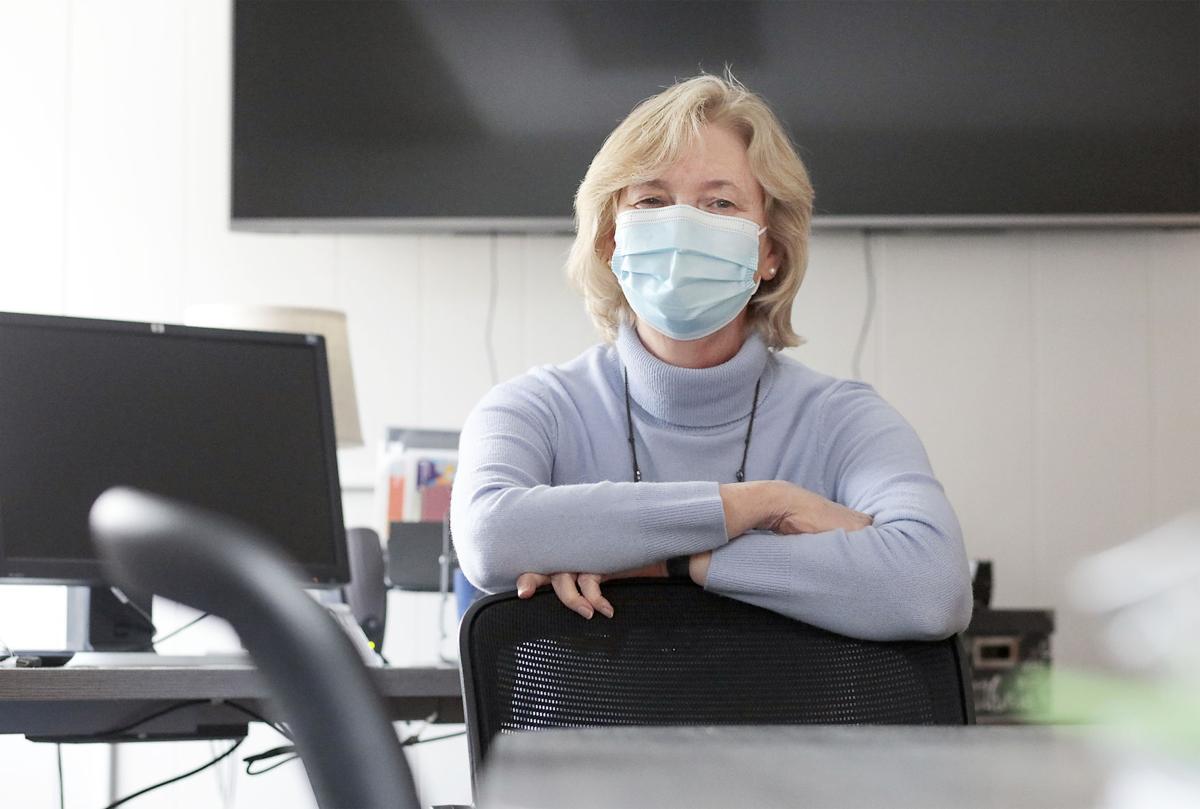 Madison School District head nurse Sally Zirbel-Donisch is working in her dream job despite its recent tumult brought on by the COVID-19 pandemic.
"I always knew, from being a young person, I wanted to be a nurse and I wanted to work with children," she said.
As she moved through her education, Zirbel-Donisch realized she wanted to work in the community and help facilitate access to health care for families and students across all demographics.
"I wanted to look at it more from a larger aspect, a population aspect, not just the one-on-one piece but looking at the bigger picture," she said.
Zirbel-Donisch lived in Green Bay before moving to the Madison area for the first time, at a young age. She attended elementary school in Sun Prairie along with her fraternal twin sister until eighth grade when her father was transferred to Des Moines, Iowa. She attended high school there until her last semester, when she and her family moved to Shawnee, Kansas.
"She and I, with all of those moves, were always very close," she said of her twin. "I felt very lucky to always have a friend."
Zirbel-Donisch attended the University of Kansas for a few years until her family moved again to Davenport, Iowa. She finished her nursing degree there at Marycrest International University, then moved again to work in the neonatal intensive care unit at the University Of Minnesota Hospital.
After her parents retired, they moved back to Madison, and Zirbel-Donisch, a self-proclaimed family person, did the same to be near them and her sister.
"I always loved this city, and Wisconsin is very picturesque compared to Iowa and Kansas," she said.
She worked in the pediatric unit at SSM Health Saint Mary's Hospital for five years while she pursued her master's degree in pediatric nursing and her nurse practitioner certification.
In the 90s, she accepted a position as a nurse at Lowell Elementary School, then as a lead nurse, and found her calling in working with students.
"It felt so good, when you find what your match is, and that was my perfect match," said Zirbel-Donisch, 64.
She became assistant director of health services in 2012.
"I did find my passion ... it was working with not only students and families but staff and partners in the community. It's just a wonderful mix and I've been so appreciative," she said. "It's been everything I ever would have dreamed of in my dream job."
Nurse Sally, as she's affectionately referred to by district Superintendent Carlton Jenkins, also coordinated the Dane County Neighborhood Child Health Coalition for eight years. The coalition worked to offer health care in the schools through a community partnership.
"That morphed into health care organizations taking over and opening up slots for children who are uninsured," she said.
This year's COVID-19 health crisis upended Zirbel-Donisch's job, but decades of experience helped give her a solid foundation to deal with the pandemic head on.
What was your thought process when COVID-19 hit?
I was around in 2009 when H1N1 came about. At that time people were busy working on their pandemic plans and so we utilized that planning in February. It all happened so quickly because we were developing a plan and the next thing we knew we were right in the middle of initiating that plan. I feel like we've been working nonstop since February, it's been pretty demanding.
At that point, we were thinking about keeping students and staff in buildings and making preparations for that, before the safer-at-home order was enacted. One thing we've learned through this is we have to change gears, move quickly, be flexible. One thing I've learned with COVID — you think you have one thing developed and done and something changes, so you have to be prepared and able to change on a minute's notice.
Can you tell me what it was like, shutting down the district in spring of last year?
That was hard (voice breaking), all of a sudden the buildings were closing down. I can remember sitting in my office just going, "Wow, this is really hard to believe, we are really closing down our schools."
And then coming back, seeing the emptiness of the buildings and the schools was hard, but knowing that there was still so much to do, because we were shifting from face-to-face learning to virtual. We then had to quickly think about how we were going to implement virtual learning and how our nursing staff was going to help support families and students while working virtually. We developed plans and worked with staff and supported them. It was hard because not only were staff having to work but many of them have young children and families and were having to support them as well. It was challenging, I'm sure, for everyone.
Can you tell me a little bit about the process leading into the 2020-21 school year? How did Madison prepare to return to school or start the year online-only?
Our numbers were coming down in June and things were looking pretty good. I was a part of the senior leadership at that time and we were preparing to bring kids back to school in September, which was our plan. In July our numbers started rising again and there were more concerns. Then we shifted to the virtual setting.
In May, we worked with our (Madison School and Community Recreation) Cares folks to develop a child care program in the schools. We developed health and safety guidance, did trainings for staff. We were getting prepared and worked with staff in the building. When it was determined we weren't going to be back to in-person learning, that's when the childcare programs expanded to almost 27 of our schools. Our nurses and nursing assistants supported those buildings to ensure the health and safety of our students in those buildings. We've been in the buildings since June and we're very thankful to MSCR Cares because they've instilled some confidence in us, that we can do this, we can come back when we're able and we'll be prepared.
What was your thought process in the fall, when Dane County initially blocked public schools from opening and the legal battle that followed?
At that time, we had already decided to teach virtually so I don't think that decision affected us in any significant way. I think that we've always been very much believers in following our public health department's advice and doing what they've recommended. We were good with that. I don't think there were any questions about it. They're the experts when it comes to this.
Can you take me behind the scenes, regarding the decision-making process ahead of the decision to remain online-only for the third quarter?
I have to give Dr. Jenkins a lot of credit. He took this seriously and he didn't just listen to one voice, he listened to several. I know that he was part of our metrics team that meets weekly with internal people and external experts and he attended those meetings to hear what medical experts had to say. He was following his emails closely, hearing what the community had to say. He was reaching out to other superintendents in large school districts, and so I feel like he made a really well-rounded decision. He listened to families and staff, and I'm sure that wasn't an easy position for him but I give him all the credit. I think he did a very good job. I go along with him and will do what we need to do to prepare for when we will come back to in-person learning. We're continually adjusting.
What was the feedback you received after the decision to remain all online for the third quarter?
I heard mostly positive feedback from families and from staff. When you think about Madison, we're different than some of our surrounding areas. We're a larger district with a larger population of students and staff and we're definitely a more diverse population, as well. That really needs to be kept in mind when you're thinking of reopening schools. There's a different trajectory here than a small district — you don't have some of the worries that our families do, especially some of our families of color. Many of them are families with three generations in their household, and there's a concern that a person that's older is at more risk of becoming more seriously ill with COVID-19. That's an important factor to consider. We don't want any deaths in our student body or staff but we also certainly don't want to bring it home and have something happen within a family. That was a strong consideration in returning to the buildings.
How are you feeling overall?
I'm feeling good. When you think of my position, my main focus and my main job is to ensure the health and safety of our students, and I would say that with the decisions that were made, we lead with health and safety.