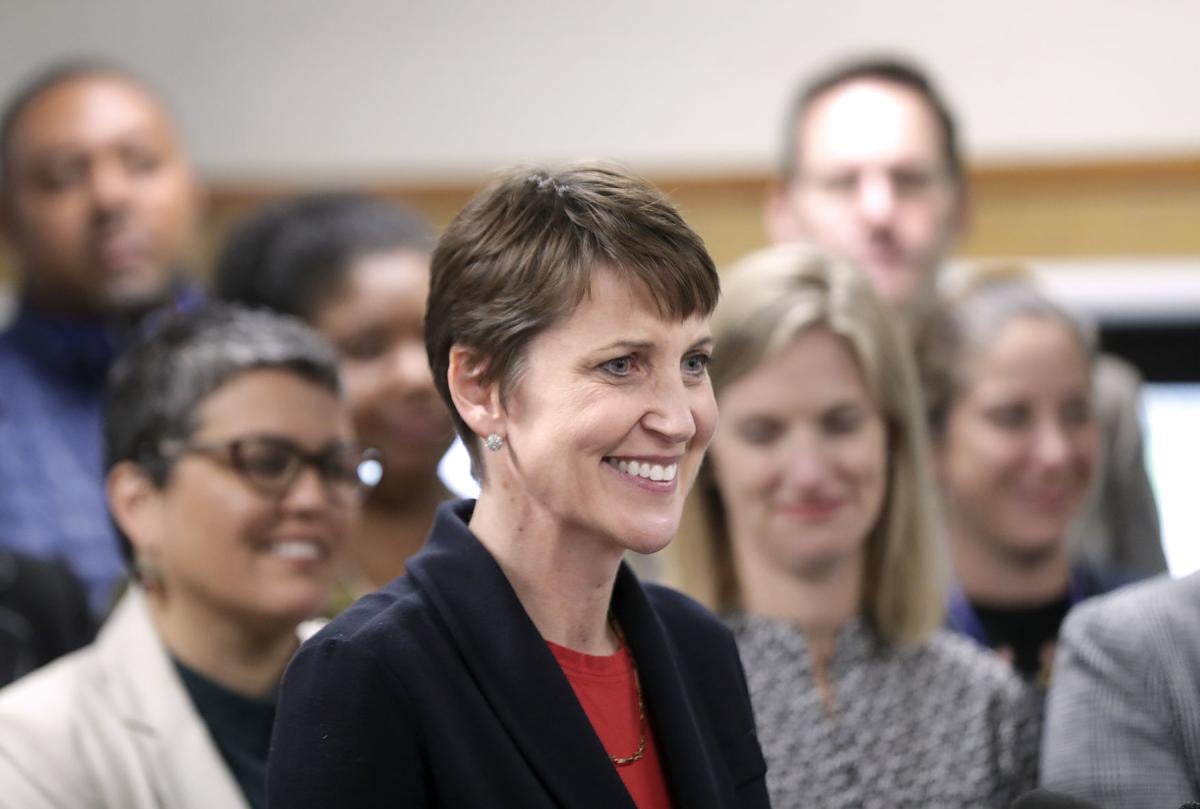 Superintendent Jennifer Cheatham will leave the Madison School District at the end of August after a six-year stint in the job to teach at Harvard University.
Flanked by community leaders, district staff and the majority of the Madison School Board, Cheatham officially announced her resignation Wednesday, saying the district remains in good standing and expressing confidence in the ability of teachers, staff and School Board to improve student outcomes.
"On the most challenging days, I have loved this job," Cheatham said at a news conference at the North Side's Mendota Elementary School. "I have never had a more fulfilling job."
The decision also sets off the process for the School Board to select a new superintendent to lead the second-largest school district in the state.
Leaving an administrative role at Chicago Public Schools, Cheatham became Madison superintendent on April 1, 2013. Her last day will be Aug. 30.
Despite in March having described this school year as "trying," Cheatham said Wednesday that some of the high-profile controversies this year — such as multiple allegations of sexual assaults in schools and a physical altercation between a middle school staff member and student — "is absolutely not my reason for leaving."
"There have certainly been some challenges this year, there are in every school year for a school district superintendent," she said.
Cheatham listed several changes made under her leadership, including the introduction of the "community schools" model and the creation of the Personalized Pathways program for high school students, which she said has strengthened the district.
She also implemented the Behavior Education Plan, a change in the disciplinary policy that moved the district from zero-tolerance and placed less of an emphasis on out-of-school suspensions and expulsions.
It has been criticized by some as being too light on removing disruptive children from classrooms or correcting misbehavior.
Board member Ananda Mirilli said she's heard dissatisfaction from district staff and community members on Cheatham's decision-making and leadership, but she said those criticisms come with the territory.
"There are members of our community that are not supportive of Jen's leadership, and there are many that are supportive," Mirilli said. "That's part of the job. We have very different interests in our community."
The heads of several organizations partnering with the School District, such as Madison Area Technical College and the United Way of Dane County, praised Cheatham during the news conference.
"There's been excellent success, not only in academics, but also in culture," said Renee Moe, president and CEO of the local United Way. "I think the team that Jen has recruited, developed, grown and empowered are all integral, and we have deep and broad relationships across all the different partnerships."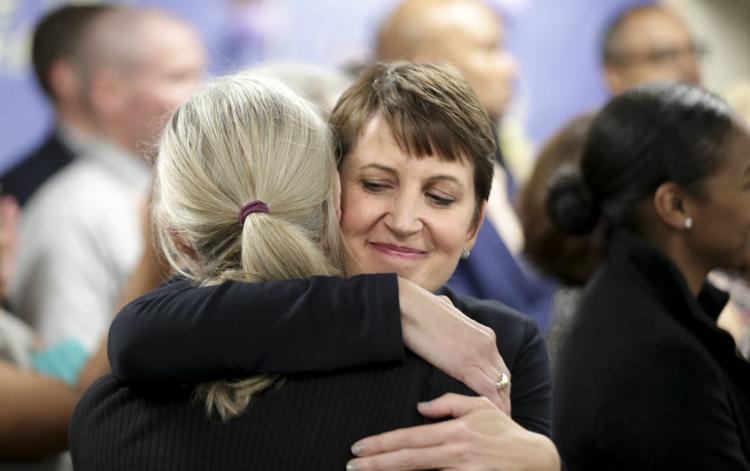 School Board President Mary Burke was also laudatory.
"We are committed, and we are united in moving this work forward. I want to thank Jen for planting those seeds, for building that foundation," Burke said. "We're ready to take this on and make sure this important work moves Madison and our kids forward."
Former board member TJ Mertz, who served for almost the entirety of Cheatham's tenure until losing re-election in April, said he sees a "mixed legacy."
"She brought some good focus, some good organizational skills," he said.
Mertz added, though, that he believes shared decision-making has eroded under Cheatham and said the district has become more of a "closed culture." He said there have been some good leadership and principal hires, but "there's hires that no one could call successful."
As examples, Mertz cited a principal of Black Hawk Middle School who resigned in 2017 after questionable financial practices, a principal at Sherman Middle School who moved to a different district position last year after criticism by a former teacher of the school being "deeply in crisis," and other principals who just didn't work out.
You have free articles remaining.
In a statement, Andrew Waity, president of Madison Teachers Inc., thanked Cheatham for her service and said it is "critical that the voice of staff is heard in meaningful ways" in the selection process for her successor.
Cheatham said the district, which has long struggled to boost academic results for minority students, is on an "upward trajectory academically with accelerated growth for students of color."
Mixed results
Data reported to the state Department of Public Instruction show that four-year graduation rates rose, especially for black and low-income students, during Cheatham's tenure, going from 52.8% to 65.6% for black students, for example.
At the same time, the district's overall performance under the state's report card system was static. The district received an overall accountability rating of 68 in 2017-18, down slightly from 68.5 in 2012-13. Both scores fall into the "meets expectations" range. The system is designed to take into account metrics including student achievement and closing racial and other kinds of achievement gaps.
Enrollment in the majority-minority district became slightly less white over the course of Cheatham's tenure, but the percentage of low-income students remained about the same at about 48%. And as with other urban districts in a state where public school enrollment and the birth rate are in decline, Madison consistently lost more students than it gained under the state's open-enrollment program.
While enrollment declined by about 200 students from 2012-13 to 2018-19, the district's operational budget increased by about 5.5%, from $394 million to $415.6 million.
Interim process
The School Board's goal is to name an interim superintendent by the end of May, Burke said.
There is a preference for the interim position to be filled by an internal candidate, said Burke — the last remaining member of the board that hired Cheatham in 2013.
"We need to keep the momentum going and having someone who is already familiar with the work, knows the staff, has those connections, is probably the best person to serve in that interim role," Burke said.
Board member Nicki Vander Meulen said she wants community input in the selection of the interim superintendent and would be fine delaying the choice beyond May if it allows more time to solicit feedback.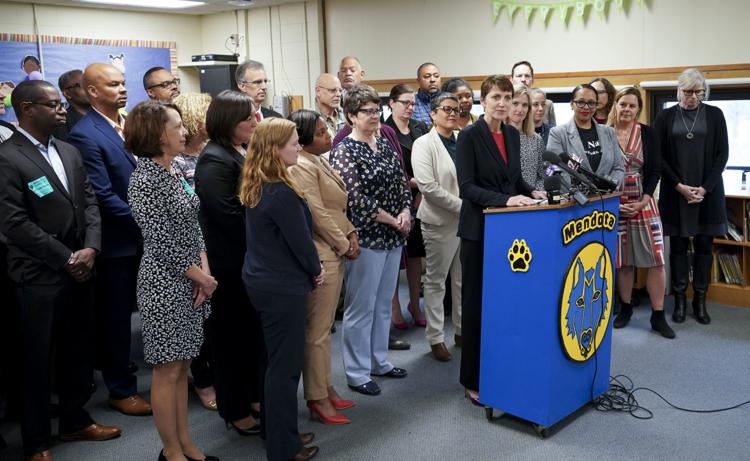 Not leaving until the end of August, Cheatham said she intends to work with the interim superintendent to ensure a smooth transition.
Burke did not go into detail on what the selection process would be like to fill the position permanently, nor did she offer a timeline, but said it would be a "thorough process."
"There is no more important duty that the board of education has than choosing our leader," Burke said.
Back to teaching
Cheatham will be going back to the Harvard University Graduate School of Education, where she received her doctorate in education from the Urban Superintendents Program, to teach students. It will be her first teaching position since 2003, when she worked in California.
She said now is a "natural time" to leave, citing a three-member turnover on the board, a new "strategic framework" that was launched last summer and a desire to spend more time with her husband and 7-year-old son.
"It would be wrong for me to leave a year from now after working with a brand new board ... developing that team, working with them closely," she said.
When asked whether Cheatham was actively seeking the new position or if it was offered to her, she said: "I was exploring a single opportunity, and this is the one that came together."
"I'm ready to make a larger impact on the education field," Cheatham said.
State Journal reporter Chris Rickert contributed to this report.