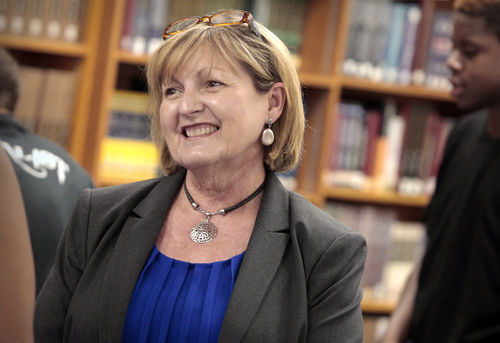 Jane Belmore has been tapped to lead the Madison School District on an interim basis — for a second time — when Superintendent Jennifer Cheatham leaves at the end of summer.
Belmore, a former Madison teacher, principal and assistant superintendent, filled the role of interim superintendent during the 2012-13 school year before Cheatham was hired. Belmore's second stint at the job will bookend Cheatham's tenure in Madison.
The Madison School Board is scheduled Monday to vote on Belmore's contract, which is for an 11-month term starting Aug. 1.
The contract calls for Belmore to make an annual salary of $247,606. Cheatham's annual salary is $246,374.
"Dr. Belmore brings extensive experience to our School District, working in many different capacities for our schools," said School Board President Gloria Reyes. "The board really felt that we needed someone who's going to continue to bring stability into our district, support our strong leadership team so they can focus on the day-to-day operations of the district."
Cheatham and Belmore will work together throughout the summer before Belmore takes over at the start of the new school year.
Belmore earned a doctorate degree in educational administration from UW-Madison in 2000. She worked in the district for 29 years, starting as a teacher and retiring as assistant superintendent for elementary schools in 2005. When she was hired as interim superintendent the first time, Belmore had been the dean at Edgewood College's School of Education for three years.
Belmore, 70, said in an interview her main priority will be to "support the teachers and the principals in the schools doing the good work that they do with students."
She said she did not apply for the position, but rather, the board sought her out. Belmore does not plan to seek the job permanently.
"I also want to make sure that whatever I do in the short-term is laying the foundation for a smooth transition for the next permanent superintendent," Belmore said.
During earlier discussions, School Board members signaled a preference to hire an internal candidate for the role so the interim superintendent would be familiar with ongoing district initiatives.
Reyes said she has "no doubt in my mind" there are internal candidates that could do the job, but bringing in Belmore allows the district's leadership team to "continue the good work that they're doing instead of having to take them out and put them in this new role."
The School Board will now pivot to a search for a permanent successor to Cheatham. Reyes said she hopes to fill the position by June of next year.
"The board is eager to move on that. We're moving along with a sense of urgency, because we really want to conduct a national search and really get the best possible candidates to apply," Reyes said.
Cheatham came to Madison in April 2013 for her first job as a superintendent, replacing former Superintendent Dan Nerad. She started her career as a teacher before moving into various administrative roles in Chicago.
After Cheatham made her announcement, School Board members met in closed session five times and twice in open "workshop" sessions to discuss the interim superintendent hiring process. District spokeswoman Rachel Strauch-Nelson said the board considered more than 10 individuals for the interim job, but she declined to identify who was considered.
Since Belmore left the interim position six years ago, she said she's been doing consulting work in early childhood and family development, which she'll step away from once she returns to the district.
"I'm a little older. I'm a little wiser. The district has really put some strong plans in place," Belmore said when asked what has changed since 2013. "I am a strong believer in the vision of Madison public schools."
Be the first to know
Get local news delivered to your inbox!