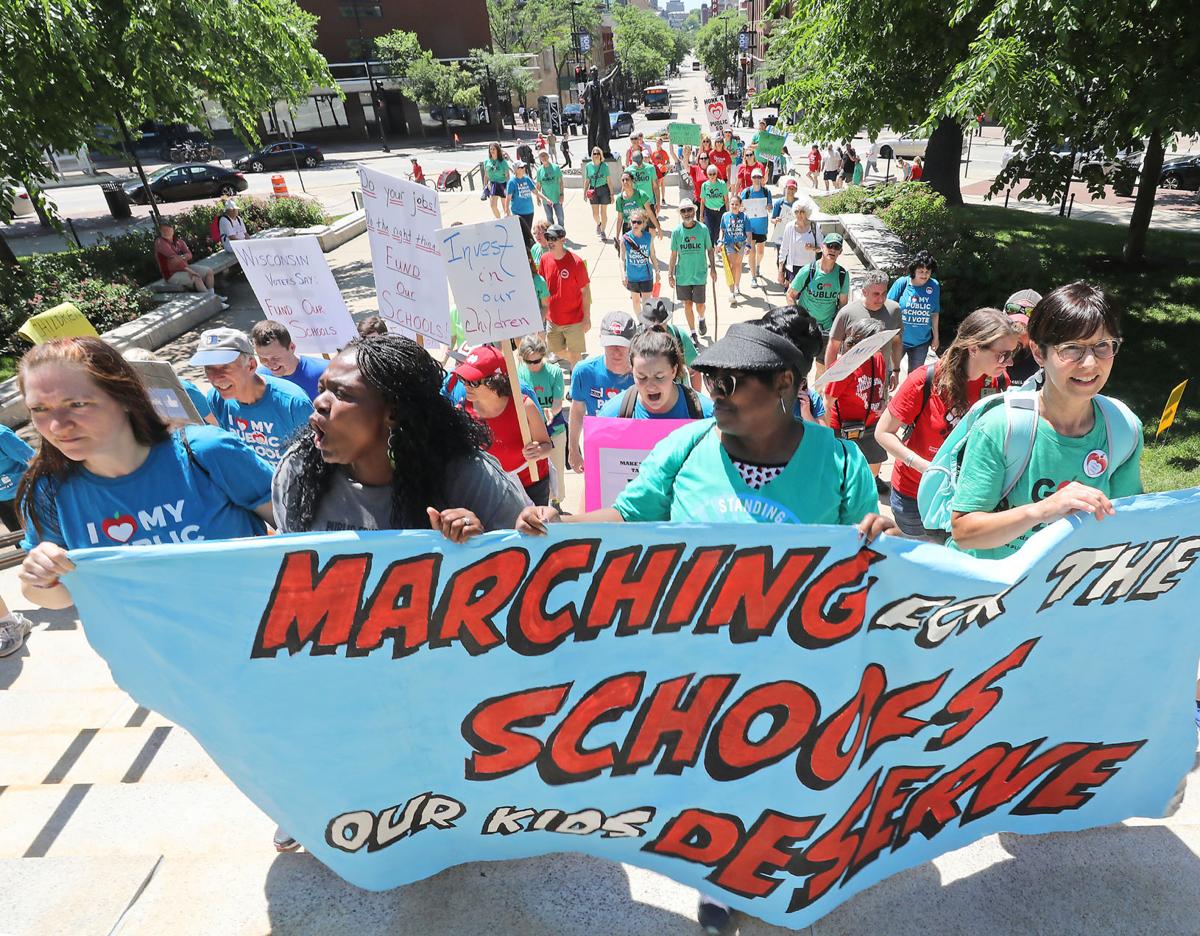 Facing the loss of their local schools, students and parents in the Palmyra-Eagle School District came out Thursday to lobby a state-appointed board not to dissolve the district in the wake of a failed, do-or-die referendum.
"This whole situation is tearing this community apart," said junior Ally Martens, 16, who worried about losing out on being able to play sports for the district and having to find another high school to attend for her senior year. "We've always been told to fight for what we believe in. So this is us not backing down."
The district that straddles the Jefferson-Waukesha county line has seen its enrollment drop over the last 14 years from 1,154 students to 769 in 2018-19 — a victim of a lack of commercial and industrial development to drive property tax revenues, a decline in enrollment, and an increase in the number of students in the district — up to 40% — opting to go to school in other surrounding districts under the state's open enrollment program.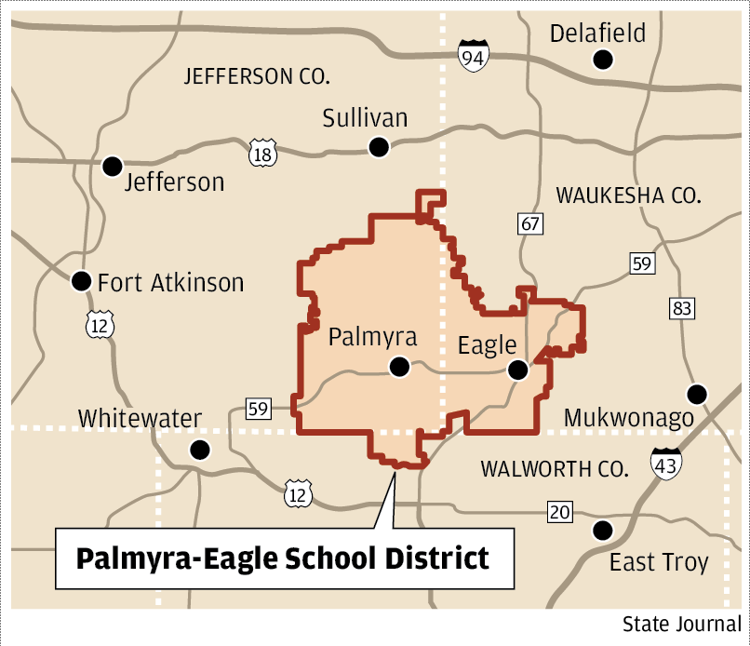 Palmyra-Eagle School Board president Scott Hoff lauded the district and its teachers but painted a dark picture of its finances and community support for its schools and past referendums.
"I love this school district with all my heart," he told the state School District Boundary Appeal Board. "There is no emotional reason the school district should close. None."
In an attempt to save money, the district cut some $1.76 million in instructional costs between 2010-11 and 2018-19 and more than $600,000 in support services and administration, and it cut 22 positions since 2013-14, he said.
It also surveyed families sending their children to other districts to determine why they left and made changes in response, including strengthening the curriculum, implementing an anti-bullying program and stabilizing principal turnover.
Hoff said cuts were made "to delay any referendum questions until they were absolutely needed."
When a referendum was needed, on April 2, the four-year operating measure worth $11.5 million failed 60% to 40%. Hoff said that since 1991, 14 of 16 referendums have failed in the district.
The school board voted to consider a resolution to dissolve the district on April 8 and on July 1 approved it.
You have free articles remaining.
Under state law, the seven-member Boundary Appeal Board — made up of six school board members from around the state and a representative with the Department of Public Instruction — is tasked with making the final decision on dissolution and, if the district is dissolved, which of the surrounding seven school districts would get what proportion of Palmyra-Eagle's assets, liabilities and students when it ceases to exist on July 1, 2020. Its decision is required by Jan. 15.
The board's first public hearing Thursday at the district's combined middle and high school in Palmyra had about 90 people at any one time in the gymnasium. Several speakers noted that the bulk of the students being lost to open enrollment were in Eagle and were opting for the adjoining Mukwonago School District.
The village and town of Eagle overwhelmingly voted against the April 2 referendum, while voters in both the town and village of Palmyra supported it. In an advisory referendum Tuesday organized by residents, voters districtwide voted 1,219 to 1,082 in favor of dissolving the district.
Parent Kristiana Williams, who has one child in the district and another two who would enter it later if it survives, said she likes the district's small class sizes and inclusive environment. She raised the possibility of splitting off the Eagle portion of the district, and its elementary school, and converting the combined middle and high school into one K-12 campus to serve Palmyra.
As one of the few to speak in favor of dissolving the district, Kami Kluss, of the village of Eagle, said she pulled her two children out of the district and sent them to Mukwonago, where they've thrived.
She said Palmyra-Eagle supporters will make emotional appeals to save the district, but "this is definitely not the entire truth." She questioned the district's academics and said it has "way too much debt and way too much poor management to continue."
The most recent state Forward exam test results show district students scoring slightly below the state averages in English/language arts and math.
MaryAnn Pronschinske, a district library worker who has three children who are either still in the district or graduated from it, was among those who said residents weren't given enough warning that the district's financial situation was so dire.
"I voted for these people to be on the school board because I had trust in them," she said. "I feel I have been let down."
Junior Kazi Beth, 17, told the board that "this school represents a community" and urged members to "be creative" and "dig deep" to "search for all possible solutions" to save the district.
Hoff said four of the Palmyra-Eagle School Board members are graduates of the district and all had children who were or are enrolled in its schools. He said the case for dissolution was purely a financial decision and that if the district were to continue in the 2020-21 school year, it would end that year with a negative fund balance. He said the district has already seen its bond rating cut and some vendors demanding cash.
"The tank is dry," Hoff said. "The accounts are empty."