A Madison high school designed to help teens who struggle with alcohol and drug addiction is moving from a space with so little privacy that students sometimes had to be taken out to cars for one-to-one support.
Horizon High School's old University Avenue space was essentially a one-room schoolhouse. It had one big classroom, one bathroom, one office and a main foyer. At times, one student would be meeting staff in the office while another student who was having a tough day would be talking to someone in the foyer. That left little flexibility if another student needed support.
"We would literally have to take them out in our cars," said school director Traci Goll, whose desk was out in the open in the entryway.
The last time the school could meet in person before the COVID-19 pandemic, 16 students and five staff members were sharing one bathroom. Weekly drug tests added to the demand for the bathroom.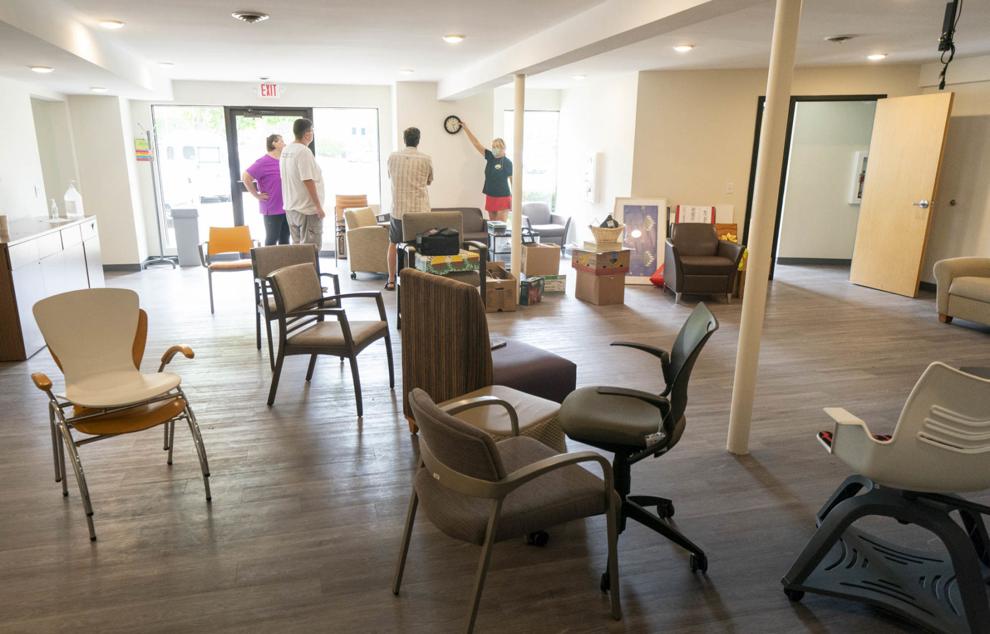 The new space at 659 N. Whitney Way has a very large classroom, four bathrooms, three offices and two other spaces for conferences or small-group education. The place for storing games and arts and crafts supplies is closer to where they will be used and can be locked up since many students at Horizon engage in self-harming behavior. The new school also has a break room with a stove and a refrigerator, which can be used for cooking lessons. They and the school's washer and dryer can also be used to teach life skills to students.
"If we have kids come to school with poor hygiene because they are depressed we can wash their clothes," Goll said. "So we are going to do a much better job meeting the needs of our students."
In commemoration of its 100-year anniversary, CG Schmidt Construction, which has an office in Madison, donated the $75,000 to $100,000 cost of renovating the space, Goll said. That gift led to other businesses donating items such as furniture, plumbing, drywall, signs, an awning and paint, she said.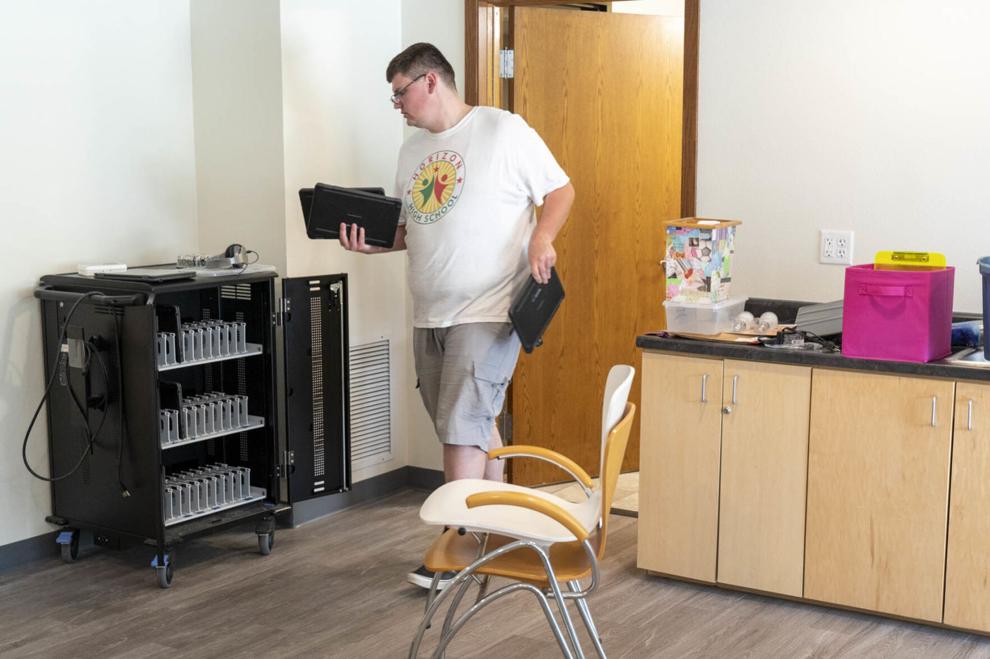 Horizon had a ribbon-cutting ceremony May 20 at its new location and has been moving in furnishings and unpacking. The students will start to use it when summer school starts June 7.
'So broken'
Horizon is a private, non-profit high school that fosters emotional, social and academic growth for students who want to learn in an alcohol- and drug-free environment. Part of the school's mission is to teach them life skills.
"These kids come through our doors so broken, feeling like the biggest failure," Goll said. "We can show them that we see you, that your life is important. ...The magic happens. It is incredible."
The school was started in 2005 when Shelly Dutch, owner of Connections Counseling, and five parents — two of whom were educators — got together because some of their children were in the middle of or had been experiencing crises, said John Fournelle, board president and a school founder.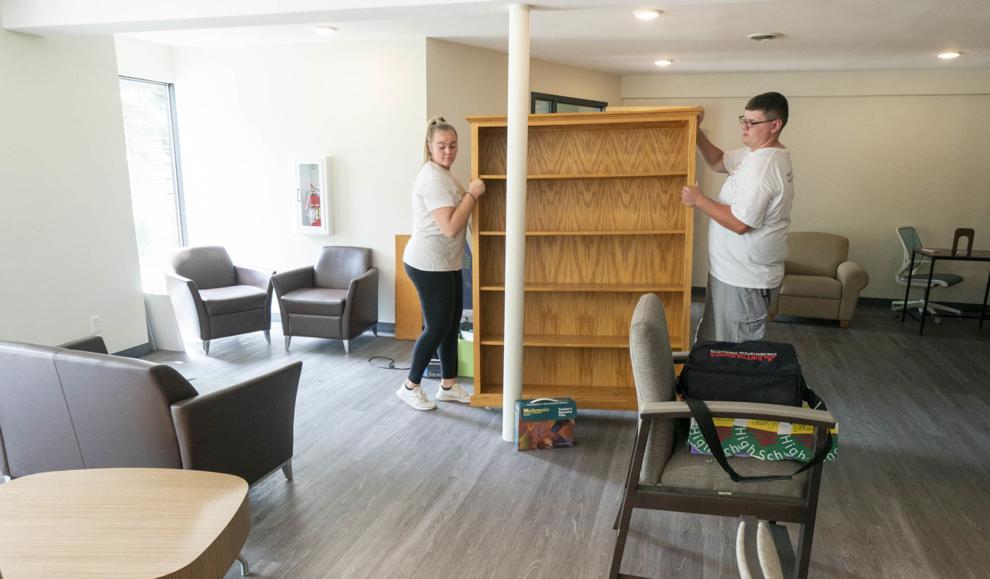 The group opened a school in 2005 in the basement of a church on Old Sauk Road and it struggled at times over the years as it worked to get on solid financial ground. It almost shut down three times and at one time had three students and none of them could afford it, Fournelle said. The independent school now receives 40% of its funding through a contract with the Madison School District, and other school districts will provide funding when their students attend the school.
The school recently received a $32,000 grant from CUNA Mutual Group Foundation for a half-time counseling position.
Sabrina Talajkowski said her daughter, Alysa, struggled in a larger school and so she enrolled at Horizon in the middle of her sophomore year.
"She got in with the wrong crowd. She was going in the wrong direction," Talajkowski said. "Horizon is a big reason why she graduated from high school. I don't know where she would be without Horizon."
Alysa Talajkowski said the smaller school size helped her focus more. She plans to attend Madison Area Technical College and eventually become a zoologist or marine biologist.
Dedicated staff
Kim Lohman, a teacher and counselor at Horizon, said staff are on call for students 24 hours a day and help students realize they are not alone. Horizon also individualizes the students' academic and vocational curricula.
"Success is them living a normal life, whatever that means to them," Lohman said.
Ken Adams, 21, said he bounced around schools for a time and attempted suicide at age 15. Then a doctor mentioned Horizon and it was there that he learned he "wasn't alone" and could relate to others who had similar issues. He graduated in 2018 and is now at MATC and plans to become a teacher at a middle school where he hopes to have an impact.
Will Adams followed his brother's footsteps and enrolled at Horizon at the age of a typical junior. He said his school attendance was minimal after eighth grade when "everything in my life started to take a nosedive." At that time his dad skipped out of his life.
Then Will Adams said his life took another turn when his dad reappeared only to die of a heroin overdose not long after.
"Having something I've wanted my entire life and then losing it really set me down," he said.
But after graduating last week as a fifth-year senior, Will Adams plans to attend MATC and then UW-Madison to study psychology.
"(Horizon) is a second home," Will Adams said. "They never give up on you. Traci will go to the end of the earth to try to better someone. It shocked me at first."
---
Fave 5: Reporter Logan Wroge picks his top stories from 2020