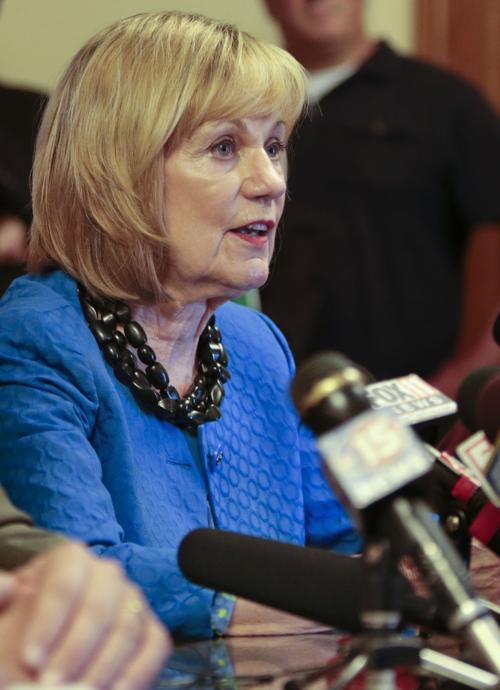 The University of Wisconsin System could soon authorize new charter schools in Madison and Milwaukee under a proposal approved Friday by the Legislature's budget writing committee.
The provision, which allows for a swell of independent charter schools across southern Wisconsin, was included in a broad UW System budget proposal introduced by Republican lawmakers.
Under the proposal, the UW System would be required to create a new office within four months to authorize independent charter schools in school districts with more than 25,000 students — Madison and Milwaukee — without local school board approval.
Currently, just the Milwaukee City Council, UW-Milwaukee, UW-Parkside and the Milwaukee Area Technical College can authorize independent charter schools.
The new UW System office would oversee charter schools' operations and student academic achievement as well as evaluate charter school proposals.
Bob Delaporte, an aide to Joint Finance Committee co-chairwoman Sen. Alberta Darling, R-River Hills, said the intent behind the proposal is "to leverage change in large urban school districts with systemic rates of failure."
"We are confident the proposal can fundamentally transform the educational opportunities that are available to students in Wisconsin's two largest school districts," he said.
Delaporte pointed to Department of Public Instruction data that shows less than 40 percent of Madison students have tested proficient in reading in recent years — slightly higher than the statewide average.
But Madison School District superintendent Jennifer Cheatham blasted the proposal, saying in a statement: "We are incredibly determined, and we are making progress on behalf of all children. But at every step of the way, the Legislature puts more barriers in our way and makes our jobs more difficult."
Madison School Board member Ed Hughes called the proposal "breathtaking."
"It looks like the UW President is required to appoint someone who could then authorize as many publicly funded but potentially for-profit charter schools in Madison as that unelected and unaccountable person wanted," he said.
The proposal requires DPI to reduce a school district's funding by the same amount that is paid per student to independent charter schools, currently about $8,000.
Cheatham also said independent charter schools have no consistent record of improving education and drain school districts' funding.
"Rather than invest in what we know works in education, this proposal puts resources in strategies with mixed results at the expense of our public school students," she said.
Kaleem Caire, former CEO of the Urban League of Greater Madison and founder of One City Early Learning Centers, unsuccessfully proposed a charter school in 2011 in an effort to address a stubborn gap in academic achievement between black students and their white peers.
Caire said Friday he may explore the possibility of reviving the proposal if the lawmakers' plan is approved — the budget must pass the Assembly and Senate and be signed by the governor — but that he would still want to partner with school districts if he would decide to move forward.
Charter schools act as educational laboratories to find good practices for public school districts, he said.
"It's still needed. It's needed now more than ever," he said about his proposal.
The proposal also allows the Waukesha County Executive to authorize independent charter schools in that county. Sen. Paul Farrow, who headed the Senate's effort to overhaul accountability for schools, is leaving the Senate in July after recently being elected Waukesha county executive.
The Gateway Technical College District Board, which has campuses in Kenosha, Racine and Walworth County, and an accredited tribal college also would be allowed to authorize independent charter schools within its district or county, or in an adjacent county.