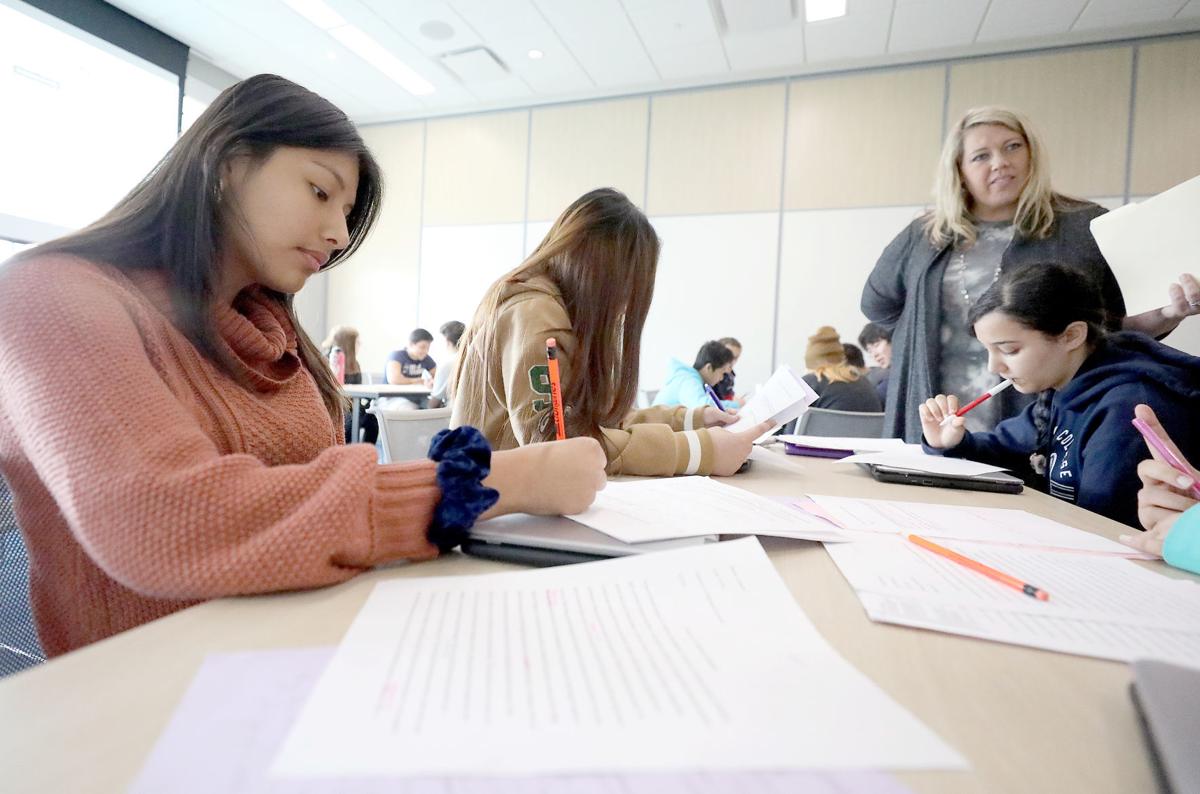 Adela Miranda views herself as a driven student whose interest in health care was influenced by healing traditions practiced by her father and her grandmother, who owns a farm in Mexico where she makes medical ointments and does massage treatments for joint aches and tenderness.
So the La Follette High School junior took up the Madison School District's offer to attend Madison Area Technical College for two years, giving Miranda a head start on her goal of becoming a reconstructive plastic surgeon to help those who suffer from burns, birth defects and other injuries.
"I felt the opportunity would really situate me into the college environment," said Miranda, 16. "They also treat me in this way where I can be mature, and I can be independent."
This fall, the school district and MATC, also known as Madison College, expanded a partnership called the Early College STEM Academy by enrolling 100 Madison juniors at the Goodman South Campus full time, with the program focused on diversifying the science, technology, engineering and math fields.
If all goes to plan, 100 Madison seniors could be graduating from high school each year with an associate of science degree — or at least a good chunk of college credits completed — at no cost to them.
"Two-year degree, free of charge, it's a game-changer for our kids," said Cindy Green, the district's executive director of secondary programs and Personalized Pathways.
To qualify for the STEM Academy, students should have a 2.25 GPA or higher and a 90% or better attendance rate, she said.
With a dual focus on diversifying career fields and providing a free college opportunity to those most in need, Green said the district is targeting the STEM Academy for students of color, females, first-generation college students and those from low-income families.
First steps
The STEM Academy started small last fall.
Twenty-six juniors from East and La Follette high schools began taking classes at MATC's Truax Campus, designed around a schedule that would meet high school graduation requirements and earn them college credits.
The results of the first cohort — all of whom returned to Truax as seniors this year — have been "really, really promising," Green said.
In the 2018-19 school year, the average GPA among the 26 students was 3.46. Nineteen students reached a 3.5 GPA or higher, qualifying them for the dean's list, and 10 students had a perfect 4.0.
The students, on average, earned about 27 college credits during their first year at the North Side campus. Going into the second year, 21 students are on track to have at least 48 college credits by the time they graduate from high school. Generally, an associate degree requires 60 college credits.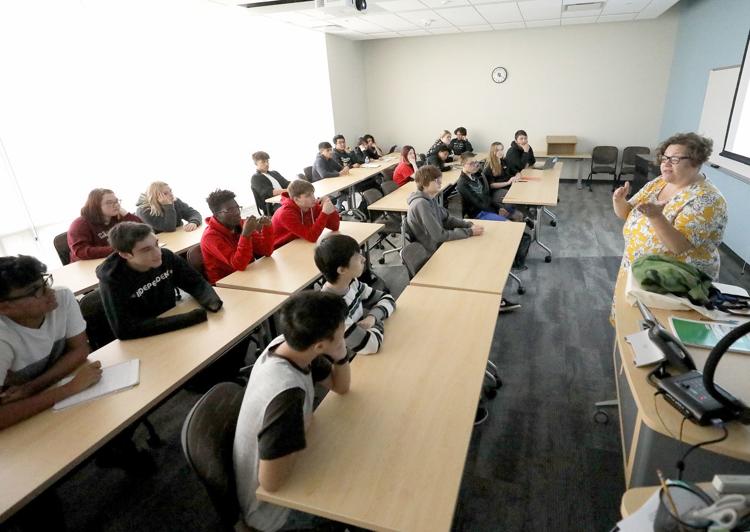 Green said the idea for the partnership came years ago through conversations between then-Superintendent Jennifer Cheatham and MATC President Jack Daniels.
More responsibility
Fatima Jabang, 17, is spending her senior year at Truax Campus after enrolling in the STEM Academy last year.
The first year was "kind of hectic," Jabang said, citing differences in grading systems and the way classes are taught at MATC compared with La Follette High School, where she'll earn her high school diploma through her dual-credit classes at MATC.
Jabang, who is looking to go into dermatology, said she misses "just being able to be a kid" at high school, but added that her time at MATC has helped her learn to take ownership of herself and bolster her personal responsibility.
"The first two years of college for free — that really appealed to me and my parents," she said. "I'm the oldest of four kids and helping out my parents is one of the most important things for me."
Sun Prairie
This fall, the Sun Prairie School District also started a similar partnership with MATC, sending 18 juniors interested in STEM to the Truax Campus full-time for free. The program is targeting students who would be the first in their family to go to college, said Curtis Mould, Sun Prairie's director of digital media, innovation and strategy.
"These types of partnerships are really vital to changing what the future of high school looks like and the experience high school kids have, especially as higher education degrees are more and more valuable," Mould said.
You have free articles remaining.
Brynn Boutelle, an 11th-grader, applied for the Sun Prairie program in hopes of becoming a bioethicist — a medical role analyzing health care actions, their potential consequences and conflicting values to advise on certain decisions. She said no one else in her family has gone to college.
"This was a really important opportunity for me," said Boutelle, 16. "I wanted to see if I could get in because I knew that it would make my whole family really proud, and it would set a good example as I'm the oldest of four."
New campus
Last month, MATC opened the doors to the roughly $25 million Goodman South Campus on Madison's historically under-served South Side.
It's this new building — with a capacity to serve between 4,000 and 4,500 students — that is the new educational home for the 100 juniors in the second cohort of the STEM Academy and where up to 200 Madison high school students could be attending full-time in future years.
"The program was envisioned specifically for the South Campus," Green said. "We wanted to do a little test with the first cohort to kind of work out any kinks."
The higher education experience comes at no cost to students or their families, Green said, as the school district pays for tuition, bus passes, books and even provides $6.50 per day for lunch at the onsite cafeteria.
For the 2019-20 school year, the STEM Academy will cost the district $829,000, with individual tuition for the 100 students at Goodman South set at $6,500 and $6,900 for the 26 students at Truax.
To partially cover tuition, the district is receiving a $225,000 grant this year from Ascendium Education Group — formerly Great Lakes Higher Education Corp., which donated $10.2 million toward the construction of the Goodman South Campus.
The district could also receive $500,000 grants from Ascendium in each of the next two years pending successful student outcomes.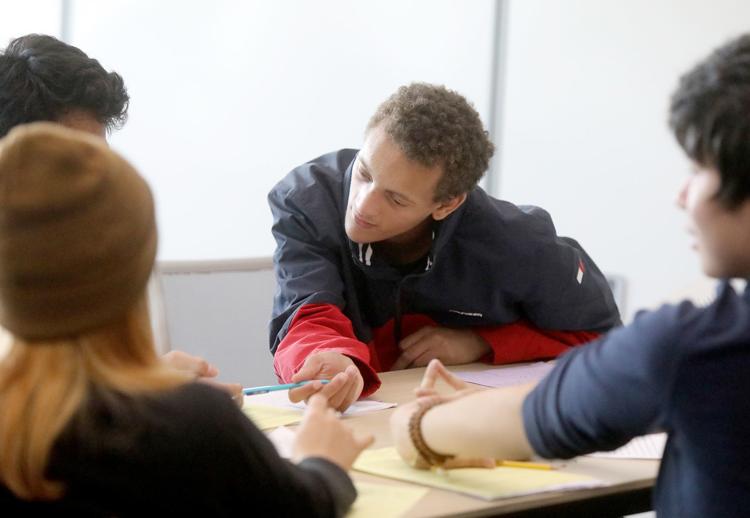 Student experience
Students who spoke with the State Journal broadly supported the program and opportunity it provides them, but many said the thing they miss the most from their high schools was being with their friends.
The intensity and pace of the college courses — some of which include only STEM Academy students and others that are a mix of high school students and traditional college students — has caught some of the juniors off-guard but met the expectations of others.
Hetvi Shah, who at age 15 is young for her grade, took a lot of honors classes in her first two years at Memorial High School and was preparing for Advanced Placement coursework before joining the STEM Academy.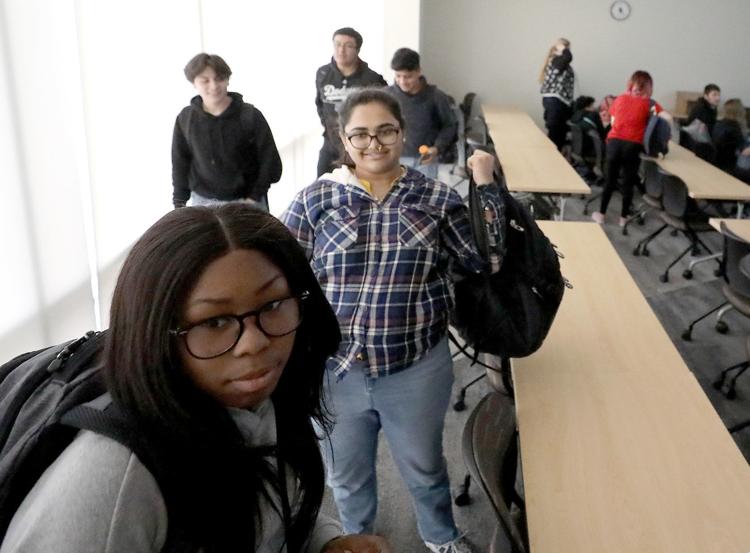 "It's really at a faster pace," said Shah, who wants to pursue a doctor of pharmacy degree. "But I think I'm pulling it off pretty well than what I thought I would be pulling off."
Extra help
To help students make the transition to a higher-intensity setting, two Madison School District teachers spend time at Goodman South instructing courses with solely STEM Academy students and some with a mix of traditional college and high school students.
"We thought it was really important to have high school teachers be part of the program, teachers that kind of know 16-year-olds well and may already have relationships with students," Green said.
MATC also has two resource specialists working with the students at Goodman South, acting as academic and career advisers.
Green said the district and college have been intentional about structuring the student schedules so they are on campus between about 8 a.m. and 2:30 p.m. This is designed so students can continue to participate in sports or after-school, extra-curricular activities, she said.
"We felt it was important for them to still have a connection to their home school," Green said.
Miranda, the La Follette High School student, makes it back to the Southeast Side school three days a week to participate in three different clubs.
"I just felt like I left part of my high school experience or teenage experience back there, even though I have friends here," Miranda said. "At the same time, I really do like this environment because it does fit with being mature and having your own independence."