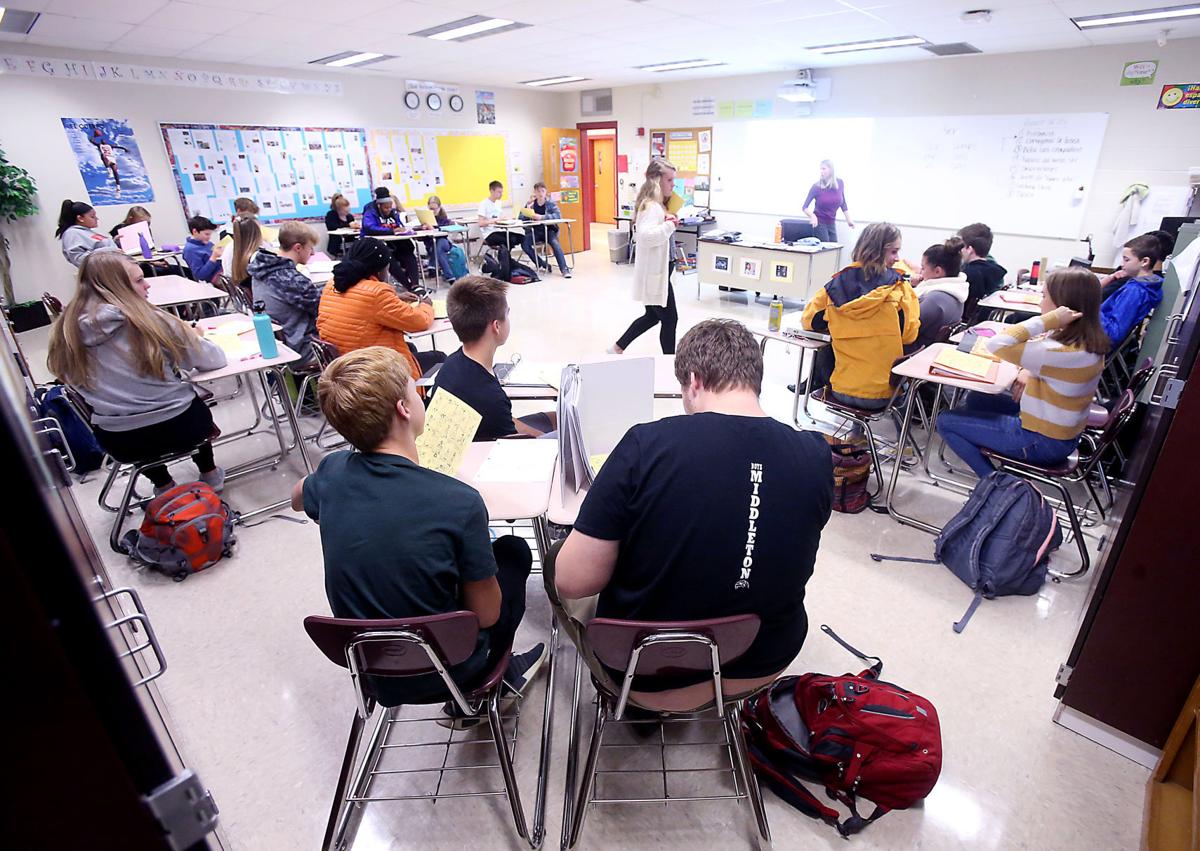 A group of Middleton-Cross Plains School District parents has launched a recall effort against two school board members because they say their requests for a meeting about providing in-person instruction were ignored.
"The main concern right now is that only virtual schooling is being offered by the district," Angela Rachidi, one of the parents leading the effort, said in an interview. "Parents want an in-person option, and the board voted against even considering that."
Parents began discussing a recall after the board's Sept. 28 vote to maintain online learning as the only option until the COVID-19 infection rate meets county guidelines, said Middleton-Cross Plains School District spokesman Perry Hibner.
"That's obviously their prerogative as citizens to do that," he said.
The number of signatures needed for a recall election to take place is based on a percentage of voters in the school district in the last gubernatorial election. Hibner said the petitioners could need from 5,000 to 6,000 signatures before the effort moves forward, and both the district and parent group are waiting to hear back from Dane County elections officials regarding the exact number.
Rachidi, a parent of three students in the school district, said she's optimistic about the group's ability to obtain the number of signatures needed within the required 60 days.
"There was an outpouring of frustration among parents," Rachidi said. "The response had been overwhelming in terms of people reaching out."
She said the curriculum offered to students was not intended to be delivered digitally and her children now have online meetings with their teachers for five hours each week compared to 30 hours of live teaching prior to the pandemic.
"We need to give parents options so those who feel safe sending their children to the school should have that option, teachers who feel they can teach in the classrooms better than they can virtually should have that option, and the school board has not given us that option," she said.
The group leading the recall effort, Parents for Change, is not affiliated with any political or nonprofit organization, Rachidi said.
The process to bring students back into schools in a blended instruction model was discussed during the Sept. 28 board meeting but ultimately struck down because Dane County had not met the infection rate deemed safe by Public Health Madison and Dane County for students to return to classrooms.
The board voted 5-4 to continue online-only learning. Of the five members who voted in favor, Minza Karim and Bob Hesselbein are the two who could be recalled, Rachidi said.
In interviews on Thursday, Hesselbein and Karim said they've received pressure from the community to walk back their vote, as well as support for their decision, but both are determined to hold fast.
"If I get recalled, it's just another election," he said. "This is a tough decision, to say no, and I'm not going to be reversed through blackmail. That's really what it comes down to. They don't dislike me, they dislike my decision, and when they say, 'Well, change your decision and we like you again,' that to me is a question of ethics and values."
Hesselbein, a Vietnam veteran who went through chemical and biological training while on active duty, requested a walk-through demonstration of the safety protocols Middleton-Cross Plains schools would put in place before reopening. He said his request to the superintendent's office before the Sept. 28 meeting was ignored.
Tours offered
Three tours of elementary schools have been scheduled between Oct. 15 and November for school board members interested in observing safety protocol for in-person learning.
"This is a really, really tough call," he said. "But we have to wait and make sure it's safe because the last thing we want is dead parents, dead grandparents and dead educators."
Karim, who has three students in the district, said a walk-through demonstration of safety protocols would have helped the case for reopening schools, as well as more options than just the two that were presented during the meeting: To stay online or reopen with a hybrid of distance and in-person learning, which she said did not feel safe.
"It's not easy, it has been very challenging," she said. "But what people are not understanding is this is not the right time," to reopen schools.
Two of the other three board members who voted in the majority can't be recalled because they're either in the first or last year of their term. There was not a candidate willing to run against the third in a recall election.
Deadline looms
If the COVID-19 infection rate does not fall below county minimums to allow in-person instruction by its Dec. 7 meeting, the Middleton-Cross Plains School Board will consider moving to a hybrid model of online and in-person learning during the second semester.
"For every district right now, this is a difficult situation," Hibner said of the efforts to educate students during the pandemic. "There's not a solution out there that's going to make every family happy."
He also noted that teachers, like parents, are "all over the map" as far as how they feel about online learning efforts. Some, he said, are afraid to go back to in-person learning because they or loved ones have health conditions that make them vulnerable to the virus, but they all miss their students.
"While we continue to work hard to provide the best possible virtual learning experience, it can't replace or replicate the (effectiveness of) in-person instruction," Hibner said.
"These are extremely challenging times and we continue to support our students, families, staff and school board," Middleton-Cross Plains School District Superintendent Dr. Dana Monogue said, Thursday night. "We want to work together to find the best way forward. I am proud of our school board for how interested and engaged they've been and how they are keeping the health and safety of everyone involved at the forefront of their decision."
The essentialists: For many workers, 'safer at home' isn't an option
The essentialists: For many workers, 'safer at home' isn't an option
As the number of coronavirus infections — and COVID-19 deaths — rise, there are some people for whom "safer at home" is not an option. These essential employees aren't the highest-paid of workers, but they are crucial to keeping the rest of us fed, safe and mobile. We pay them tribute here.