Billed as a question-and-answer session on the use of physical restraint of students and special education services in the Madison schools, a forum Tuesday showcased the deep suspicion many local racial justice activists have about the school district's ability to serve children of color.
Brandi Grayson, who has been active in local Black Lives Matter and police-reform efforts, said she organized the event as part of a plan to create a "rapid response team" of parents who would respond to incidents of racism and abuse in the schools, record those incidents in a database and give parents of children of color the resources and know-how to sue local school districts.
She referred to a physical confrontation in February between former Whitehorse Middle School staffer Robert Mueller-Owens, who is white, and an 11-year-old female black student as a case in which the girl was "brutalized," and said she wanted the youth in attendance Tuesday at the First Unitarian Society to "build analysis of how institutional and structural racism operates."
Police and the Dane County District Attorney's Office investigated the incident but found no cause to file charges; Mueller-Owens has since resigned.
Panelists including Wright Middle School principal Angie Hicks acknowledged the existence of racism and its role in shaping perceptions of students. Madison, like school districts across the country, has long had a disproportionate number of black students disciplined and a black-white achievement gap.
Hicks, who is black, said children of color have been over-identified as needing special-education services in the past.
That's why "we need to make sure that parents and the community are an active part of the process," she said.
Hicks said she's counseled her staff to take into account how their perceptions of race affect their reaction to student behavior, telling them, for example, "if this were a white boy with autism, you would be responding differently to the behavior."
But panelist and district special-education teacher Michael Jones, who is black and Asian, pushed back against the notion that staff are targeting black children for physical restraint with no good reason.
He said he's been stabbed with a pen, choked and bitten at work, and had to stop one student from cutting himself with broken glass and another from banging his head against a wall.
"What I'm saying is this is day-to-day," he said. "I have to look out for all of my children."
Grayson said that black children are more likely to enter school with a history of trauma that can lead to behavior problems, and questioned the district's ability to train its mostly white staff to handle that.
"I don't know how we do trauma-informed care with a whole bunch of white people," she said.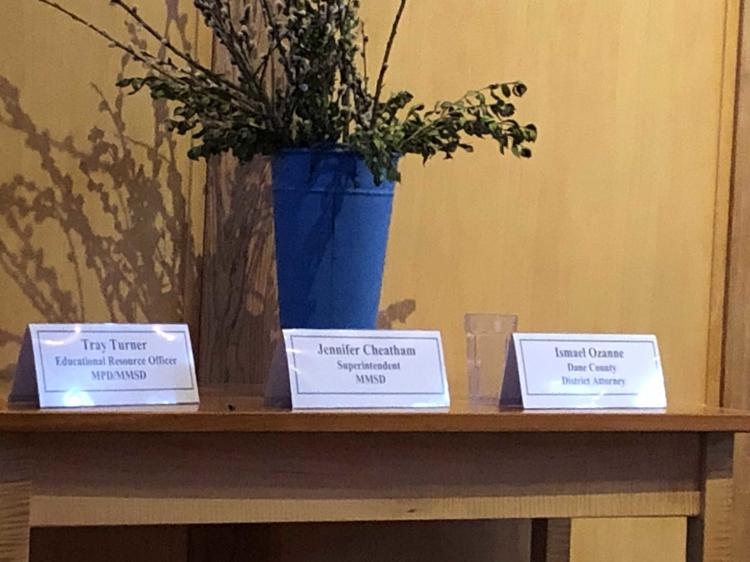 Grayson said district superintendent Jennifer Cheatham agreed to be a panelist but didn't show up. Cheatham said Tuesday in an email to the State Journal that she made clear we "would be sending staff members who are very qualified to speak to the specific topic and who could represent me and (the district)."
Madison police officer Tray Turner, who serves as a school resource officer in the district, was listed as a panelist in a news release announcing the event, but chief Mike Koval said Tuesday night that the forum was billed as "about (school district) policy and procedures relative to restraints," and that doesn't involve police.