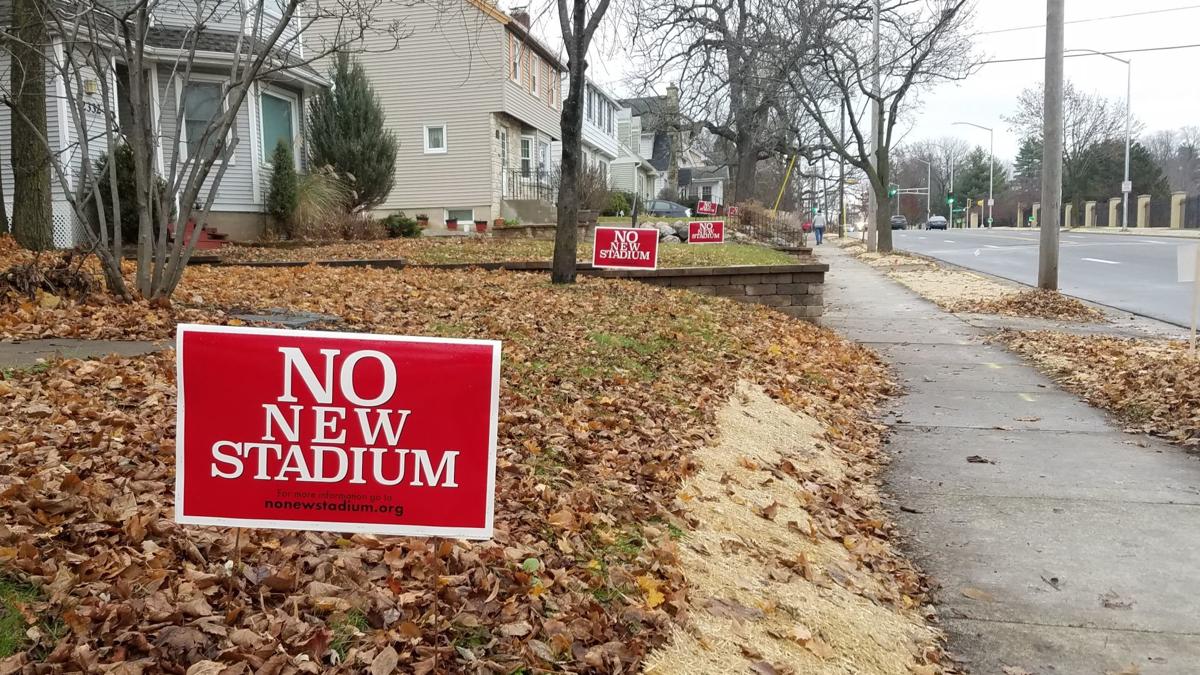 Edgewood High School is delaying its contentious plan for improvements to its athletic field by holding off on construction for several weeks while it forms a committee aimed at easing neighborhood concerns.
In a Monday letter to the Dudgeon-Monroe and Vilas neighborhood associations, Edgewood High School President Michael Elliot and the school's board chair and vice chair said the school would delay starting construction on lighting and sound system improvements until mid-April to form an ad hoc committee.
That group would try to address resident concerns about noise and other inconveniences they say high school football games would bring to the area, the Edgewood officials said.
Edgewood "is very interested in the opportunity to engage in constructive dialogue with our neighbors," the letter said, adding that it hopes to "identify a realistic path forward that works for everyone."
Meetings would begin March 19 and last for eight to 12 weeks, according to the letter. The school said an independent facilitator would lead the "collaborative working group" meetings.
It's unclear if, or when, Edgewood intends to move forward with its plans regardless of what happens during any meetings.
Elliot didn't respond to requests for comment Wednesday.
Dudgeon-Monroe Neighborhood Association leadership declined to comment Wednesday.
Chris Kelly, president of the Vilas Neighborhood Association, didn't respond to a request for comment Wednesday evening.
School officials have said the improvements were needed so Edgewood could play football games on its own field after using others in the area for about two decades.
You have free articles remaining.
The plan drew backlash from some area residents, who said it was an attempt to bypass the City Council and public participation process by ditching original plans for a light and sound system, increased seating capacity, a concession stand, ticket booth and team room that would have required council approval.
Edgewood said it decided to delay construction after David Hoffert, the Dudgeon-Monroe Neighborhood Association president and candidate for the District 13 City Council seat, approached the school to see if the two sides could work on an agreement.
Hoffert said he approached the school to see if it would reconsider its plans or work on a compromise after its "deeply unfortunate" decision to go forward with lighting and sound improvements.
"I really feel like there are very few issues that ought to tear apart a community," he said. "And I certainly don't think Edgewood building lights or sounds … deserves that level of strife."
Hoffert said Wednesday that he had recused himself from acting on behalf of the Dudgeon-Monroe Neighborhood Association on issues involving Edgewood while he ran for City Council, and was speaking for himself.
He said he would wait to take a position on the school's planned field upgrades to see how meetings with residents went. Hoffert also said he's undecided on whether he'd participate in the meetings if asked because they would outlast his role as association president, and he'd either be a council member or have no official title.
Tag Evers, who has been involved with the No New Stadium group and is running against Hoffert for the City Council seat, said he doesn't see why Edgewood would need to form a new group when an existing process was already in place through the Edgewood Liaison Committee.
"Why not go through that?" he said, adding that he'd still participate in the new group if asked.
Evers said he's still opposed to field improvements for sports because it wouldn't fit with the neighborhood aesthetic, surrounding green space and nearby Lake Wingra.
While "it's not clear what Edgewood's intent is," Evers said, he's encouraged that the school appears to want to have a dialogue with the neighborhoods.
"It's good to keep the lines of communication open," Evers said.