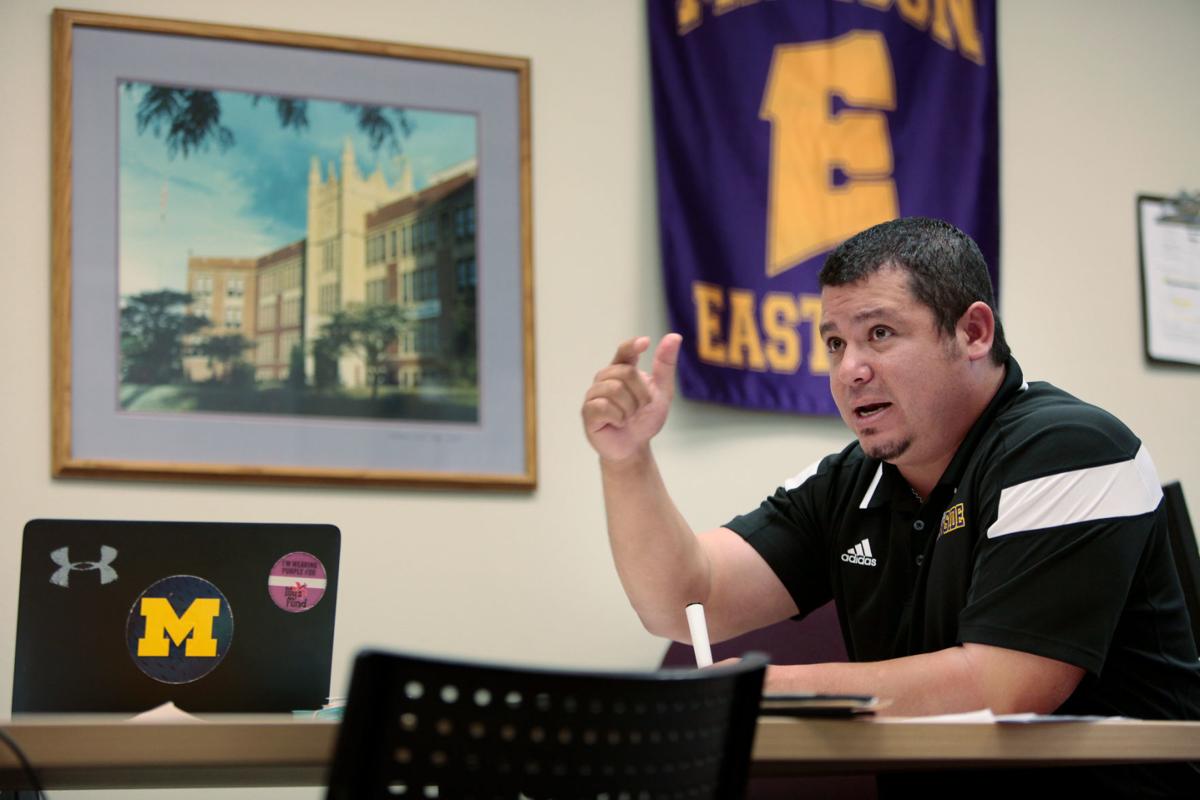 East High School Principal Michael Hernandez is set to leave the school after four years for an administrative role in the Madison School District overseeing its high schools.
Hernandez will take over the chief of high schools job in the Downtown administration building from Alex Fralin, who has held the position for six years. The job involves overseeing the district's four main high schools, two alternative high schools, programs to re-engage students who might be in danger of not graduating, and high school athletics.
"I have truly loved working closely with students. Our relationships and daily interactions kept me energized, hopeful, and excited about our future," the 46-year-old Hernandez said in an email to families Wednesday. "I am excited about the new challenges, and look forward to working with staff across the city."
Fralin's departure from the Doyle Administration Building is one of two top posts being filled by Madison principals. Nancy Hanks, the district's chief of elementary schools, is leaving the district as well.
It was announced earlier this summer that Carlettra Stanford, principal at Mendota Elementary School on the North Side for nine years, will take over the elementary school administrative role.
Hernandez and Stanford begin their respective roles Aug. 1.
Before going to East, Hernandez was principal at Sherman Middle School for eight years. His wife, Melissa, teaches third grade at Elvehjem Elementary School.
Hernandez said in the email an interim principal for East High is expected to be announced within the coming days.
Originally from Ohio, Hernandez was slowed early on by a speech impediment and reading-related learning disability. But by high school, he was president of his school's National Honor Society. He now holds three master's degrees and is continuing to work on a doctorate.
He taught in Ohio and California before getting his first principal job in California and then in the Chicago area. Hernandez and his family moved to Madison in 2007.
At East, Hernandez said he took a laid-back approach to engaging with students, such as volunteering for a lunch-hour dunk tank during finals this year.
"I didn't mind putting myself out there," Hernandez said in an interview. "I'm not a person who walks around with a tie. I don't lead with a tie."
Both Fralin and Hanks started working for the school district in 2013. They were among a contingent of educators from Chicago that Superintendent Jennifer Cheatham brought on when she was hired.
Their departures correspond with Cheatham leaving the district at the end of summer for a faculty position at Harvard University.
In a departure message earlier this summer to central office staff, Hanks said she'll work as a consultant, splitting her time between Chicago and Atlanta.
"I'm beyond grateful for the opportunity that I've had to serve alongside such an amazing group of leaders," Hanks said in her message. "Working with you had added so much knowledge, wisdom, and value to my leadership practice and to my life."
Fralin, in his message to staff, said he is moving back to Chicago to raise his daughter.
"The decision was not easy because of my deep sense of loyalty to our district's core values and goals, particularly in advancing Black Excellence," he said.
Be the first to know
Get local news delivered to your inbox!