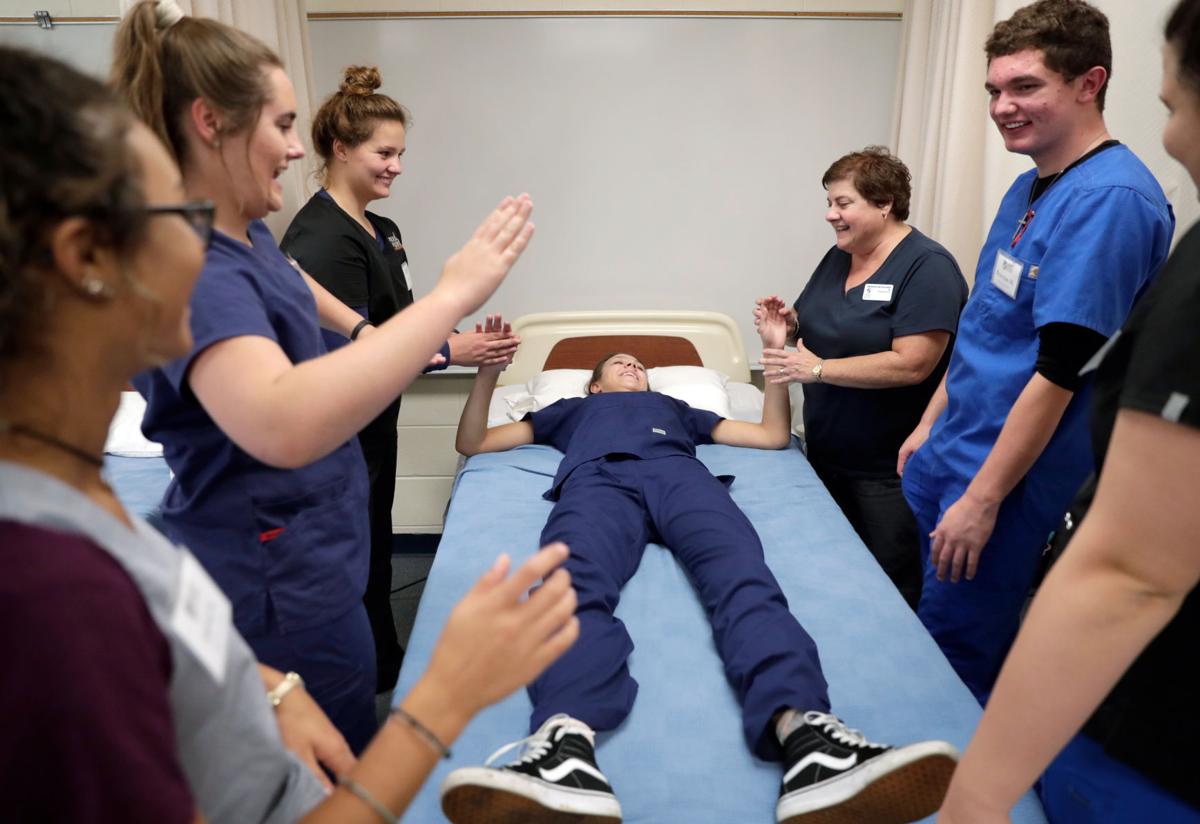 VERONA — Lidia Velasco signed up for the certified nursing assistant class at Verona High School because it was a deal she couldn't pass up.
"It's a really good opportunity because as long as you pass, Verona High School pays for this class," said the high school junior.
In addition, the school pays for the test students need to take to become certified as a CNA, she said. The school does not pay if students have to retake the exam.
The class is taught by Madison Area Technical College instructors who expect the same from high school students as they do older students. Students must apply for the class and meet certain requirements that include background checks and immunizations, said Amy Moschkau, school-to-career coordinator at Verona High School.
Verona students not only get high school credit, but also get three credits from Madison Area Technical College. Typically the class would cost a student about $500.
Verona is one of four high schools in Dane County to offer the class in their buildings although two other schools send their students to a neighboring district's program. The class is offered each semester in Verona to a maximum of 16 students.
Senior Zuriel Yancey signed up to get a perspective on the health care field because she wants to become an occupational therapist.
The class has three components: 50 hours of theory, 30 hours of lab and 40 hours of clinical work.
For the theory portion, the Verona students meet at the beginning of the class and then the lessons are conducted online, though students can still ask questions during labs. Michelle Hamilton, a classroom instructor in the nursing assistant faculty at MATC, said the theory portion covers topics from legal and ethical aspects to the skills performed in lab to death and dying.
You have free articles remaining.
Senior Emma Singer said the toughest part of the class for her was when she had to figure out how to do the online portion on her own so that she was ready to practice what she learned in lab.
She added that the lab staff members make it fun to learn.
For the lab portion of the class, the students practice skills on mannequins and each other. The classroom is set up to resemble a hospital.
After labs are finished, the students transition to the clinical phase, which is a supervised setting with real patients, often at long-term care facilities near the school, said Marie Dusio, nursing assistant program co-director for regional campus and high school programs at MATC.
This semester, for example, the Verona students will do their clinical at Four Winds Manor in Verona. Students generally spend five hours twice a week in their clinicals.
"It is totally different," Marsha Miyagawa, nursing assistant instructor, said about students applying what they learn in the real world.
Senior Sammy Nelson said even though her mom is a nurse and she knew the basics of what to expect, she was surprised to learn how much CNAs do behind the scenes.
Senior Brandon Miner likes the community feeling that has formed in the class.
"We all know it's a challenging class and we all need each other to pass the class," he said.
Velasco said the closeness also develops because "we're all physically touching each other a lot."