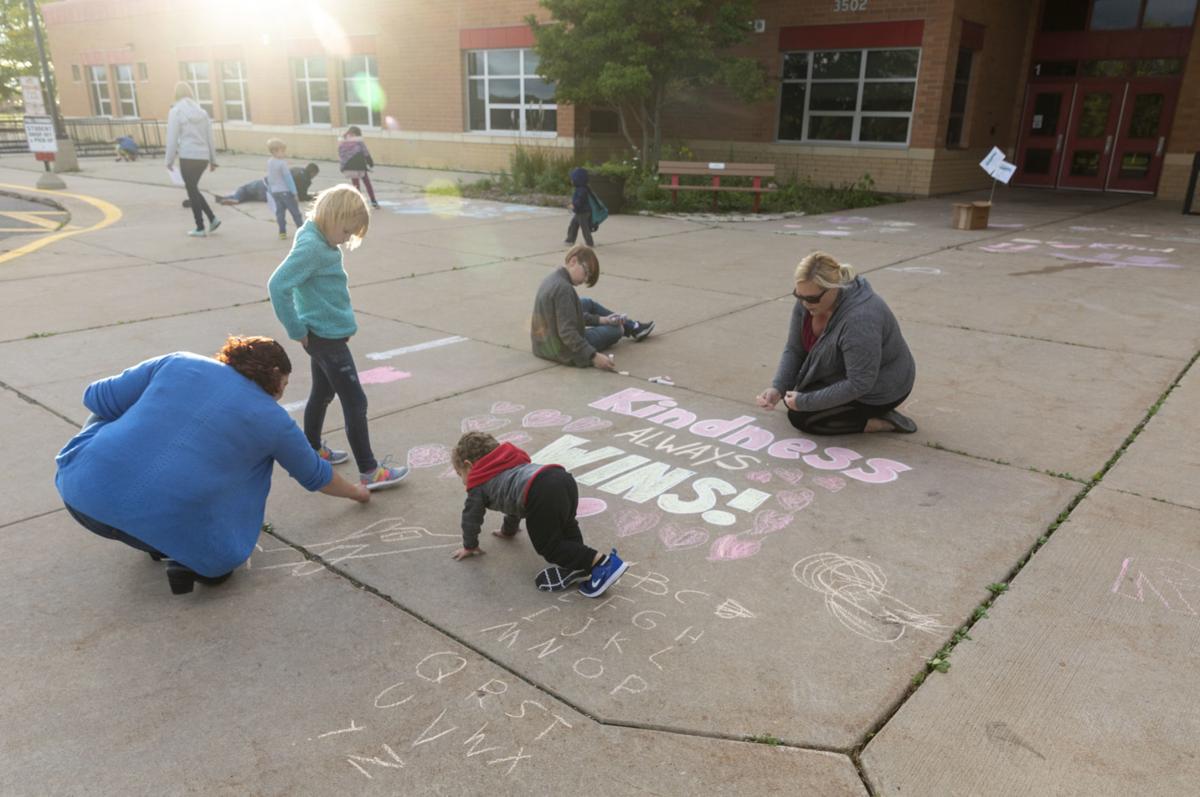 After Elijah Sudhoff wrote "You are awesome" in big letters with chalk, he took the time to draw a line around the words.
"Because I just wanted to be kind," third-grader Elijah said about why he drew on the sidewalk in front of Chavez Elementary School.
Another student, kindergartner Kyler Duncan, simply wrote "Be Kind."
"Everybody needs to be kind," he said.
Their efforts were part of the school's fourth annual "Kindness in Chalk" event, which is part of a national movement in its sixth year.
In addition to Elijah and Kyler, other students were busily drawing words and other symbols of kindness at two entrances to the school on Friday morning.
Besides lots of drawings of hearts, rainbows and smiley faces, some of the messages used Spanish words such as sonreír, which means "smile" and amarse, which means "to love each other."
One of the messages — "You don't have to be kind, but you do have to feel bad about what you did" — had a bit of an edge.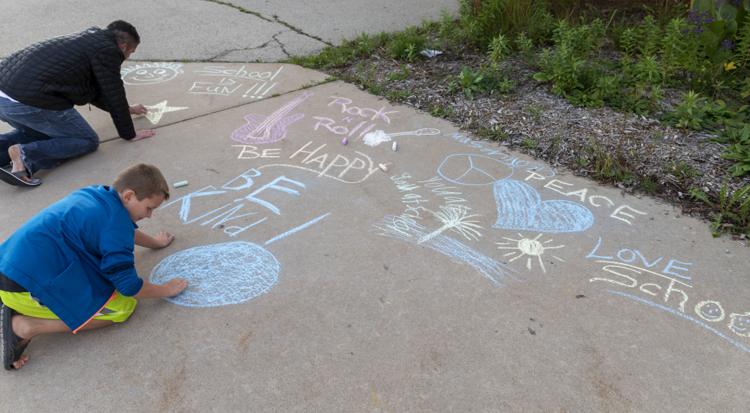 The "Kindness in Chalk" movement was started by Nicki Brunner, who lives in a Minneapolis suburb. It was sparked when Brunner and a toddler daughter were drawing with chalk outside their home and saw the reaction of neighbors when they saw a smiley face and a "Have a happy day!" message on the sidewalk. It then occurred to her that she could replicate the idea at her kindergartner son's school.
The event is officially held Monday around this time of the year because October is National Bullying Awareness Month.
"There's a lot that happens in our schools and our society that could benefit from a little kindness," Brunner states on her MinneMama Adventures website. "Bullying awareness is crucial and important — we need to talk to our kids about how to handle situations, we need to intervene, we need to stand up for what is right. The goal of the Kindness in Chalk Movement is to combat bullying with the most valuable virtue of all."
Andrea Holderman, former president of the Parent-Teacher Organization at Chavez who organizes the Kindness in Chalk event, said the school got on board early because of a connection between a former Chavez parent and the Minnesota origins.
Holderman got involved right away. She said the event appealed to her because she likes art and has four children who could benefit from the activity.
"It just seemed like a really good community-building event to participate in," she said.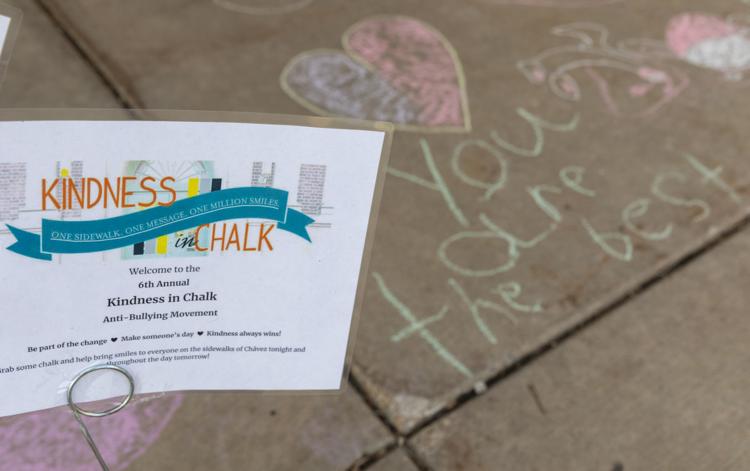 Holderman said signs and boxes of chalk, which are purchased by the PTO, are put out at the two school entrances the night before for children and their families arrive to begin writing messages. In addition, children in an after-school program can take part.
The next day, more messages and other symbols of kindness are drawn on the sidewalk as students come to school and some teachers take their classes out during the day to add to it.
"Every year we try to get the word out even more," Holderman said. "The chalking goes further every year."
She said the chalk messages and drawings put a smile on students' faces.
"They like to see these nice, kind messages … It also gives them a sense of safety," Holderman said. "It also feels good when they are writing the messages and makes them happy, too. It's a good feeling for everybody."
Fourth-grader Chloe Lupiezowiec drew a smiley face hoping students who see it "will think everybody else will be happy like they are."
Be the first to know
Get local news delivered to your inbox!