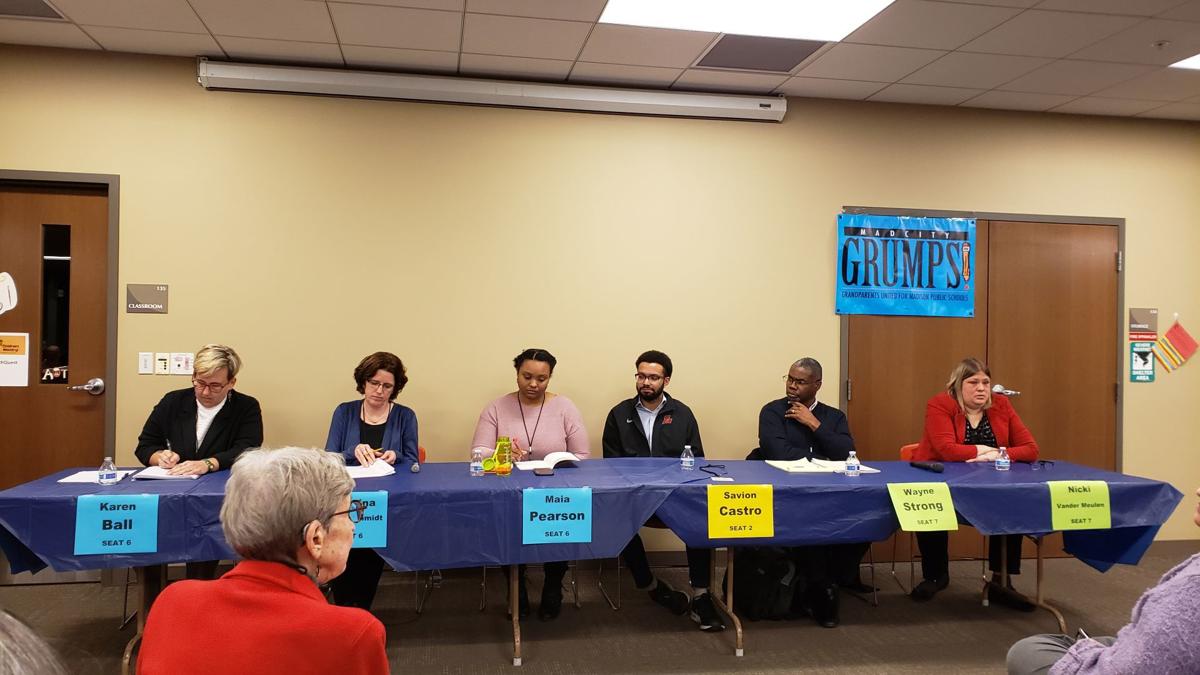 Three candidates for an open Madison School Board seat aligned on several issues facing the school district while offering their own solutions to other topics during a forum Tuesday.
The trio seeking the board's Seat 6 — Karen Ball, Christina Gomez Schmidt and Maia Pearson — spoke of rebuilding trust between the community and the Madison School District, identified areas they would cut in a funding shortage, and made their pitches before the Feb. 18 primary.
Ball, director of academic success at Edgewood College, said she wants to ensure an effective transition for the new superintendent and prepare the community for two potential referendums this fall.
Gomez Schmidt, director of enrichment for Galin Education, a college preparation and admissions assistance company, said her focuses include increasing transparency and ensuring schools are safe for students and teachers.
Pearson, a revenue agent for the state Department of Revenue, said some of her priorities would be finding ways to expand 4-year-old kindergarten to full-day and strengthening partnerships with businesses.
The top two vote-getters in the February primary will compete in the April 7 election for Seat 6, which is being vacated by incumbent Kate Toews. The term is three years.
Candidates were asked what they would do to fix a lack of transparency from the district some people perceive and how they would go about rebuilding the community's trust.
Gomez Schmidt talked about making sure the board has enough time and information to analyze important decisions so it is not rushed. She also said information about new proposals should be given to the public in a more timely manner.
Pearson cited the recent community forums with the superintendent finalists as good examples of the board being transparent.
She also said groups like the district's Black Excellence Coalition, which is largely made up of community members, are good outlets for people to share their thoughts.
Ball said the district could work to make access to data and information that is already online less cumbersome. She said she would want the board to set short-term goals on building trust and follow through on them while recognizing it won't change overnight.
The Madison School Board is considering two referendum questions for the November ballot — a proposed $315 million facilities request and a possible $36 million operating referendum.
While the specific dollar amounts will likely be finalized before a winner in the Seat 6 race is sworn in, all three candidates said they are supportive of the proposals.
If no operating referendum is approved and cuts are necessary, there was agreement they would all seek savings in administration and avoid cuts to classrooms or teachers.
Ball added she would like to reduce the cost of professional development to the district by leveraging partnerships with outside organizations to provide the training, such as colleges and universities.
Addressing ways to reverse losses of students to voucher schools, independent charters and open enrollment, the trio also agreed the district needs to find out from families directly about why they're leaving.
Ball spoke to regaining a "competitive advantage," which she said could be aided by updated high schools as part of the facilities referendum. Pearson said making the schools more culturally relevant would make students feel more connected. Gomez Schmidt talked about meeting the needs of all students to keep them from leaving.
Also at the forum, which was hosted by Grandparents United for Madison Public Schools, or GRUMPS, were the three candidates for two other board seats up for election on the April 7 ballot but not on the primary ballot.
Wayne Strong is challenging one-term incumbent Nicki Vander Meulen for Seat 7, and Savion Castro is running unopposed for a one-year term to the Seat 2 position he was appointed to in July.