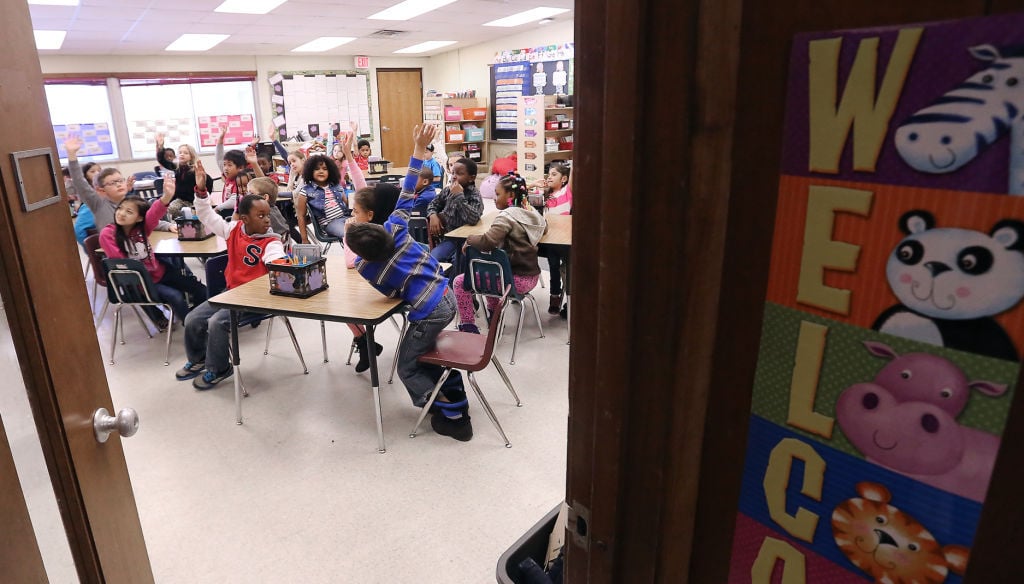 A longtime state program to reduce class sizes in elementary schools with significant numbers of poor students would no longer require fewer students in classrooms under changes senators will vote on Wednesday.
The bill states Wisconsin's Student Achievement Guarantee in Education program, known as SAGE, would no longer issue new contracts to schools and a new program would be created and make optional smaller class sizes — the impetus to create the SAGE program in 1996.
But bill author Sen. Luther Olsen, R-Ripon, said Tuesday that he intends for the legislation's proposed program to retain the SAGE name.
Since 1996, the SAGE program has provided money to reduce class sizes in kindergarten through third grade in schools with 30 percent or greater of its students living in poverty. It also provided a more rigorous curriculum and professional development for teachers.
The bill was drafted by the Legislative Council after a legislative committee studied the SAGE program last year and approved 6-1 by the Senate Education Committee last month.
It prevents the Department of Public Instruction from entering into new contracts or renewing existing contracts under the current program. It also prohibits schools not receiving SAGE funding from participating in the new program.
SAGE was born from education research in the 1980s and 1990s that indicated the number of students in a classroom has an impact on how well students fare academically, according to DPI spokesman John Johnson. Since its creation nearly 20 years ago, schools in the program have been given more flexibility beyond just class size limits, he said.
Advocates of the bill say schools that receive the extra funding need more flexibility in how to use the money to raise student academic achievement.
Opponents say removing the requirements of small class sizes dilutes its effectiveness.
83,000 students covered
As of the 2013-14 school year, 425 schools in 205 school districts received SAGE funding, according to DPI. About 83,000 students are covered.
The state spends $109.2 million per year for the program, but at a lower amount per student than outlined in state law, Johnson said.
The bill would allow — but no longer require — every school that gets funding to keep its K-3 classes at 18 students per teacher or 30 students per two teachers.
Instead, the new program would allow a school to use one or a combination of three interventions: one-on-one tutoring provided by a licensed teacher; coaching for teachers provided by another licensed teacher; or maintaining the previous class size limits and providing professional development on small group instruction.
Each school would get $2,027 for each student, according to a legislative council memo, and the schools would be required to sign a five-year implementation contract with the state.
The bill also requires a participating school to create performance goals, including reduction of the achievement gap between low-income students in that school and students in the same grade and subject statewide.
It also requires the district's school board to review implementation and progress in each participating school every semester.
Olsen, who heads the Senate Education Committee, said he expects the new program to be more effective because new interventions available to schools under the proposed new program "are so much more productive than just class size" limits, and because school boards will monitor progress.
At a hearing in March, DPI officials testified against the bill and a companion bill that would extend current SAGE contracts by one year.
"These bills ... change the focus of the SAGE program so significantly that it essentially ends a program that has been effective and well utilized in school districts across Wisconsin," said DPI lobbyist Dee Pettack.
She said targeted funding specifically for reducing gaps in achievement is also needed, and that the schools that need help in shoring up those gaps may not be the schools allowed in the program under the bill.
Johnson said Tuesday the program needs to be fully funded and open to schools that have high levels of poverty but don't qualify for it.
Olsen said the committee also wanted to expand the program, but "the problem is that we have no more money, so we couldn't expand it."
He said he hopes the program's success will help support expansion in the future.
School district administrators support the proposal. John Forester, lobbyist for the School Administrators Alliance, testified in March that since he joined the organization 13 years ago, "I have been struck by the steady and continuous drumbeat of school districts seeking SAGE flexibility."
Forester said flat or reduced funding for schools has made the class size limits challenging.
The Wisconsin Association of School Boards also is supportive of the bill, according to testimony submitted by lobbyist Dan Rossmiller, because the bill is aimed at reducing gaps in achievement among groups of students and allows schools to use strategies other than class size restrictions to address achievement gaps.
Rossmiller also praised a provision of the bill that requires schools to report to school boards about their progress.
Cheatham opposes
Madison School District superintendent Jennifer Cheatham told lawmakers in a letter opposing the bill that school staff and parents value the class sizes the district maintains because of the SAGE program and noted the two additional strategies of tutoring and instructional coaching schools can employ to receive funding are already under way in Madison.
At the first legislative committee meeting in late July, Olsen said the goal of the committee was to consider alternatives to current class size limitations that would allow schools to achieve the aims of SAGE, among other things.
Members of the committee, comprised of legislators, teachers, school district officials and an education professor, considered optional changes to the program, including allowing new schools to participate in the program, according to an Aug. 6 memo released to committee members by Legislative Council staff attorneys.