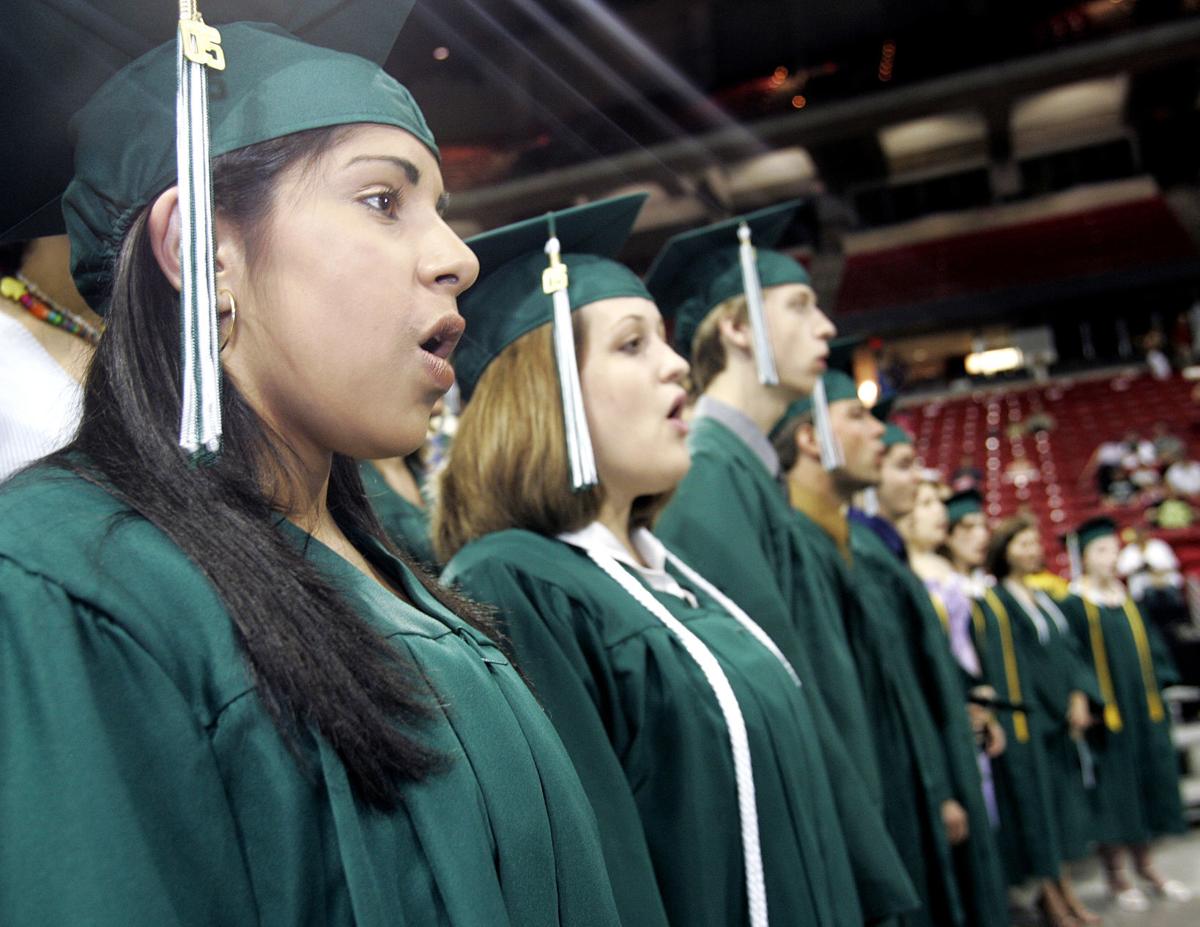 With about 1,600 Madison students receiving a high school diploma each year and no formal way to connect them to graduates of past years, a nonprofit partner of the Madison School District is undertaking a plan to boost alumni involvement, interaction and fundraising.
The Foundation for Madison's Public Schools is in the initial planning stages of launching a robust, district-wide alumni network and setting up groups to aid Madison high schools, said Kari Mueller, the group's associate director for alumni engagement.
"There really hasn't been any formal alumni engagement efforts in place," Mueller said. "The idea of the broader network is really to re-engage 60,000-plus Madison public school alumni."
The Madison Community Foundation contributed $50,000, said Tom Linfield, vice president of community impact for the philanthropic organization, because the two Madison foundations have been discussing for the past several years ways to improve engagement among district grads, such as through volunteering, mentoring or donating.
As an example, Linfield said an alumni network could help a teacher identify a former student who went into the Peace Corps and invite them to a class to speak about the program.
"Higher education, of course, has always had a huge relationship with their alumni," he said. "Most people who've gone through college can probably expect that sort of continued fraternity, that continued community."
But Linfield said he sees value in providing the same connectivity for the high school experience.
"We think this project has a huge amount of long-term potential and could be very, very rich," he said. "I see the lifelong connection here for anybody who went to UW has with their college. It would be interesting to see: Could you duplicate that at the high school level?"
If everything falls together in time, the goal is to have a district-wide network set up in time for when the class of 2020 walks across the stage in the spring, Mueller said.
Alumni network
Despite there being an alumni network page on the foundation's website, there's not much else supporting it now, Mueller said, who joined the nonprofit in September to head up the alumni work.
"It's kind of been there as an idea, but there's not really any programs in place to support this network right now," she said.
Mueller, a 2000 graduate of Memorial High School, continues to brainstorm what the alumni network will comprise as she works for the foundation on a part-time basis. But there are broad-stroke ideas of what the final product could be.
Mueller said it will likely consist of a dedicated website with a directory of alumni.
The network could be a means of collecting donations from alumni, she said, while also potentially acting as a tool for professional networking, allowing graduates to find or to offer mentoring opportunities, or giving teachers or principals a format to ask for help.
"It could look like many different things," Mueller said, adding the idea of a broad alumni network has been met with "overwhelming positive feedback."
Established in 2001, the foundation raises money for district schools and some district initiatives, such as the "community school" model, along with advocating for certain priorities and hosting events such as the "Principal Experience" opportunity that lets community members shadow principals for a day.
While alumni networks are often a fixture of colleges and universities, Mueller said they're becoming more common for high schools.
Several companies even sell software for schools to set up and manage alumni networks, offering tools to sync Facebook and LinkedIn feeds, create a name directory, or send out event invitations.
"High schools are understanding the value in engaging their alumni and engaging alumni early," Mueller said.
School-level focus
A second thread of the foundation's alumni work is school-level specific — inspired in part by what is happening at La Follette High School.
In 2015, a pair of La Follette graduates started a "board of visitors" to aid the Southeast Side school in several different capacities.
The board's work can involve raising money, helping apply for grants to stock the food pantry, getting local businesses involved in job fairs, or simply sharing positive stories about La Follette with the community, said Dan Koellen, a 1975 graduate of the school.
There are now about 30 members on the board, including alumni, parents of current students or former school employees, said Koellen, a retired tech executive who lives near Sacramento, California.
Fundraising is a big part of the group's work, but it is only one of six areas the board focuses on, said Mark Mueller, a 1974 La Follette alumnus who helped establish the board with Koellen.
"It's not just about writing checks and then walking away," said the 63-year-old theoretical physicist. "These are people who are involved in many ways with the life of the school, and it's an ever-evolving thing."
Kari Mueller, who is not related to Mark Mueller, is gauging the interest of graduates from the district's three other main high schools on starting something similar.
So far, she's had early discussions at Memorial and West high schools and plans to speak with East High School alumni early next year. Mueller said initial activities being considered for such groups could be speaker series, mentoring, tutoring or other ways for graduates to give back.
"I'm really looking to make sure that it's community-driven at each school," Mueller said. "I think it's going to look quite different at each school."
Despite not having lived in Madison for decades, Mark Mueller, who retired from an investment management firm in Boston to return to his passion of physics as a research affiliate at the Massachusetts Institute of Technology, still has a fondness for La Follette.
"I had this drive and this ambition and this interest in science and in physics," Mueller said. "La Follette gave me a tremendous education, just like second to none."