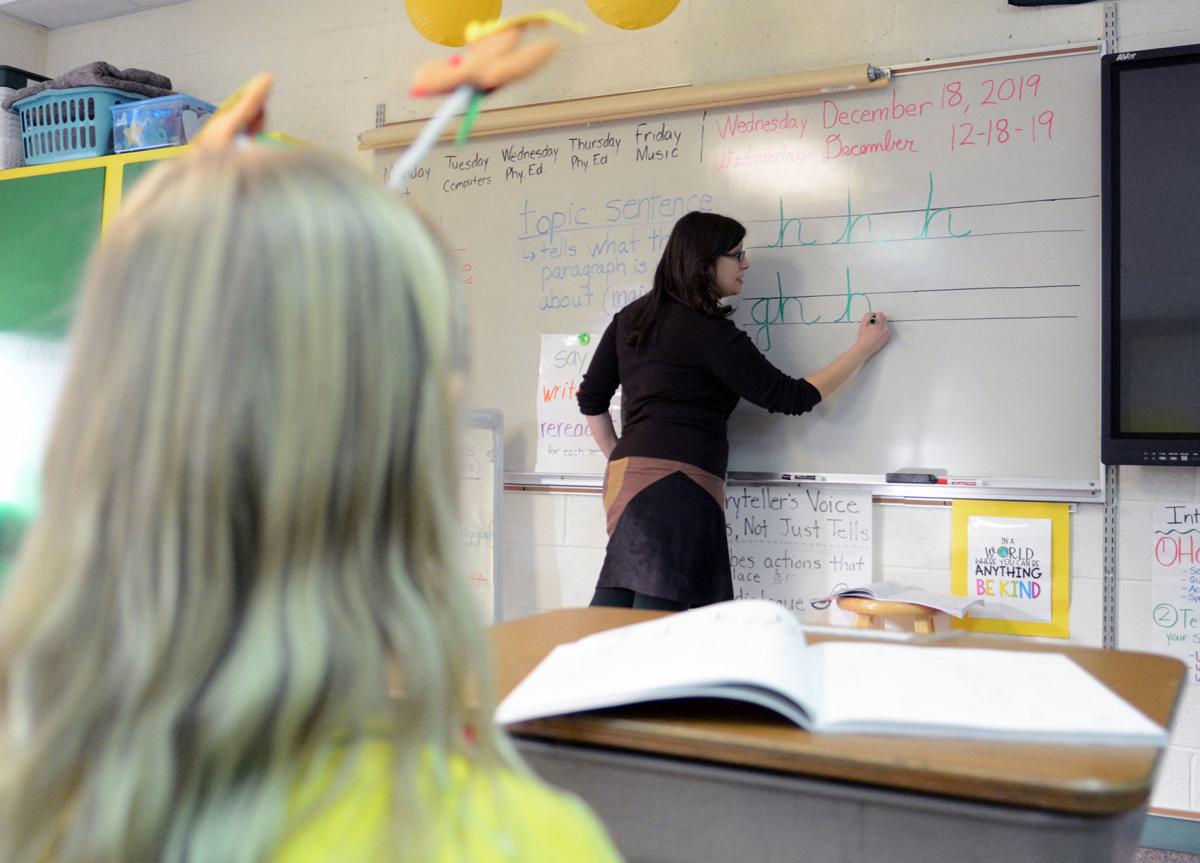 Mandatory cursive education for Wisconsin students swooped closer to reality Wednesday after clearing a state Assembly committee.
On a 7-5 vote — with all Republicans in favor and Democrats opposed — the Assembly's State Affairs Committee backed a bill that would require elementary students be taught how to write in cursive.
During a short discussion before the vote, Rep. Christine Sinicki, D-Milwaukee, said she'd rather leave the decision on teaching cursive to school boards, questioned whether cursive instruction is still part of collegiate programs for prospective teachers and objected that no funding was attached to the bill.
The bill's lead author, Rep. Jeremy Thiesfeldt, R-Fond du Lac, argued the use of cursive can stimulate students' minds and train them to think creatively. He also said cursive can be a faster, more beneficial method of taking notes — pointing to a research article suggesting handwriting notes results in better retention compared with typing notes.
"Considering the fact that we in Wisconsin in recent years have had struggling reading scores — I think this certainly isn't the silver bullet — but it certainly is not going to hurt," he said.
The bill, which is sponsored by the Republican chairmen of the Assembly and Senate education committees and has some Democratic sponsors, would apply to public schools, independent charter schools and private schools participating in the state's voucher programs.
Students would need to be able to legibly write in cursive by the end of fifth grade.
Last month — on a near party-line vote — the Senate Education Committee passed the proposal as well. Having cleared committees in both the Assembly and Senate, the bill is eligible to be scheduled for a full vote in each respective GOP-controlled chamber.
Representatives of Gov. Tony Evers did not return requests for comment Wednesday on whether the Democratic governor has taken a position on the bill.
Called a distraction
Tim Slekar, the dean of Edgewood College's School of Education, said prospective elementary teachers coming out of the college will have been exposed to techniques of teaching cursive writing, but the emphasis on the writing style no longer remains.
"In the past, there would have been a large portion developed to teaching specifically cursive handwriting," he said. "Now it's, 'Here's cursive handwriting, here's the ways you will see teachers teaching it.'"
Slekar acknowledged the developmental benefits of teaching children handwriting in general, such as improving hand-eye skills and creativity. But he argued there's no good research indicating cursive specifically can lead to better outcomes for students.
"This is a distraction from the real issue of creating literacy and developing the literacy skills of children," Slekar said.
Wide cost estimate
DPI also estimates training public school teachers on cursive education could range from $250,000 to $1.6 million, but it may not be a recurring cost.
For private schools accepting students on taxpayer-funded vouchers, pupil materials and teacher training costs could range from $195,000 to $755,000.
But the department acknowledges the estimates may be overstated because DPI doesn't track how many school districts currently teach cursive.
Thiesfeldt is skeptical mandatory cursive would have much of a financial impact, saying the training could likely be accomplished with free online resources, veteran teachers with experience in cursive instruction helping newer teachers and through textbooks.
Several education groups, such as the Wisconsin Association of School Boards and Wisconsin Rural Schools Alliance, oppose the bill, but it is supported by the Decoding Dyslexia Wisconsin group.
Some Democratic lawmakers against the proposal have said they might support it if it came with funding to implement the mandate, while others have questioned whether cursive is still a relevant skill to teach students in a technology-focused age.
Be the first to know
Get local news delivered to your inbox!