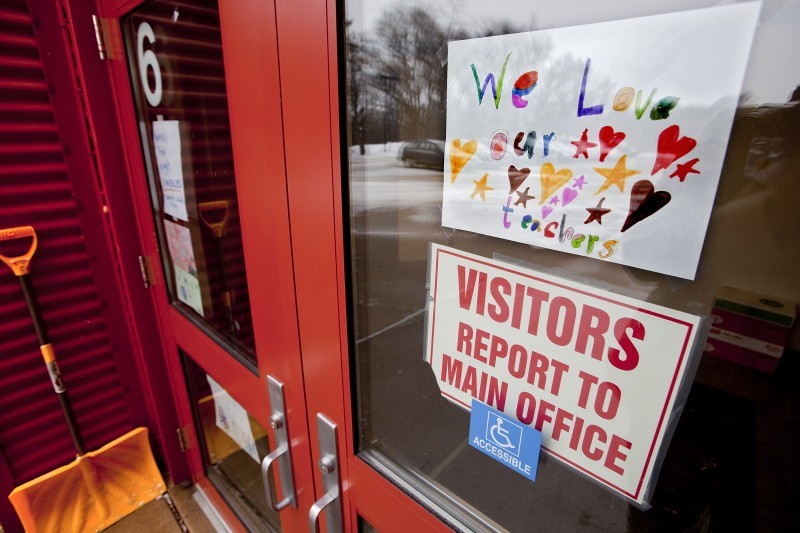 Just as school districts had feared, Gov. Scott Walker's biennial budget proposal would slash local school funding by hundreds of millions of dollars and prevent them from making it up with higher property taxes.
Walker's budget cuts state school aid by $834 million over the next biennium, a 7.9 percent decrease. That accounts for about one fifth of proposed cuts in the budget.
But the bigger impact on local school budgets is Walker's proposal to reduce by 5.5 percent next year the amount that districts can increase revenues, which combines state aid and property taxes. It would be the first time that revenue limits would decrease since they were imposed nearly 20 years ago.
"It's the largest cut to education in modern state history," said Dan Rossmiller, government affairs director for the Wisconsin Association of School Boards. "I can't imagine that anybody is looking forward to having to cope with this."
For all districts around the state, a 5.5 percent reduction in revenue translates to about a $470 million cut next year, according to an estimate by Andrew Reschovsky, UW-Madison professor of public affairs and applied economics. For Madison that comes out to $15.7 million less than what the district was able to take in this year.
Walker said the revenue limit cut is intended to protect property taxpayers. If revenue limits increased by 2 to 3 percent, as they have every year since 1993, school districts could make up for lost state aid with large property tax increases, said Wisconsin Taxpayers Alliance president Todd Berry.
Many districts, including Madison, have relied on regular increases in the revenue limit to account for the inflationary cost of doing business. Going from a projected 2 percent increase to a 5.5 decrease in revenue is a swing of more than $20.8 million, said Madison Superintendent Dan Nerad.
You have free articles remaining.
"There are significant challenges that lie ahead," Nerad said.
Districts have raised concerns that the revenue cuts could mean thousands of teacher layoffs. Walker has said that his proposal to require school employees to have more deducted from their paychecks for pensions and health insurance could save districts $490 million next year.
Other proposals in the budget would give school districts more "flexibility" to make the necessary cuts, Walker said. They include eliminating requirements that school years be at least 180 days, that schools employ a reading specialist and that school nurses hold bachelor's degrees.
Mary Bell, president of the Wisconsin Education Association Council, the state's largest teachers union, said pension and health insurance contributions will not cover the cuts Walker is proposing, and cutting school days would only hurt students who need more time in the classroom.
"There's no way that school districts in this state are going to be able to address this kind of budget shortfall without layoffs and program cuts that will damage the quality of education," Bell said.
The exact impact of Walker's proposal on each district won't be known until the Department of Public Instruction combs through the budget and adjusts its complicated formula.
Walker's budget also removes the cap on virtual charter schools, extends the open enrollment period from three weeks in February to three months, and allows charter schools to maintain their current state funding levels.
New proposals include a $15 million system to track student data over time and a $600,000 program to help all students read by the end of third grade.