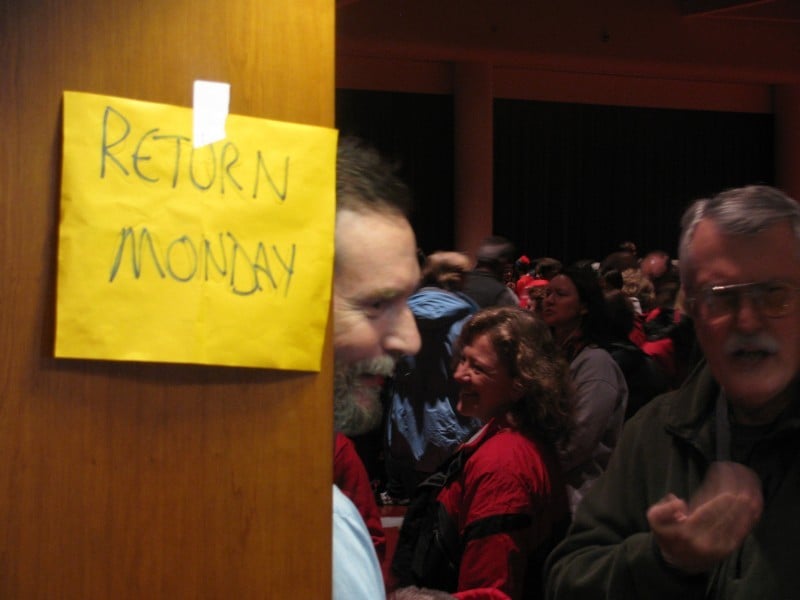 Madison teachers have agreed to return to the classroom Tuesday, though schools are closed Monday for a fourth straight school day, officials announced Sunday.
Meanwhile, the strong winter storm that started pounding the state Sunday has caused four districts in the region to close Monday: Adams-Friendship, Montello, Princeton and Westfield.
More than 20 more, including Mount Horeb, Lodi and Sauk Prairie, delayed the start of Monday's classes for two hours.
Wisconsin Education Association Council President Mary Bell on Sunday called on teachers who did not have Monday off for the Presidents Day holiday to return to their classrooms.
"As Monday and Tuesday roll on, people who are supposed to be in class will be in class, and we will see what the week brings," she said.
While Bell was making her statement, a conflicted Madison teachers union gathered to discuss the future of their protest against Gov. Scott Walker's proposal to effectively strip their collective bargaining ability.
Nearly 3,000 Madison teachers, staff and family gathered at Monona Terrace. The four-hour meeting was not open to the public and members of the media were asked to leave shortly before discussion began.
Teachers debated how to balance maintaining their unified opposition to the bill while allowing classes to resume as soon as possible.
"I'm torn," said Jeff Ziegler, a math support teacher for the Madison School District. "I recognize that this is a big deal and this is important. But I also recognize that we're causing hardships for families by having the schools closed."
At one point, the membership was so evenly divided on a vote to return to work Monday, they were asked to exit the meeting room and re-enter through two separate doors so an exact count could be taken. The vote was 741-731 to return Monday, but a later, more overwhelming vote to return Tuesday won the day.
Kristin Voss, a social studies teacher at Memorial High School, said she attended planning to vote to return Monday because she worried that public opinion was turning against teachers. But she changed her mind after hearing concerns about how reduced pressure on the Legislature could defeat the movement.
"If we don't continue with similar action, the real change that needs to be done, won't be done," Voss said.
Madison Teachers Inc. urged its members to call in sick last Wednesday to attend rallies at the Capitol, which resulted in the district canceling school. The sick-out continued Thursday and Friday as other districts around the state faced similar action from employees.
Madison Superintendent Dan Nerad said the district will have to discuss how to make up the four missing school days and what repercussions there will be for teachers who have not reported to work.
"I'm very pleased that our staff have decided to come back," Nerad said. "We've got to get back to educating children."
Bell said it's not clear whether teachers who demonstrated in Madison last week will be punished by their school districts. "Those (sanctions) will emerge through this week," she said.
-- Patricia Simms contributed to this report.