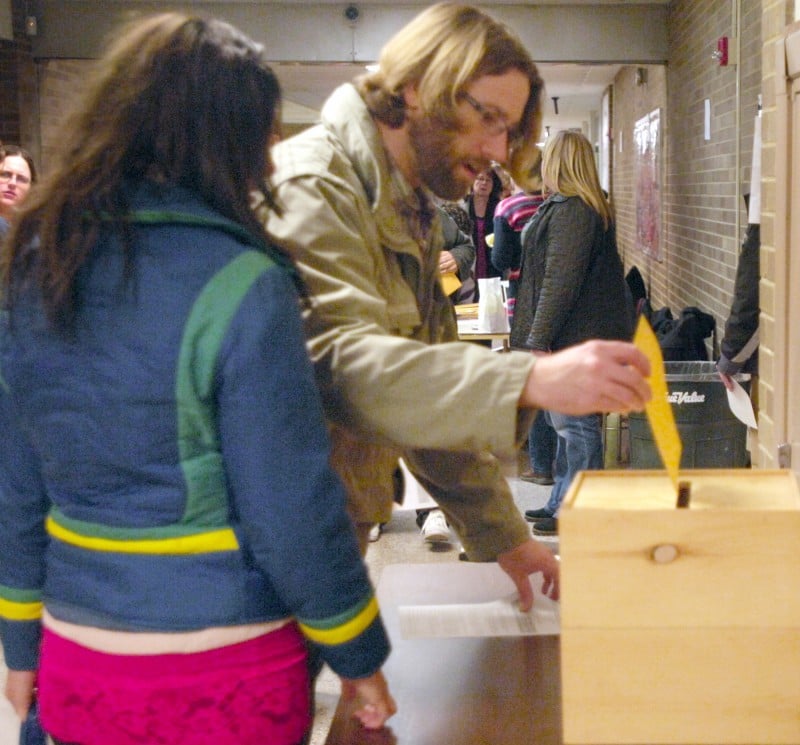 Teachers unions across the state are urging school boards, including Madison's, to approve two-year contract extensions with major wage concessions before a Republican proposal to dismantle collective bargaining takes effect.
But the Wisconsin Association of School Boards is warning districts not to rush contract approvals as they may be limiting their options in the face of historic state funding cuts.
"We're telling people to be very cautious," said Bob Butler, an attorney with the Wisconsin Association of School Boards. "There's just a lot of unknowns for what their revenue will look like under the governor's (budget) proposal and how that proposal will evolve over time."
In recent weeks 50 to 100 districts have approved one- and two-year contract extensions, Butler said. More contracts are expected to be voted on in coming weeks, though it's unclear what effect the imminent passage of Gov. Scott Walker's proposed collective bargaining changes would have.
Local unions have approached districts with proposals containing similar language, indicating a "coordinated effort," Butler said. The similar language includes concessions on employee pension, health insurance contributions and inflation-based wage increases — all provisions called for in the Walker's bill.
The bill also strips away virtually all provisions of collective bargaining, but those changes do not affect local governments or school districts until existing contracts expire.
Wisconsin Education Association Council spokeswoman Christina Brey acknowledged it has advised its affiliated local unions to seek extensions with concessions on pension and health insurance contributions. "Definitely the budget repair bill is the impetus," she said.
"They would have no voice should this go forward," Brey said. "Our members need to have some semblance of order and security of the feeling that they know what's to be expected of them."
Walker has said limiting collective bargaining is necessary to give local governments the flexibility to make changes, such as changing insurance plans or contracting out certain work, that could offset state funding cuts.
You have free articles remaining.
Madison schools, teachers meet
The Madison School District held its first meeting Wednesday with Madison Teachers Inc. to discuss settling a contract prior to the passage of the budget repair bill, district spokesman Ken Syke said. Details of the union's proposal were not released.
Several area districts, including Deerfield, Evansville, McFarland and Sun Prairie, have already approved contract extensions with wage concessions. Some have approved wage freezes while others have limited raises to inflation.
In Deerfield, the School District pays all pension and health insurance costs, administrator Michelle Jensen said. But under a one-year contract approved Monday, teachers, nonunion staff and administrators will pay 9 percent of their insurance premiums (unionized support staff will pay 5 percent) and all employees will contribute 5.8 percent of their salary to cover half of their Wisconsin Retirement System payment. The district would pay the other half.
Walker's proposed funding cut would create a $471,000 deficit for Deerfield. The pension and health insurance contributions save the district $440,500, Jensen said.
On the other hand, the DeForest School District, which is still considering an extension, already has employees contribute 10 percent of their insurance premiums. Pension concessions would save $700,000, leaving a $1 million budget deficit that the district hopes to handle through attrition rather than layoffs.
The Wisconsin Heights School Board, which plans to vote Thursday night on a two-year contract that would have employees contribute to their pension and pay 12.6 percent of their health insurance premiums, still may face layoffs.
Superintendent Mark Elworthy said those savings won't cover the projected $1.2 million deficit created by the governor's budget bill. The district already switched to a less expensive health insurance plan. Because the district has worked with unions to cut costs by $2.7 million over the past seven years, Elworthy doesn't expect the district would find other efficiencies if collective bargaining were curtailed.
"That's where the bill is kicking us in the shins a little bit," Elworthy said. "We're living thin already."