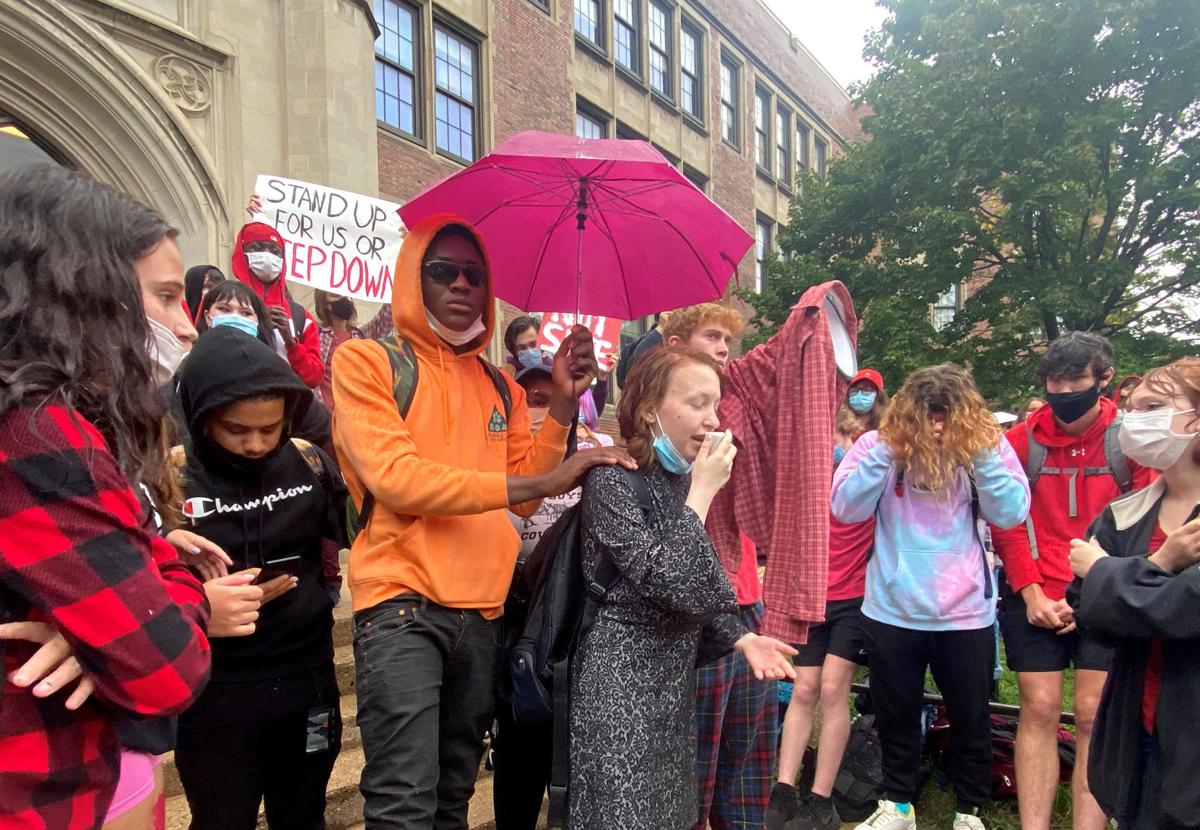 Hundreds of students staged a walkout and rally Wednesday on the front lawn of East High School in an effort to bring attention to what they called an inadequate school administration response to allegations of a recent off-campus sexual assault involving two students.
Feliz Castaneda, an organizer of the walkout, said the victim in the alleged assault filed a police report and authorities were investigating the incident but said school administrators have shown a lack of support for the victim while the accused student remained free to walk the school halls. A Madison Police Department spokesperson said the incident is under investigation.
Students wearing red to show their support for victims of sexual assault began pouring out of the high school's front doors at about 10:11 a.m. Wednesday morning. In speeches, they called on administrators to suspend the student who has been accused of the assault and called for Principal Sean Leavy, who came to the Madison School District from Beloit this year, to resign. Groups of girls huddled together, crying and consoling each other as rain began to fall on the demonstration.
Castaneda, a close friend of the victim who accompanied her to the hospital after the alleged assault took place at a private residence, said she returned to school Monday morning to figure out what the school policy is regarding sexual assaults that occur between students off district property.
"(Leavy) couldn't tell us what the policies were," she said. "Honestly, I'm shooting for a new principal just because our principal has handled this terribly."
"We're sick of Mr. Leavy giving us roundabout answers. Not telling us what we need to know," speakers shouted through a bullhorn. "Now the school is taking advantage of us and not giving us the justice we deserve. ... (District) policy is not giving the victims the justice they deserve."
Castaneda said word about the assault began to travel through the school between Monday and Wednesday morning.
"There were boys in the school that were making jokes about the whole incident and making it seem like something it wasn't," she said. "There were girls leaving their classrooms because they didn't feel safe."
Castaneda's father, Tony Castaneda, was also present at the rally to support the students.
"The kids told me that they feel threatened and they feel not safe at school because the alleged assailant is free to walk the halls," he said. "I don't know what the administration's policy is actually. Obviously it's inadequate."
Tony Castaneda said there should be some protections at the school for witnesses to such events.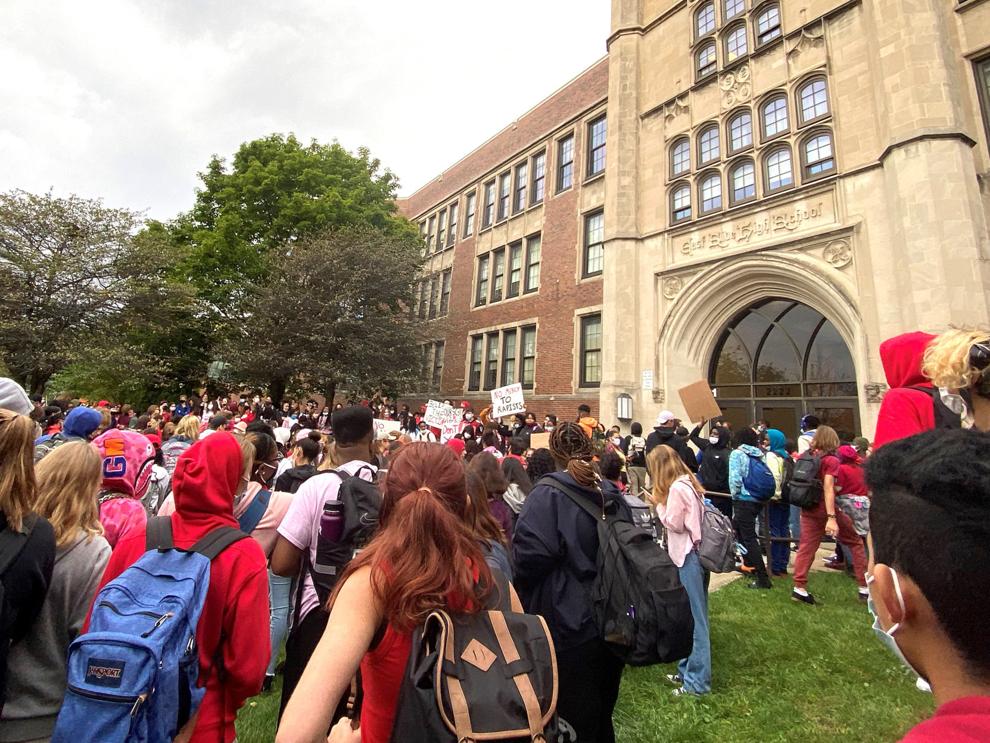 Leavy apologized for his response to students who voiced concerns regarding sexual assault — during an assembly that took place Friday, prior to Saturday's alleged assault — in an email to families Wednesday morning, ahead of the walkout.
"During an assembly on the 'Behavior Education Plan and Standard Response Protocol' last week, questions surfaced about how sexual misconduct is addressed," he wrote. "I would like to apologize for how my response left some students and staff feeling dismissed, upset and unsupported. My response was too technical and did not meet the needs of our students and staff."
District spokesperson Tim LeMonds said East High administration "has followed and continues to follow district policies and procedures relative to mandatory reporting and Title IX."
According to the district's safety plan, the critical response team "activates in cases of sexual assault at school." It does not outline how administrative officials should respond to events that occur between students outside of district property.
---