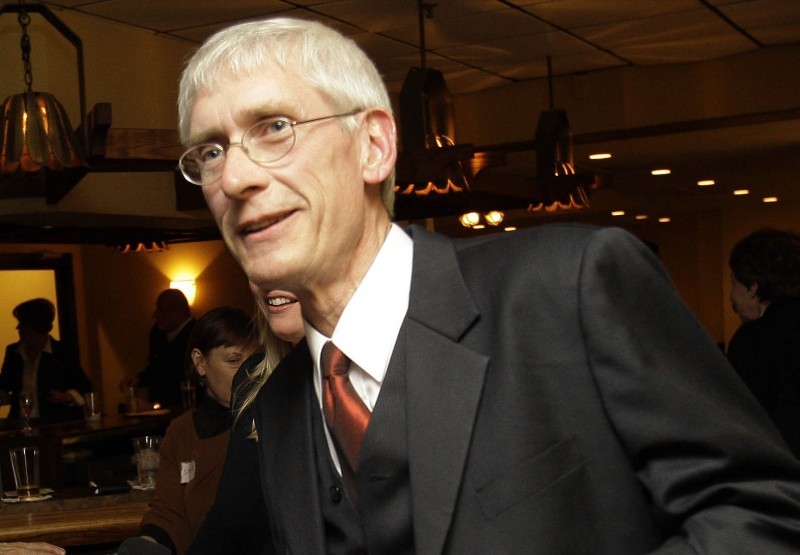 Wisconsin education leaders on Thursday praised a proposed dramatic reworking of how schools are funded that would do away with $900 million in property tax credits for homeowners and instead give the money directly to schools.
Just what such a move would mean to Madison schools - which saw a drop in general state school aids this year of $9.2 million, or more than 15 percent - and taxpayers is not yet known. Local officials are still trying to crunch the numbers.
Superintendent of Public Instruction Tony Evers, who made the proposal to eliminate the "school levy tax credit," said omitting details that would allow Madison and other districts to determine how they might be affected was by design. Rather, he said, he wanted to kick-start a statewide discussion with interested parties, including candidates for office, about how to revamp the outdated and complicated school funding formula before a final plan is put before the Legislature next year.
"We need to reform our school funding system to be fair, sustainable and transparent," Evers said at a news conference with education leaders standing behind him. "We must strive to do better for our public schools."
Representatives from the state's largest teachers union, Wisconsin Education Association Council, and groups representing school boards and administrators showed their support by attending the news conference. Key lawmakers also praised the proposal, though it won't undergo serious debate in the Legislature until after the fall elections.
Madison Superintendent Dan Nerad said the school district has not analyzed the numbers, but he is happy Evers raised the issue.
"We still need to know what this would mean for Madison," he said. "But I am glad we are starting this conversation. The current system is not sustainable."
The school levy credit shows up as a reduction on property tax bills mailed in December, and killing it would be difficult politically.
But according to Dale Knapp of the Wisconsin Taxpayers Alliance, the proposal would simply move money around and would have little effect on the problems schools face.
"Some districts will pay less, some will pay slightly more, but the schools will be in the same boat they were before," he said.
The state uses the school levy tax credit to help reduce property taxes that provide local money for schools. It was created in 1996 and it has grown by more than 400 percent since.
Evers stressed that putting the tax credit money into the aid formula, then redistributing it to schools under a reworked formula, would not result in a net increase statewide in property taxes. It would, however, mean higher or lower taxes for individuals, depending on their school district.
Reworking Wisconsin's school aid formula has been talked about and studied for years, but there's never been the political will to change it.
In addition to the $900 million shift, the plan would base the amount of aid a district gets in part on how many students it has on free and reduced lunch, instead of just property values. That is a more fair way to ensure districts with high costs associated with educating those students get a higher portion of aid, Evers said.
The plan also calls for aid to automatically increase annually. Currently, how much schools get is up to the Legislature and in recent years it's fallen short of the goal to provide two-thirds of schools' costs.
This year schools received about $5.2 billion in aid, the single largest expenditure in the state budget accounting for more than 37 percent of the total.
Evers' plan would attempt to reduce the amount of variance in aid a district could receive from year to year; increase funding for rural districts and transportation costs; and either expand, reduce or eliminate funding for more than 40 separate programs, such as special education and 4-year-old kindergarten, that receive earmarked amounts of aid.
The big question behind Evers' proposal is what would happen to property taxes. Evers argued that instead of going to property taxpayers in the form of a credit, the $900 million should instead go to schools. There would be no net increase in property taxes, he said.
What such a move would mean to any one taxpayer would depend on a number of variables, most notably how much aid their local district would receive under the plan and how much they would need from property taxes to meet expenses.
"I think it's basically impossible to say with certainty what's going to happen to property taxes," said Andrew Reschovsky, a University of Wisconsin-Madison economist who has studied school aid for years.
The Legislature is currently controlled by Democrats. The November elections will determine which party is in power to consider Evers' plan. There will also be a new governor, with Democrat Jim Doyle not seeking re-election.
--State Journal reporter Clay Barbour contributed to this story.
The main gubernatorial candidates weighed in on state Superintendent of Public Instruction Tony Evers' proposal to revamp the school funding formula:
"I adamantly oppose any idea that would raise property taxes. The DPI plan would clearly result in higher property taxes."
--Former U.S. Rep. Mark Neumann, Republican
---
"We need fundamental change in the way we pay for K-12 education and I'm glad that Superintendent Evers has brought this discussion to the forefront," he said in a statement. "We must invest in education but also control costs and create a fiscally sustainable education system. I encourage the superintendent to add to his plan necessary protections for property taxpayers, like the restoration of the QEO, mandate reform, and arbitration reform."
--Milwaukee County Executive Scott Walker, Republican
---
"Clearly rural and urban districts alike are being hurt by the current education funding formula, and the next Governor and Legislature will need to bring stakeholders together to find a better way to put more resources in the classroom for our kids."
--Milwaukee Mayor Tom Barrett, Democrat
Be the first to know
Get local news delivered to your inbox!