After largely sitting on the sidelines of a decades-long debate over how to teach children to read, Wisconsin's education agency is taking a rare step, saying phonics should be taught in an "explicit and systemic" manner.
The Department of Public Instruction making such a statement is unusual in a state that gives broad leeway to what school districts teach and how it is taught, said Sheila Briggs, assistant state superintendent.
"While that not everyone tends to agree, some would argue that the research is becoming fairly settled," Briggs said. "You really need to (teach phonics) in an explicit and systematic manner, not just as it comes up or sprinkled here or there."
For advocates of phonics, and the "science of reading," though, they say the sentiment is nice, but argue the state needs to do more to boost stagnant reading outcomes. Last week they laid out a list of changes they're calling on DPI to make.
"I don't think that actually stating they're supporting these policies actually means that anything will change," said Mark Seidenberg, a UW-Madison psychology professor. "I don't take their statement as anything more than an attempt to defuse some of the controversy and some of the criticism that's being directed their way."
While there's broad agreement phonics alone is not a panacea for producing skilled readers, the degree and intensity to which it is taught has long been debated.
Forty-one percent of students scored proficient or better in reading on a state assessment last year, the state ranks middle-of-the-pack on its scores for fourth graders on a national reading assessment, and Wisconsin continues to have the worst disparity in reading scores between black and white students nationwide — figures proponents of the science of reading point to when saying the state needs to change direction.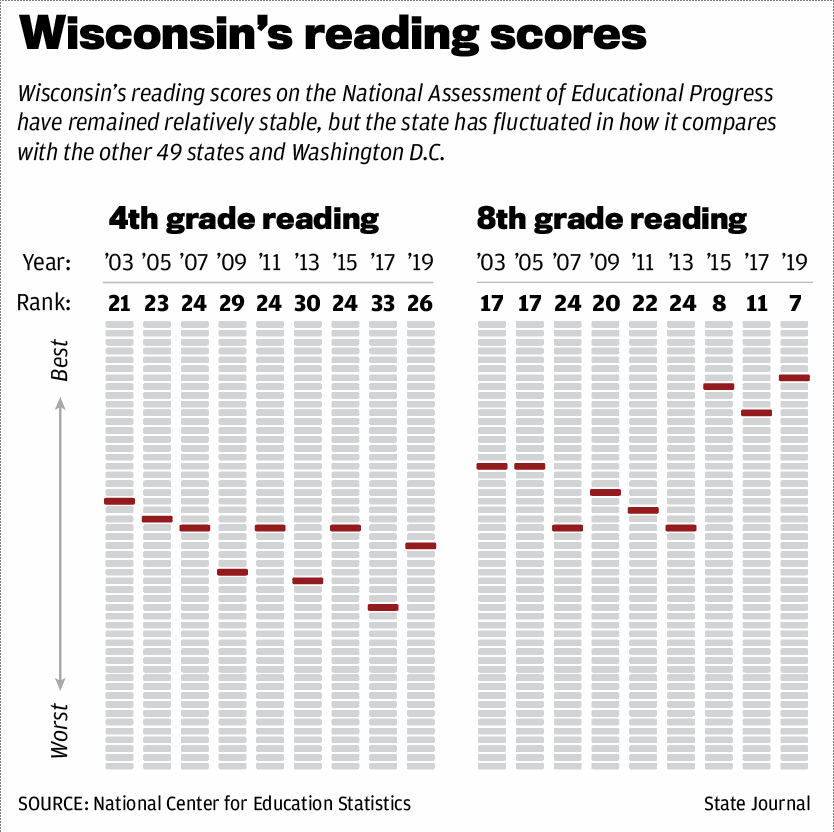 State Rep. Jeremy Thiesfeldt, R-Fond du Lac, said he's pleased with DPI's statement but is taking it with "cautious optimism."
"They've been reluctant to go along with what the science has said, but to their credit, they seem to be making the right moves right now," said Thiesfeldt, chairman of the Assembly Education Committee.
Last month Thiesfeldt and Rep. John Nygren, R-Marinette, called for an audit to examine methods of reading instruction used in Wisconsin schools, whether DPI consistently measures student achievement and how a required test on reading instruction for certain teachers affects licensing.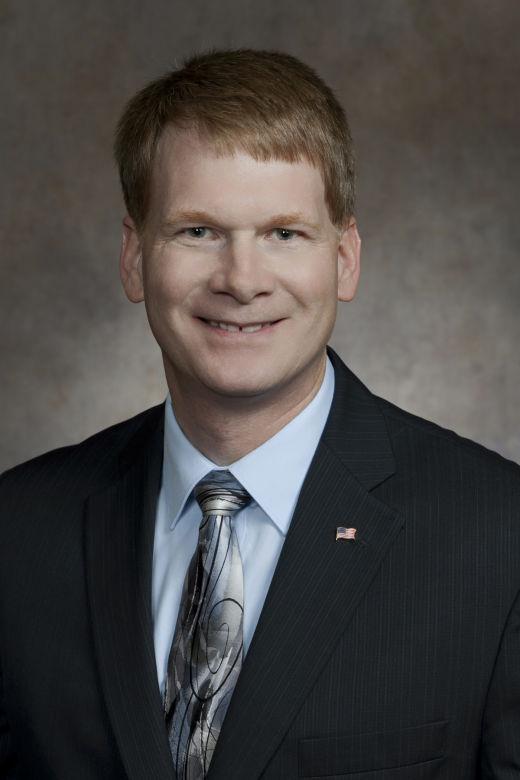 "If they are serious about wanting to make these changes, they should not be hesitant to have an outside group come in and evaluate what it is they've been doing," Thiesfeldt said.
At a Capitol press conference Wednesday, a group of science of reading proponents called on DPI to create a new cabinet-level position dedicated to reading, provide more training and coaching opportunities for teachers related to reading instruction, and place greater emphasis on reading proficiency when rating schools on state report cards, among other changes they're seeking.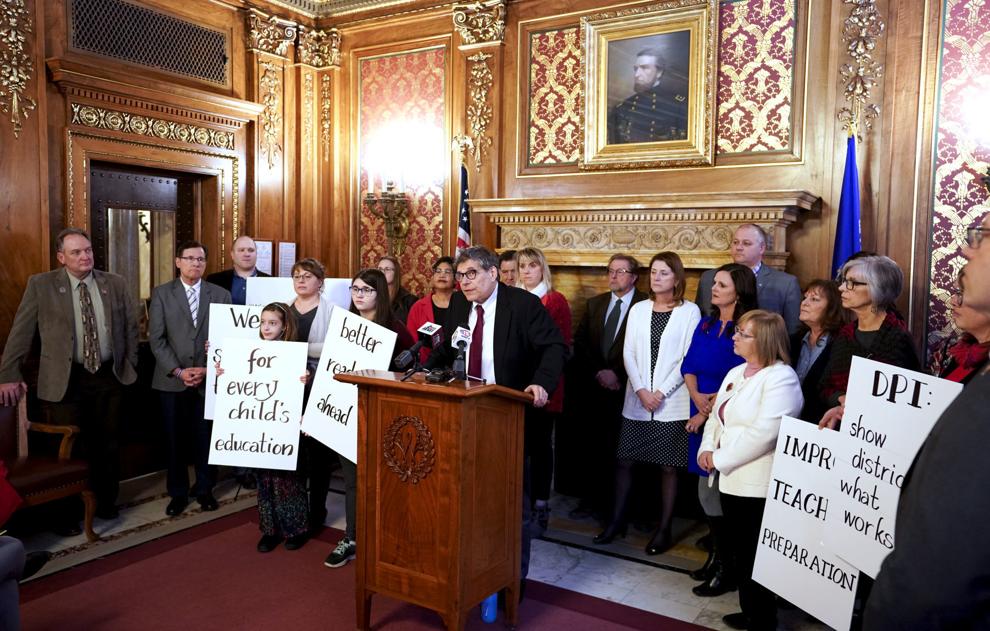 Deborah Cromer, president of the Wisconsin State Reading Association, which didn't participate in the press conference, said her organization sees effective reading instruction as teachers having expertise on a number of topics, including phonics, vocabulary, fluency and trauma-informed care.
Kathryn Champeau, chairwoman for the association's legislative committee, said the 2,200-member group supports the explicit teaching of phonics but doesn't "support one-size-fits-all programs for phonics instruction."
"If you spend time teaching children who are already reading — if you spend a lot of time giving them phonics instruction and things that they already know — then you're going to have to take time from somewhere and that usually is taken from actual reading and writing and applying those skills," Cromer said. "You can explicitly teach children something which they're not ready for, and that could impede their progress."
Debate over approach
For decades, academics, policymakers and educators debated the best way to teach reading.
Some have stressed the importance of phonics, which involves understanding the relationship between written letters and their associated sounds, allowing students to "decode" words.
A "whole language" approach started to gain prominence in the 1980s. The method emphasized teaching children to recognize words as whole units of language through contextual clues, such as the first letter of a word or by the pictures on a page.
The whole-language method was pitted against phonics-focused instruction in the so-called "reading wars," which eventually saw whole language lose favor. An approach known as "balanced literacy" emerged out of the debate to incorporate aspects of both methods.
In recent years, though, there's been a push nationally to realign how children are taught to read with research related to reading — generally referred to as "the science of reading" — which includes explicit and systematic phonics for elementary students.
Wisconsin lags behind other states, such as Florida and Mississippi, embracing the science of reading, critics say.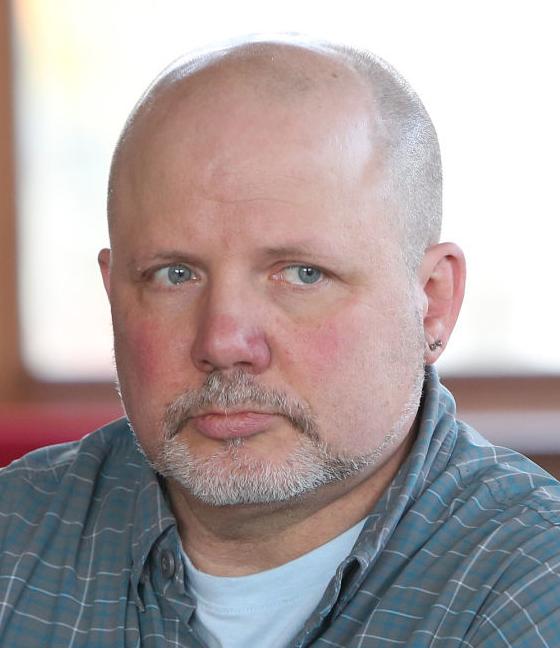 Tim Slekar, dean of education at Edgewood College, said phonics instruction is an important component for early reading, but he argues "there is absolutely no hardcore research that says intensive phonics for early readers is 'the' way to teach early readers."
"What you're really seeing is a philosophical battle, not a real honest effort about moving literacy instruction forward," Slekar said. "Instead, it's people philosophically going, 'I want what I used to have because it worked for me.'"
Specific instruction
"Science of reading" generally refers to a collection of cross-disciplinary research showing reading is not something children can naturally pick up, such as speaking. But rather, reading is a human-created activity that should be taught in a specific manner in order for children to become skilled at it.
Seidenberg, the UW-Madison psychology professor, is a leading voice in Wisconsin on the science of reading.
He defines it as an examination of how people develop the skills to read, how it relates to other parts of language, such as speaking and listening, and what makes it easier for people to become good readers.
"One of the central ideas is that reading isn't just about reading," he said. "It's about spoken language, because reading depends on it, and it's about knowledge of the world, the things we talk and read about."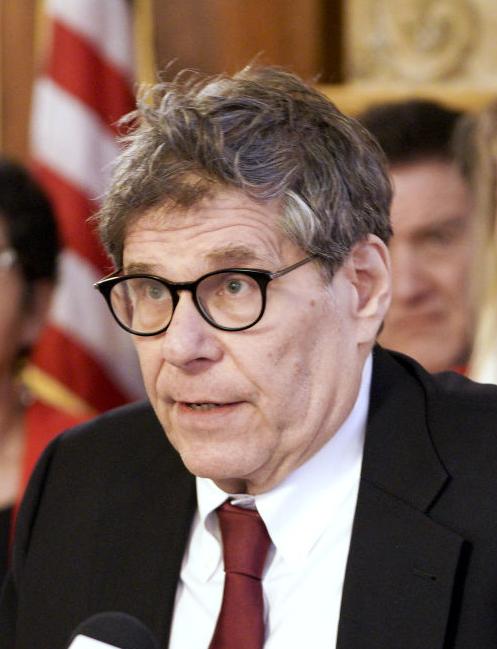 Seidenberg and others say the science of reading is not just about drilling children on phonics in early grades.
To become a skilled reader, they say, children need to be exposed to a range of spoken words and have general knowledge about a variety of things, so when they're able to sound out words they will understand their meaning, which in turn can lead to increased fluency and comprehension.
As more states adopt approaches centered on explicit phonics instruction, skepticism remains.
"Despite the widespread support for systematic phonics within the research literature, there is little or no evidence that this approach is more effective than many of the most common alternative methods used in school," wrote Jeffrey Bowers, a psychology professor at the University of Bristol in England.
Slekar said changes in reading instruction would do little to close achievement gaps in Wisconsin — where there's a 35 percentage point difference in reading proficiency between white and black students — but argued poverty is a bigger contributor to disparities in educational outcomes.
"It's not a teacher issue, it's not a curriculum issue, it's not a phonics versus whole language issue," he said. "It's the issue of how do kids come to school."
Seidenberg countered that poverty is "an excuse to abandon a huge number of children who are at high risk of reading failure."
Revising standards
Last summer, DPI began reviewing its academic standards for English language arts, which were adopted in 2010 and already include goals in phonics. The department released a draft version of revised standards earlier this month.
New in the draft standards is a statement that says in order for students to comprehend text, children need instruction in writing, speaking, listening and "reading foundational skills, including explicit and systemic phonics instruction."
John Johnson, DPI's literacy and mathematics director, said that type of instruction means sound-letter relationships should be explicitly explained to elementary students. Other aspects of phonics, such as blending sounds together, are introduced in a certain order instead of to individual students or as needed.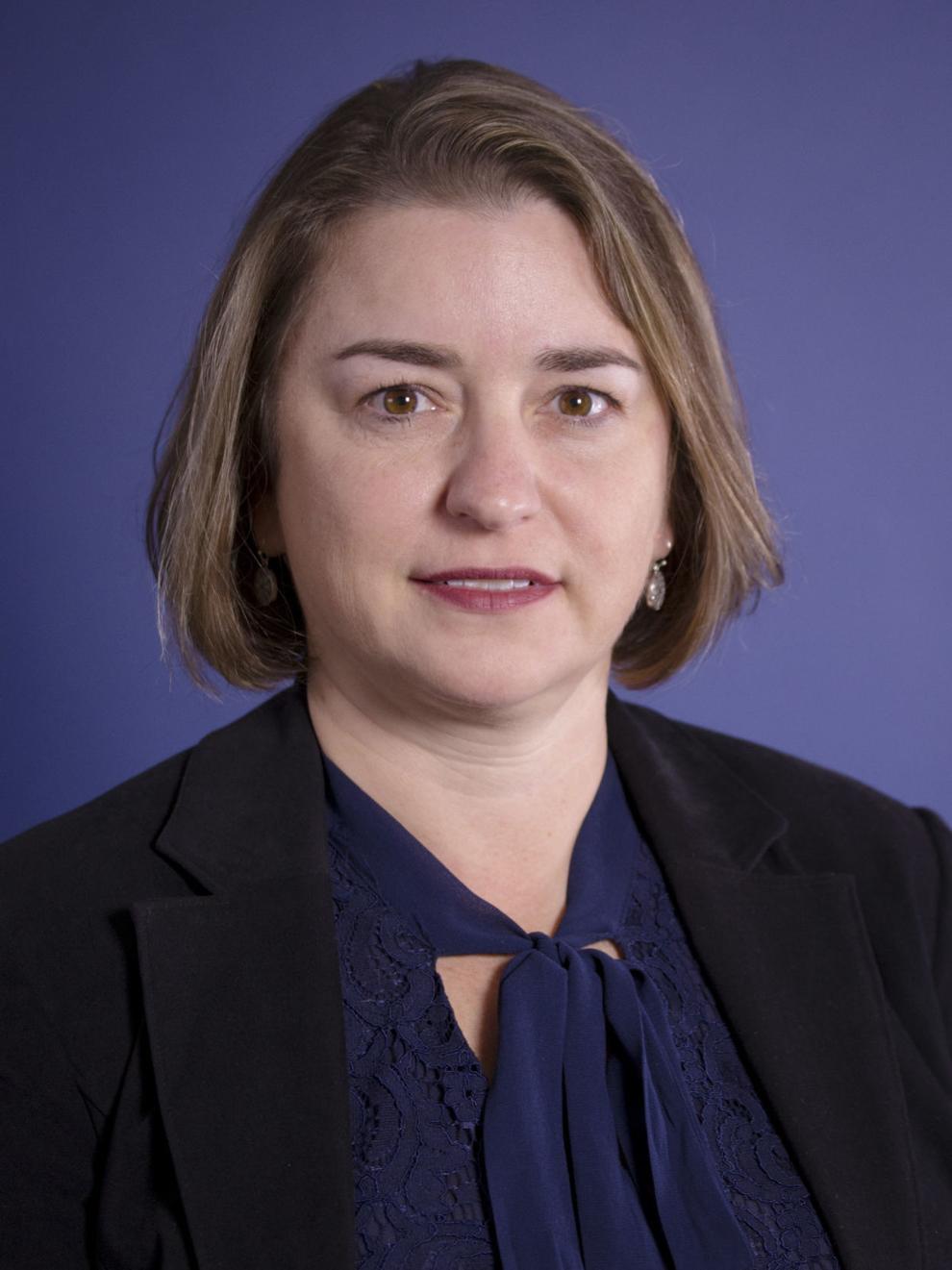 While the department is not going so far as directly recommending what materials should be used in classrooms, it's starting to provide guidance to districts, including the Madison School District, on how to choose high-quality teaching materials that are aligned with state standards, Briggs said, which is a move DPI hasn't done before.
Steve Dykstra, co-founder of the Wisconsin Reading Coalition, argues DPI should be doing more than providing guidance on classroom materials, equating it to "telling people they need to eat more vegetables and leaving it to them to figure out what vegetables are."
The revised standards, which are more of an update rather than an overhaul and include changes to other areas of English language arts, including an emphasis on creative writing, could be approved by state Superintendent Carolyn Stanford Taylor in the spring.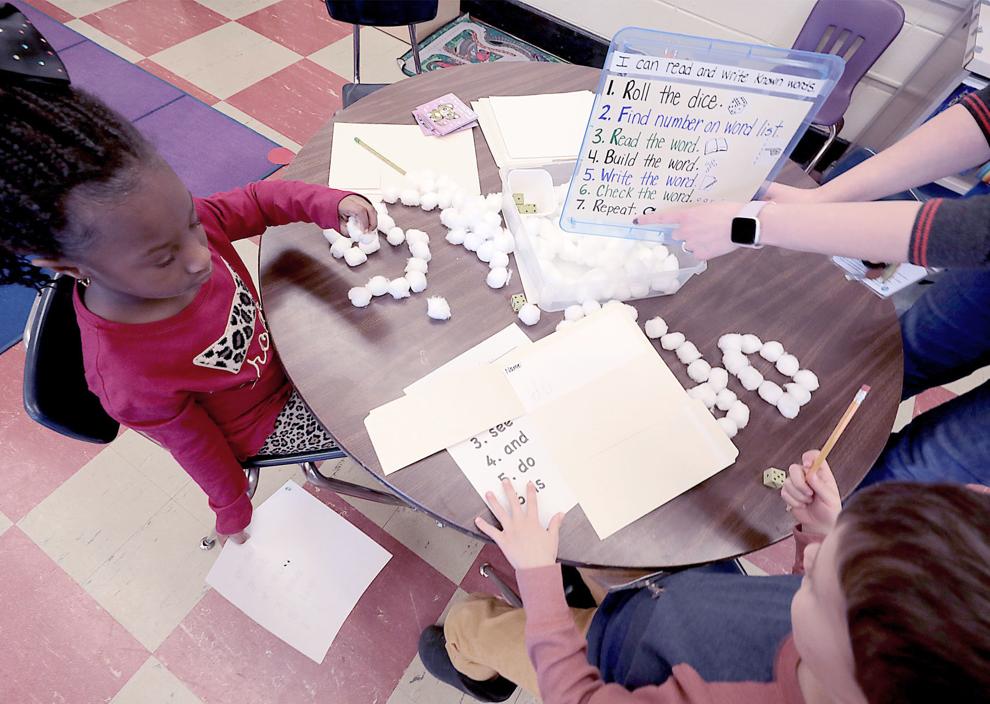 College preparation
Science of reading advocates say collegiate teacher prep programs can leave future teachers unprepared for the classroom by not emphasizing research-supported instruction.
"Everybody who teaches in school should have learned this in college," Dykstra said. "We have to get our universities teaching these things."
UW-Madison's School of Education emphasizes instruction in five key components of reading identified by the National Reading Panel — phonemic awareness, phonics, fluency, vocabulary and comprehension — but doesn't ascribe to any particular teaching pedagogy, said Melinda Leko, a special education professor with expertise in reading.
"The content of our classes certainly adhere to research-based principles and things that we know work for students," Leko said.
Slekar said the private Catholic college's education program emphasizes an individualized approach to teaching how to read, which he said some might call balanced literacy. He said future teachers are taught to tailor instruction specific to each student's needs.