The Madison School District is mulling changes to admissions requirements at one of its two alternative high schools as the student body continues to be disproportionately white and middle class, and as some parents raise concerns that the school is improperly denying entry to students with disabilities.
About 68 percent of the 114 students at Malcolm Shabazz City High School — named for slain black nationalist and civil rights leader Malcolm X — were white last school year, and about 33 percent were classified as economically disadvantaged, according to data from the state Department of Public Instruction.
That's in contrast to the district's enrollment generally, and to its high school population specifically. Both have grown more economically and racially diverse, with about 43 percent to 45 percent of students identifying as white and 43 percent to 46 percent as economically disadvantaged, according to DPI.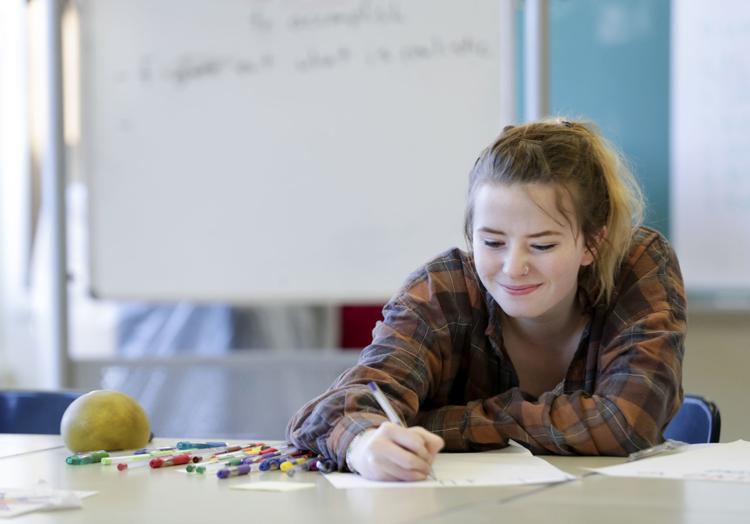 Meanwhile, a complaint has been filed with the district on behalf of a student who reportedly was denied entry to Shabazz because of the student's disability — something that, if true, could run afoul of nondiscrimination law.
"A group of families in the district believe that the admission criteria at Shabazz HS are discriminatory and have led to the exclusion of students with significant disabilities, and other marginalized student groups, from this public high school," former school board member Anna Moffit said in an email.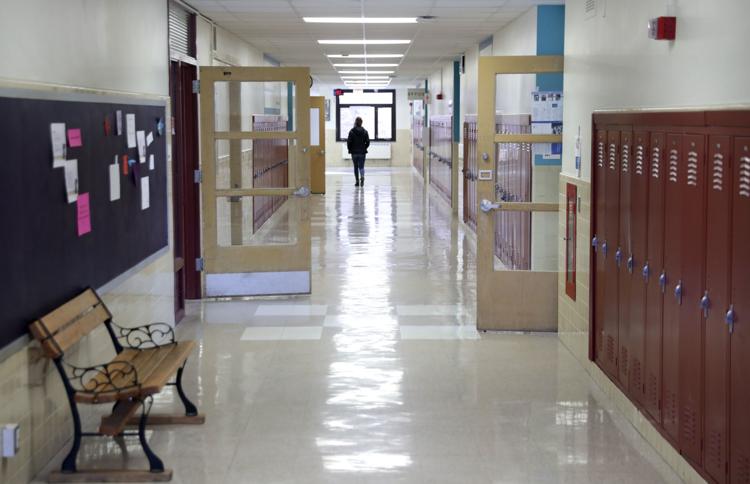 Moffit works for a nonprofit that advocates for students with special need and has three children with disabilities in Madison schools.
Charter or alternative?
Public charter and alternative schools are both defined in state statute, but only charters are specifically allowed to set "requirements for admission to the school." Under a range of federal and state laws, all public schools are barred from discriminating against students on the basis of race, gender, disability and other factors.
Alternative schools "are supposed to serve at-risk students," said DPI spokesman Tom McCarthy, while charter schools can require prospective students to meet certain eligibility requirements that an alternative school could not require.
Shabazz's five "eligibility requirements," however, would appear to preclude many at-risk students from enrolling. They include "demonstrating an ability" to succeed academically, attend school "at least 60 percent of the time," and graduate within five years.
The school will not accept students with a recent history of serious behavior problems, especially if they've been aggressive with other students or staff or been in trouble for violating rules against alcohol or drug use.
"Someone might have questions" about whether those kinds of requirements are legal, said Julie Mead, a UW-Madison education professor and expert in education law.
Key is how Shabazz's requirements are applied in real-life situations, she said. But in public schools generally, rules that state "'if this is true you are not eligible' — that's when we get concerned."
"The concern would be that the rule creates a categorical exclusion that makes a person ineligible based on a particular characteristic," she said, such as race, gender, disability, the student's proficiency with English or other characteristics.
Shabazz Principal Aric Soderbloom said the school doesn't have the resources some students need — such as a bilingual resource teacher — and "we're not set up to deal with students whose main issue is behavioral regulation."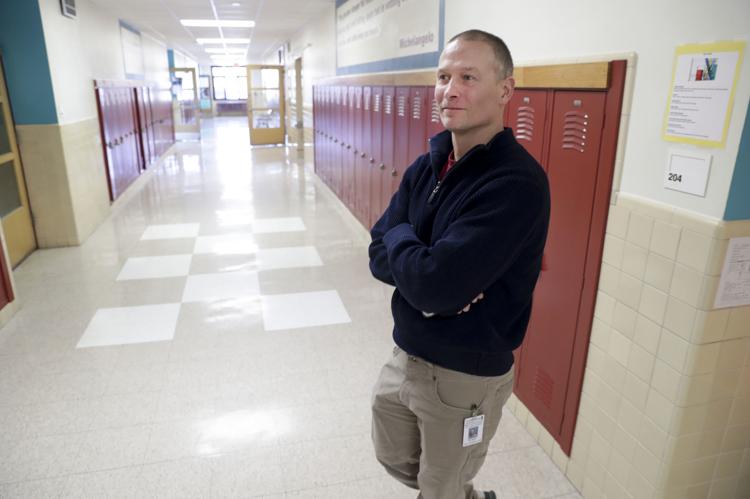 It's difficult for a school to be open to students with serious behavior problems while not acquiring a reputation as a place for the "at risk," he said, and once that label's acquired, "that is not a successful program."
Criteria 'really restrictive'
Madison chief of secondary schools Alex Fralin said work to revise Shabazz's eligibility requirements will be inclusive.
"The goal is to work collaboratively with the school," he said. "We've asked the principal to identify a few members of his school community as well as members of the central office to kind of review the criteria for students to determine their own eligibility."
"The criteria now seem to be really restrictive," he said.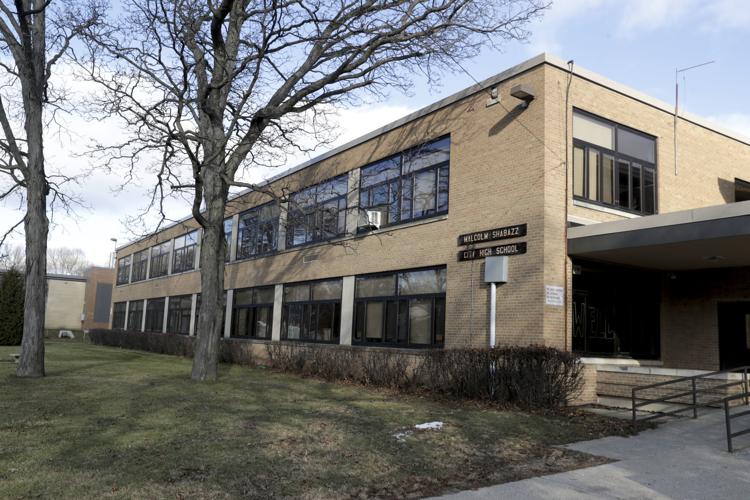 Soderbloom said the school is taking steps to diversity its student body and "our goal would be to match district averages," and more specifically, the demographics of West High School.
A diversity task force was formed at the end of last year, he said, and while the school has traditionally eschewed marketing itself and relied on word of mouth to drive enrollment, it's started reaching out to middle schools and took an ad out in The Capital City Hues, a Madison newspaper aimed at people of color.
He acknowledged that the perception of Shabazz is as a "white" school, and "perception ends up driving reality."
Shabazz's student demographics are in even sharper contrast to the demographics of the district's other alternative high school, Capital High, and the smattering of other alternative programs the district offers. With sites on the Near East and Far West sides, Capital High has about 180 students. There are about 70 more spread out among the other programs.
According to data reported to DPI, about 16 percent of students at Capital High and the other alternative programs last year were white, while about 70 percent of students were economically disadvantaged.
Capital High and other alternative programs and the district as a whole also had much higher percentages of English-language learners last year — about 20 percent of enrollment. Shabazz's ELL enrollment was 2.6 percent, or just three students.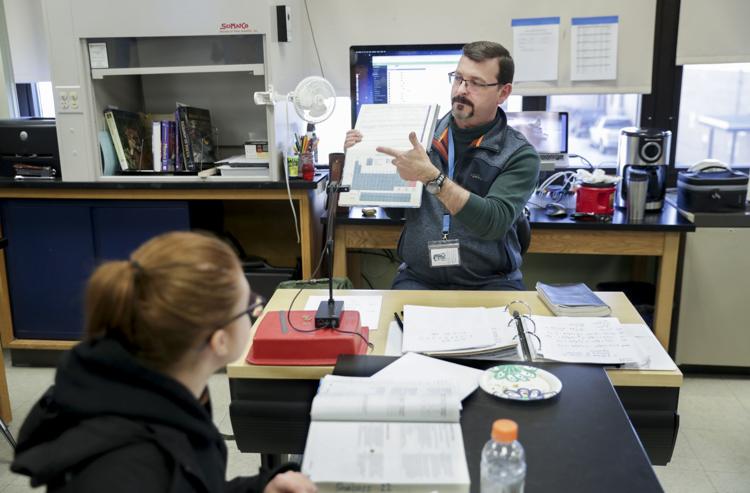 Rejection prompts complaint
Citing student privacy, the district in November denied a State Journal request for a copy of the complaint against Shabazz, but Moffit, the former school board member, said it has to do with a "student with a significant disability who was rejected by Shabazz ... due to not meeting the admission criteria."
Moffit said the family is not interested in going public at this time.
Madison parent Suzanne Buchko said that when she applied to enroll her 17-year-old daughter in the school in April, she got "conflicting information."
She said she initially got an email from the school saying her daughter met the admissions requirements and asking her in for an interview, but before the interview Buchko said she got a letter saying her daughter didn't meet the requirements.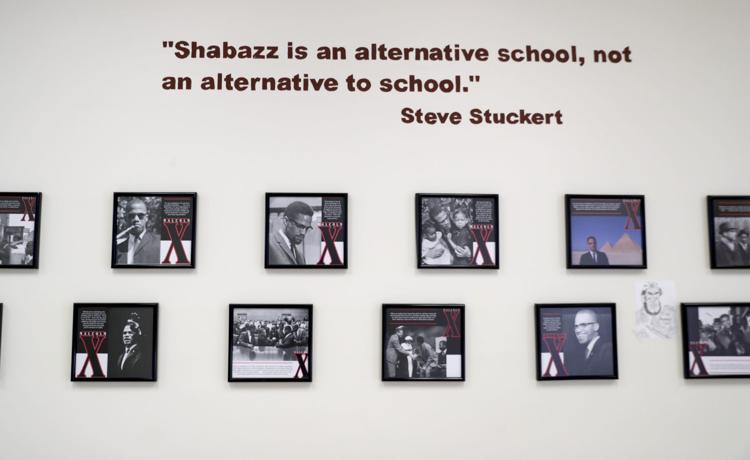 "According to them, they don't offer a full range of accommodations for kids with IEPs," she said, referring to students with disabilities who have individualized education programs, or IEPs.
"I don't think you can say that in a public school, but they did," she said.
The district declined to comment on Buchko's description of the episode.
Buchko said her daughter, who is on the autism spectrum, gets good grades at West High, but with accommodations such as classroom support, modified testing and an allowance to take test material home to study. Still, she said she wasn't trying to be overly critical of Shabazz and knows students who have benefited from its approach.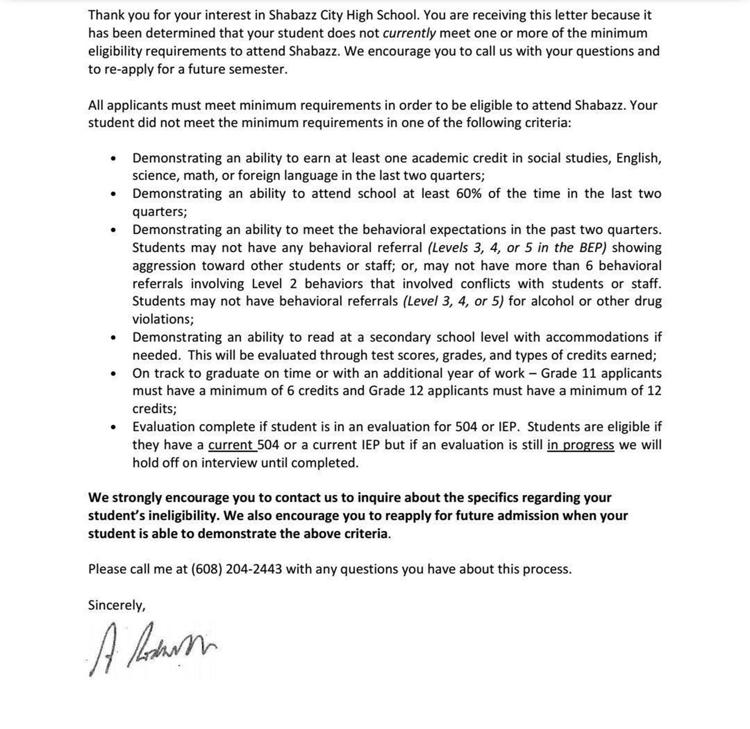 In June, after she'd lost her bid for a second term on the board, Moffit emailed district general counsel Matthew Bell and executive director of student services John Harper a copy of a letter sent to a prospective Shabazz student letting the student's family know that the student hadn't met the criteria for getting into Shabazz. She said it's not the same student as the one whose family filed the formal complaint.
"I am surprised that this is legal, since Shabazz is a public school," Moffit wrote Bell on June 6. "Are you aware that their Principal is sending out this information?"
Moffit never received a response.
DPI data show the percentage of students with disabilities at Shabazz last year, about 19 percent, was higher than in the district as a whole (about 14 percent). Twenty-four percent of students at Capital High, however, had disabilities.
Fralin said he's hoping changes to Shabazz's eligibility requirements will be in place by the start of the next school year.
Be the first to know
Get local news delivered to your inbox!