Hikari Maekawa is not one to brag about the popularity of her piano class at Edgewood High School, but after someone raised the issue she did look at the numbers.
She teaches 10 sections of the class or 112 students out of a total enrollment of 481 at the high school.
"It's really, really cool," she said.
For her, it means that so many students can experience the joy of playing the piano and perhaps try something different. The unusual high school class can serve as an alternative for those who have difficulty fitting in private lessons outside of the school day.
Word about the class spreads quickly among students, especially from older siblings who have taken it. Sophomore Gracie Hastreiter said she took up the class because her three siblings said good things about it.
Another reason students take the class is Maekawa. She is known for comforting students who are having a bad day, maybe by offering them a piece of candy, and decorating her room in a cheerful way.
"She's always in such a good mood," senior Tbone Weis said. "She makes it really fun."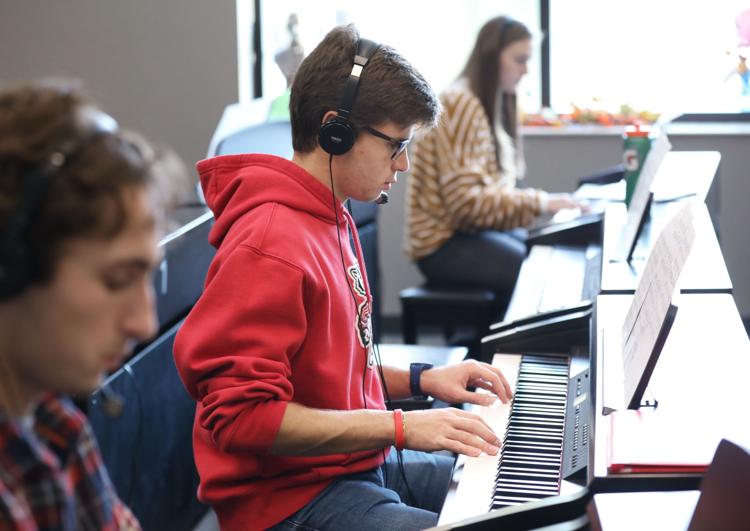 Weis, who plays hockey for the Madison Capitols, said he never thought about playing piano until he had a chance to take the class.
It is a year-long class worth one fine arts credit. There are four different levels — beginning, second year, intermediate and advanced. The class is taught in a piano lab with 12 Yamaha Clavinova electric keyboards. The students practice individually with their head phones, which allows them to go at their own pace. They also work in groups and sometimes the entire class plays the ensemble song together.
Senior Tyler Foster, who took private lessons for a few years, said he tackled and excelled at playing a difficult song.
"I was just shocked by myself," he said. "My mom heard me play at home, and she was like 'wow.'"
You have free articles remaining.
Register for more free articles
Stay logged in to skip the surveys
Sophomore Brookelle Ternus, who didn't like the classical music she had to play for lessons when she was younger, likes that students can pick songs they want to play.
The class has one formal piano recital in the spring. Maekawa, who often volunteers to perform background music at Attic Angel Community and St. Mary's Hospital, also tries to organize an informal concert each semester in an unusual setting such as the Dane County Regional Airport or the Monroe Street Farmers' Market.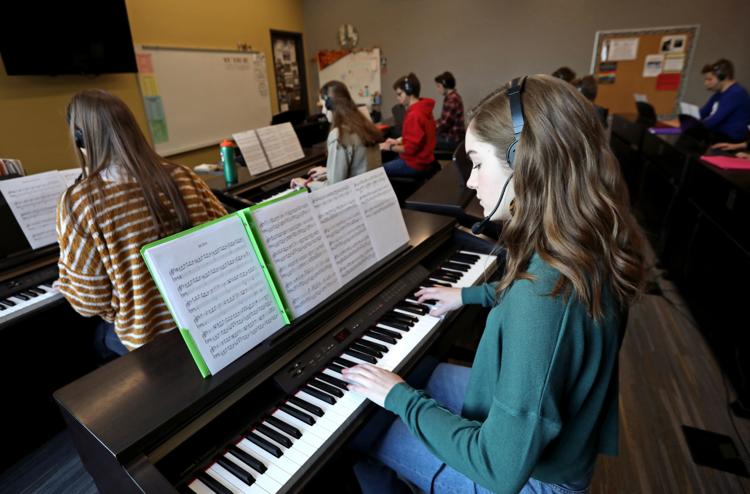 This semester the students will perform a holiday concert from noon to 3:30 p.m. Sunday, Dec. 8 at the Metcalfe's West Towne grocery store with an acoustic upright piano supplied by Farley's House of Pianos. Metcalfe's will donate 20% of its café sales during the concert for the Second Harvest Food Bank, and there will be containers for cash donations.
A favorite activity for the students is the unusual "Keyboard Ensemble Extravaganza" every year during the school's Fine Arts Week. Four keyboards are set on the stage and various combinations will perform, sometimes with three on one keyboard. Each year a "Siblings Ensemble" features four pairs of siblings and other ensembles that feature a particular group such as members of the cross country teams.
Senior Lauren Yontz, who is in her fourth year taking the class, said she likes the community that gets formed within the class.
Senior Diana Walker, who will swim for Illinois State next year, took private piano lessons when she was younger and started at Edgewood as a junior because she couldn't get in earlier.
"Since piano is a class here … I get to do two things I love," Walker said.
Senior Liz Cook started taking the piano class her sophomore year after dropping private lessons because she was busy with basketball, but she values her musical side.
"It kind of integrated piano back into my life," she said.
"She's always in such a good mood. She (teacher Hikari Maekawa) makes it really fun." Tbone Weis, Edgewood senior