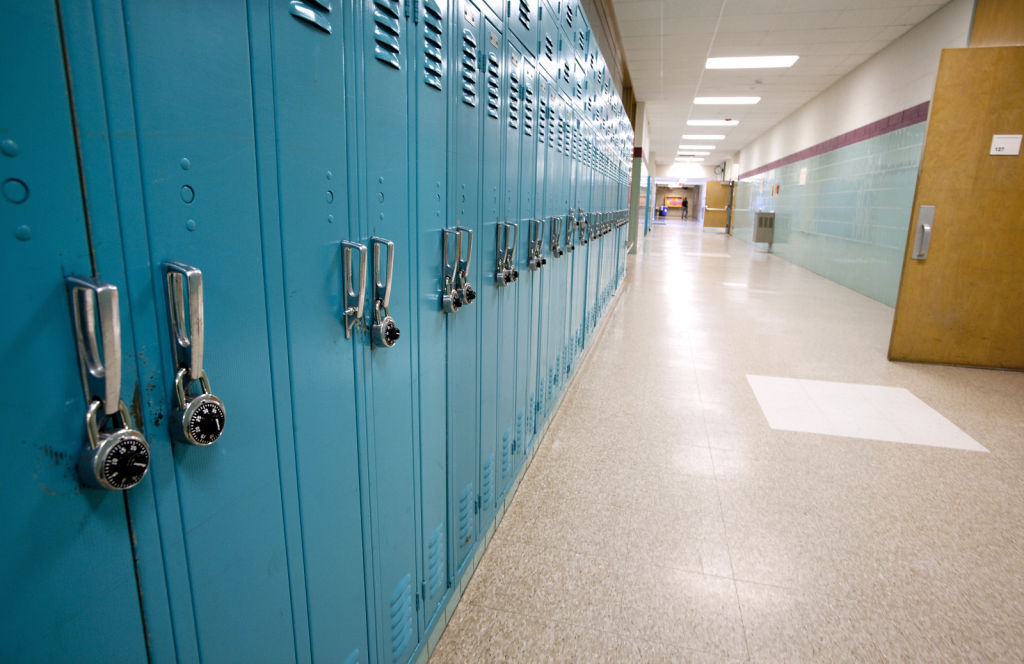 Disability advocates urged state lawmakers Tuesday to back a bill revising the law dictating how and when behaviorally challenging students can be physically restrained or secluded in school, including stronger reporting requirements and mandating debriefings after such incidents.
During a sometimes emotional hearing of the state Senate Education Committee, parents and advocates shared stories of their children's experience with seclusion and restraint — practices they say at times might be necessary but can also cause trauma for students with special needs.
A state law that took effect in 2012 established restrictions and requirements on the use of seclusion practices — confining a student in a room away from others — and restraining students — physically restricting a student so they can't move freely.
Such actions, predominantly used with students with disabilities, may only take place if a student's behavior "presents a clear, present and immediate risk" to the student or others and when it is the least restrictive option available.
Bipartisan supporters of the bill, which is sponsored by seven of the nine Senate committee members, said it provides needed updates and improvements.
Among the changes being proposed would be:
Requiring staff involved in restraining or secluding a student to debrief with a principal about what led to the situation and how it could be avoided in the future.
A stronger emphasis on deescalation training for staff who use seclusion and restraint practices.
Mandating the state collect data on the practices.
Sen. Luther Olsen, R-Ripon, chairman of the Education Committee, said aside from a school shooting, seclusion and restraint are "probably one of the most traumatic things that happen in a (school) building."
"If we pass this bill into law, Wisconsin can be very proud of how we are learning more and handling situations where it's an emergency, but that we're doing the right thing and not causing the situation to get worse," said Olsen, who co-authored the Senate version of the bill with Sen. LaTonya Johnson, D-Milwaukee.
One of the changes would ban school staff from putting students in a prone position, in which they are lying on the ground face-down, as a way to physically restrain them. The federal Department of Education recommends such restraints never be used.
You have free articles remaining.
Tami Jackson, a public policy analyst for the Wisconsin Board for People with Developmental Disabilities, brought up recent criminal charges filed against three California school employees in the death of a 13-year-old boy with autism, who last November was restrained in a prone position for nearly two hours until the boy started vomiting and passed out.
"Your bill is extremely important to prevent that kind of outcome," Jackson said through tears.
Others also spoke to the importance of a provision in the bill requiring parents to receive a report of each incident as opposed to having the report available upon request, as is the case currently.
A couple of parents of students with disabilities told lawmakers how they were sometimes unaware their children had been restrained — at times finding out only after noticing bruising.
Amber McGinley said her third-grade son in the Appleton School District has autism and ADHD, among other disabilities. By the end of second grade, she said, her son had been secluded more than 20 times and restrained more than 27 times, claiming some of the situations did not meet the criteria for using the practices.
McGinley said she only learned that schools are supposed to keep reports on the incidents after she said she noticed her son was injured during a restraint and asked about it.
"They were supposed to tell me that the report was available, but they never did," McGinley said.
Another mandate in the bill would require each school district to report the total number of restraint and seclusion incidents and how many included students with disabilities to the state Department of Public Instruction. Currently, state law requires schools to report such information to their respective school boards or governing bodies.
School districts are required to provide the data every two years to the federal Department of Education. But a federal government report earlier this year questioned the accuracy of the data as many schools claimed there were no instances of seclusion or restraint.
"Disability advocates in Wisconsin have long been concerned about under-reporting in Wisconsin," said Lisa Pugh, director of The Arc Wisconsin, an advocacy organization for people with intellectual and developmental disabilities. "This will be a significant improvement for many reasons."
Research by three Wisconsin advocacy groups, compiled through open records requests, found there were more than 20,000 instances of restraint and seclusion in the 2013-14 school year involving about 3,600 students — 80% of whom had a disability.
The law applies to traditional public schools and public charters, along with private schools participating in the state's special-needs voucher program.