After years of wage freezes, a union representing 225 UW System trade employees negotiated a 1.81% raise for this year, which ended up being less than the 2% raise their non-union colleagues received.
The seemingly bizarre inversion of what union membership has historically meant for workers highlights the new world under Act 10 and raises questions as to why public employees even bother unionizing any more.
Act 10 severely limited collective bargaining for the majority of public employees and decimated the number of unions through annual recertification votes and other obstacles. But those unions that still exist a decade later are finding ways to survive and even grow their numbers.
"There's been a range of responses to Act 10," David Nack, a professor in the UW-Madison Department of Labor Education said. "Workers often want to or need to find a way to effectively represent their interests with their employer. Act 10 doesn't change any of that."
The number of public employees represented by unions in Wisconsin dropped by half between 2006 and 2015, with the majority of the decline taking place after the passage of Act 10, according to a study Nack conducted.
By 2015, that decline accounted for nearly 136,000 fewer union members as Wisconsin, once a bastion for collective bargaining and workers' rights, experienced the largest proportionate decline in union membership of any state.
Between 2010 and 2017, four major public sector unions in Wisconsin saw significant decreases in their membership. The American Federation of Teachers saw its membership drop from 12,000 to 4,000; the American Federation of State, County and Municipal Employees went from 62,818 members to 7,520; the Wisconsin Education Association Council dropped from 69,000 to 45,000; and Service Employees International Union went from 9,589 members to 2,831.
Despite the decline and the inability of unions to negotiate more than inflationary raises or bargain for better working conditions, groups of workers still see unionizing as a way to reclaim their seat at the table after being ignored by employers for almost a decade.
"The law is written that they can only negotiate for that (inflationary raise). That doesn't mean that there aren't conversations," AFT-Wisconsin president Kim Kohlhaas said. "It's about applying pressure to the employer that we can do better."
Nurses regroup
For UW Hospital employees, unlike other public employees, Act 10 meant they were prohibited from voting to recertify — a process that allows an organizing body to maintain its status as the exclusive bargaining group for workers.
"We really had our union taken from us," said Mariah Clark, a nurse who worked in health care for more than two decades.
Their union, Service Employees International Union — Healthcare Wisconsin, went from 8,189 members before Act 10 to 5,192 in 2014. Most of those who lost representation were UW Hospital nurses.
Hospital administration told employees the union wasn't needed after the legislation passed, and changes to their work environment wouldn't hinder workplace or patient safety. But once the nurses' union contract — which was negotiated before Act 10 — expired in 2014, employees became concerned.
"Very quickly, we started seeing changes, sometimes we were notified of those changes sometimes they were quietly rolled out," said Shari Signer, a nurse for more than a decade and a half.
A number of those changes affected hourly employees financially while some affected patient care. Staffing levels were adjusted, and patient-to-nurse ratios increased. And as staffing and protocol changes continued to roll out across the hospital, a group of nurses mulled the decision to reorganize.
---
Act 10: Full Coverage 
---
The final push came in 2019, when the hospital reassigned a group of support nurses who helped general care nurses move their patients into critical care if needed, which Signer and her colleagues feared would put patients in danger.
"They were decreasing the number of resources that we had as general care nurses to get help in critical situations, and that's when it turned to being unsafe conditions in the hospital for patients," she said.
UW-Hospital administration told staff the changes were due to budgetary issues and because members of the support staff weren't being used every moment of their shift.
"The staffing model they (enacted) was to do more with less," Signer said.
Nurses reached out to SEIU to seek representation and built interest among colleagues by word-of-mouth. The hospital has the option to independently accept the union but has so far declined.
Signer and others are seeking to restore a meet-and-confer process with hospital administration, to bring their voices back to the table regarding workplace safety, staffing and scheduling concerns among other topics.
"I know how much better we can be, I know how much better UW is with unions. I know how much better it was to work there with a union," Clark said. "That's why we're organizing … to ensure that we do feel respected and protected and supported in all of the crucial jobs in the hospital, not just nurses."
The hospital board said it has no plans to recognize the nurses' union at this time.
"UW Health leaders and the Board agree that a collaborative approach where leaders and staff nurses work together directly is in the best interests of UW Health," Emily Kumlien, UW Health spokeswoman said. "We've made a lot of progress on this collaborative approach, even as we have been responding to the pandemic."
Teachers unions hit hard
Before Act 10, there were roughly 430 certified teachers unions in Wisconsin. By 2020, only 199 teacher unions ran recertification elections.
While unions are not automatically disbanded if they choose not to recertify — which each year requires 51% support of all members, not just those voting — they lack legal standing to serve as the exclusive representative of workers with an employer.
The state's largest teachers union, the Wisconsin Education Association Council, has been the most successful at weathering Act 10, Nack said.
"They've maintained their membership to a considerable extent especially in urban areas," he said. "In many cases, they're doing what they always did. They're effectively bargaining on behalf of their members within the framework of contract negotiations and outside of that framework as well."
WEAC president Ron Martin said the union knew it would have to "reshape, reform and reconfigure" who it was as an organization to survive the legislation.
"We relied too heavily on a law, a law that allowed for collective bargaining," he said. "That law went away and one side got all the power. So then you've got to figure out, what do you do as the other side who was written out of the equation?"
WEAC shifted its focus to three pillars of support for public school systems: social and racial justice; rebuilding relationships with district administrators and school boards; and professional development.
"The silver lining in that storm cloud of Act 10, two things: The first was it helped us to really redefine ourselves," Martin said. "The second: It really engaged a lot of our members. These are the members that say, 'Yes I want to be a part of the union. I voluntarily pay my union dues. We can make a difference.'"
Unions rebuilding
According to a study conducted by the conservative Wisconsin Institute for Law and Liberty, the decline in the number of unions and union membership appears to have reached a point of stability where the remaining unions are recertifying at a high rate.
The result of Act 10, the study argues, was not a wholesale destruction of labor unions, as many opponents of the law claimed it would be, while the ones that remain grapple with how to move forward.
"Clearly there has to be some rebuilding, starting on the rank-and-file level, involving organizing around work and community issues," Nack said. "This would mean overcoming and reversing a top-down approach of many years standing."
And, while Act 10 restricted collective bargaining in Wisconsin's public sector, the rights of workers to communicate among themselves, with management as well as the public and to organize among themselves and in their communities remains.
"(Workers) can only benefit by more effectively using these rights, and I would argue that when they do that, in the long run that would strengthen our society overall," Nack said.
---
Photos: Looking back at the night Act 10 passed in the Wisconsin Senate
Photos: Looking back at the night Act 10 passed in the Wisconsin Senate
Barca, Fitzgerald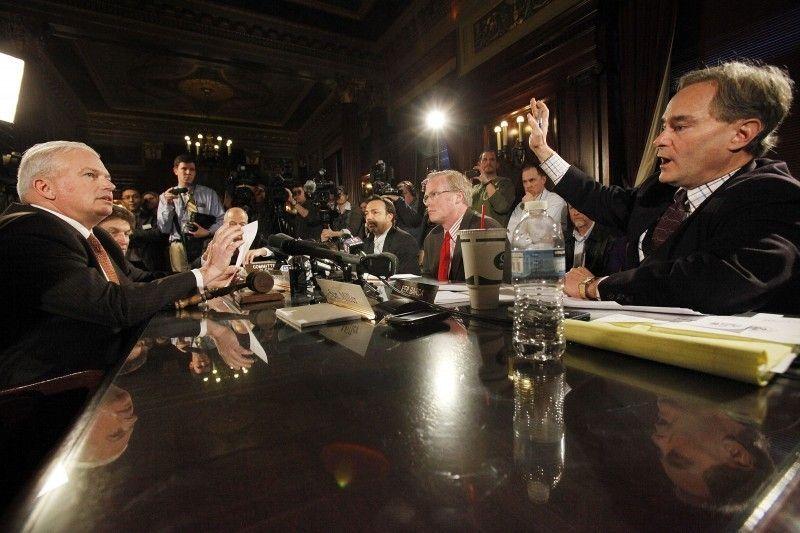 Conference committee Fitzgerald bangs the gavel while Barca protests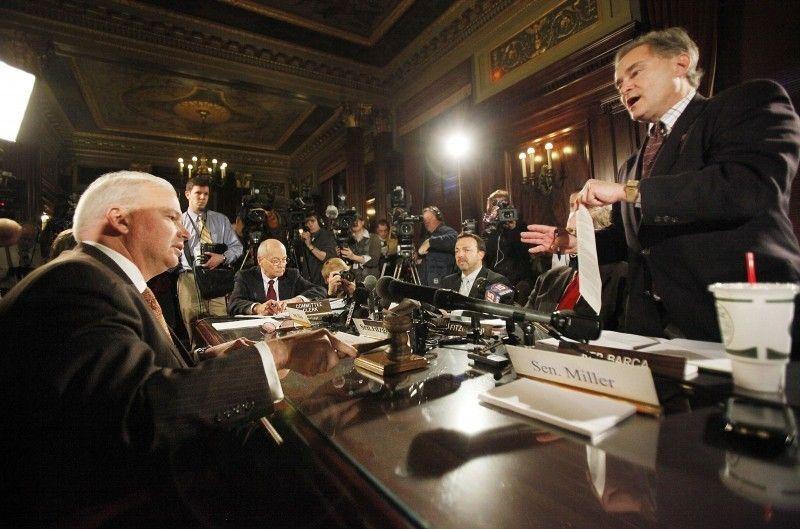 Scott Fitzgerald, Jeff Fitzgerald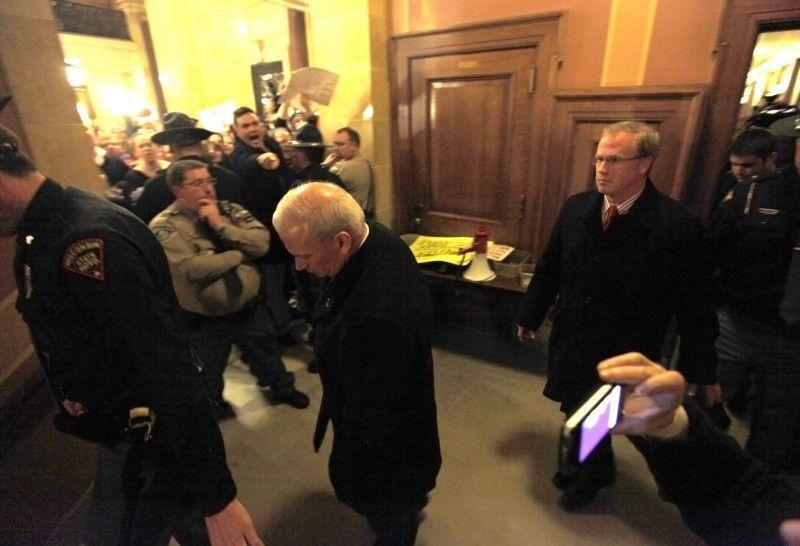 Legislators, protesters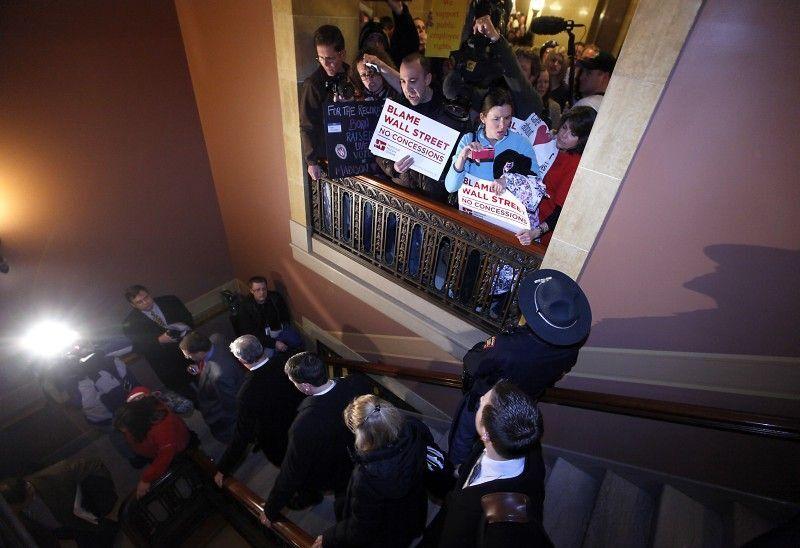 C.J. Terrell, Jason Kempen, protesters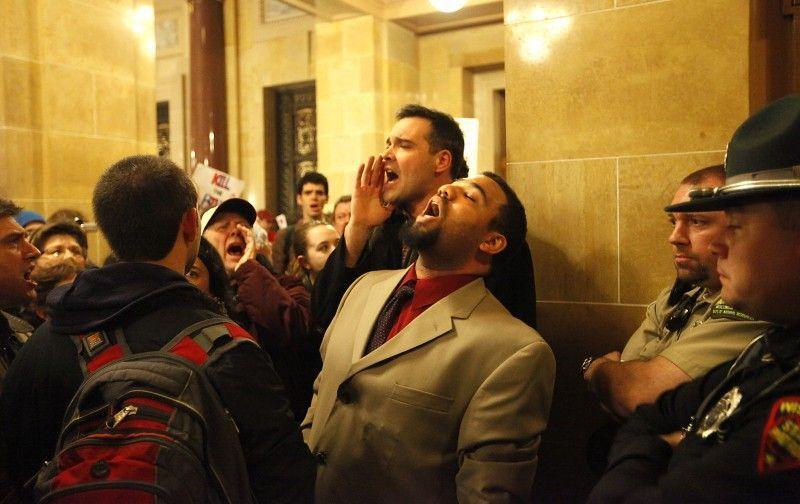 State senate prepares to vote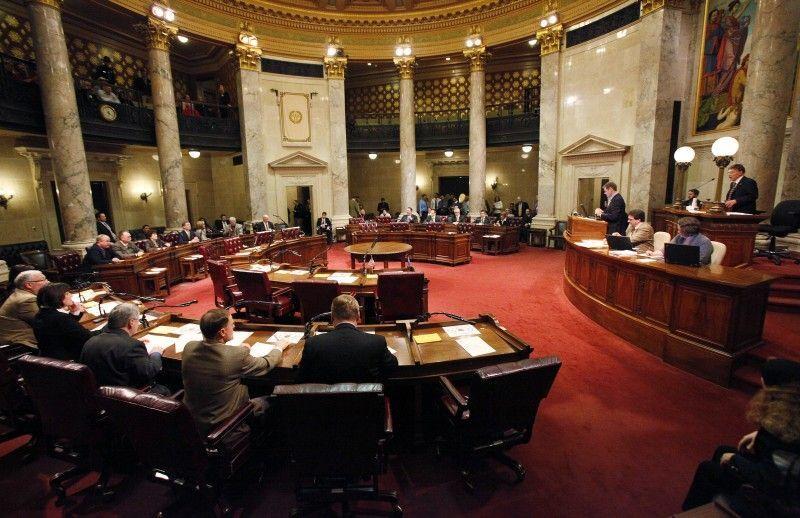 Protesters chanting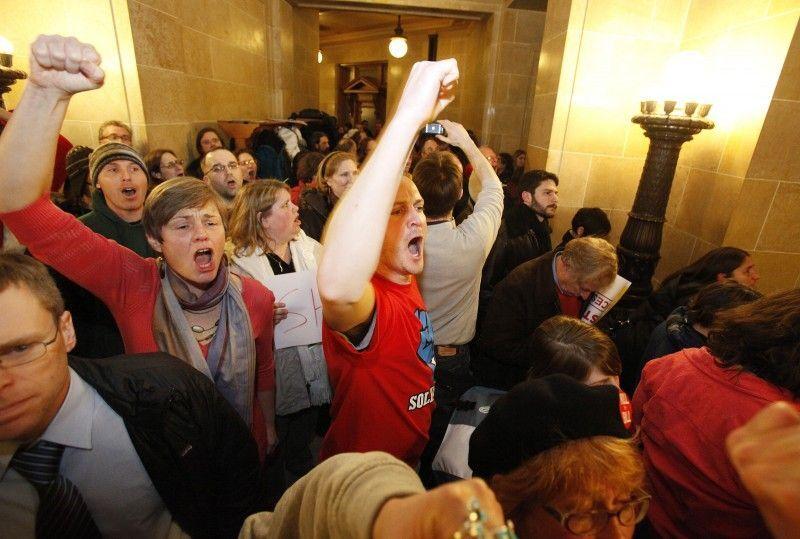 Dale Schultz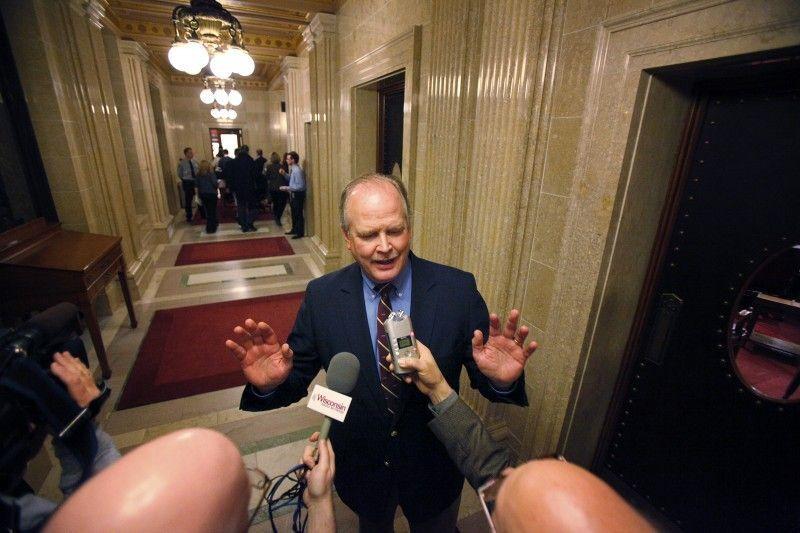 Amy Sue Vruwink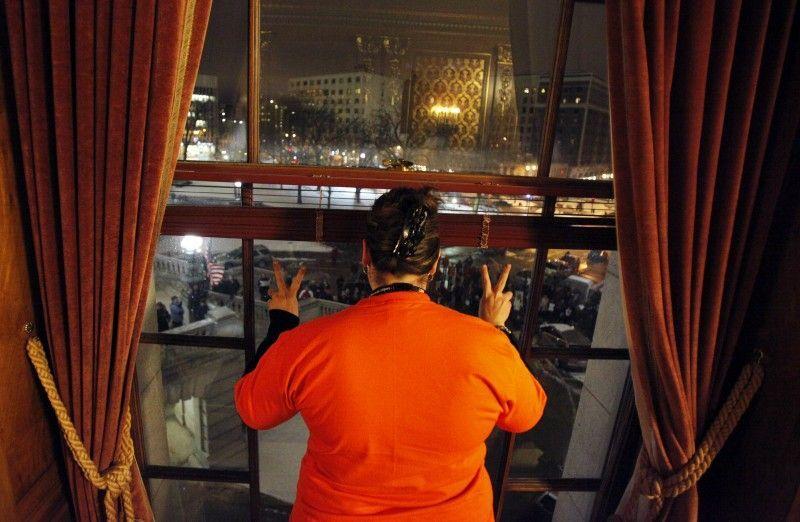 Voting no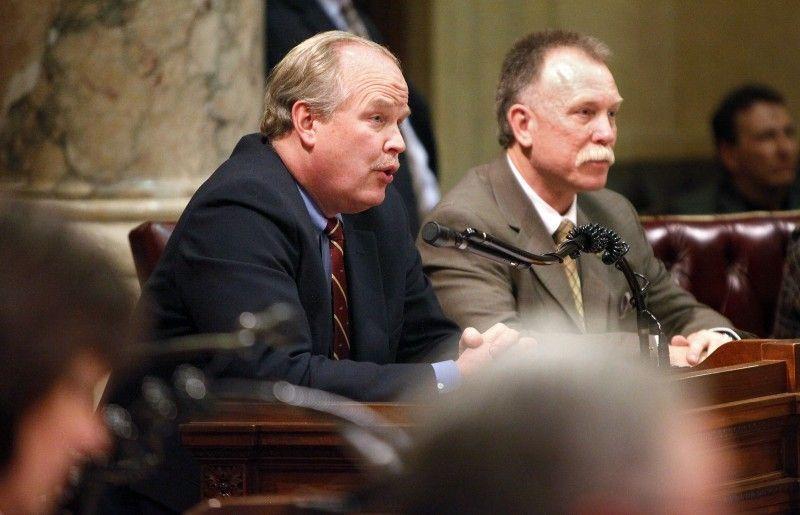 Peter Barca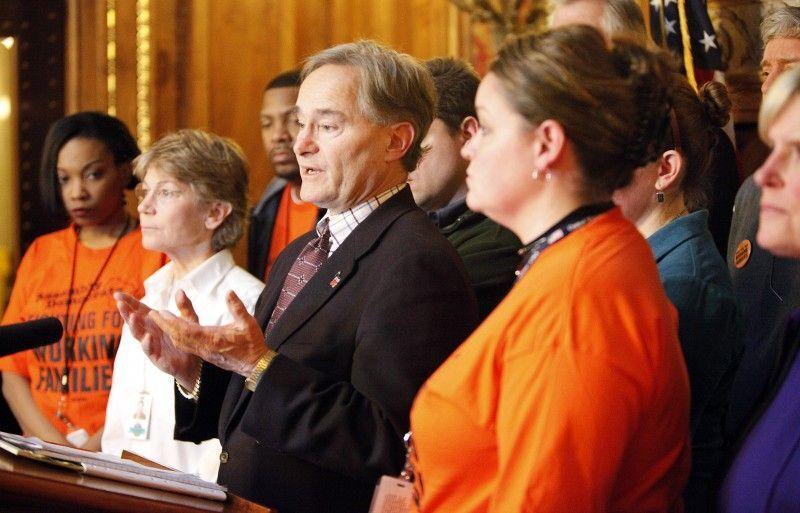 Tears after vote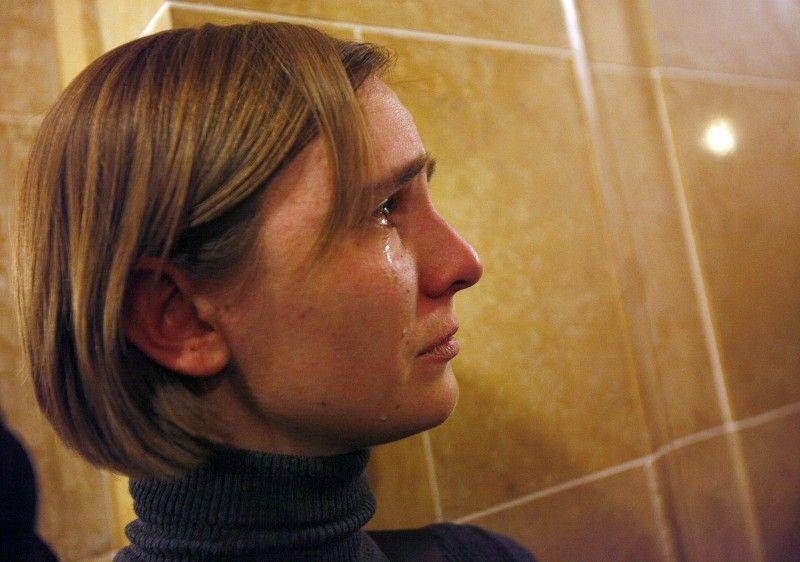 Troopers in stairwell
Capitol interior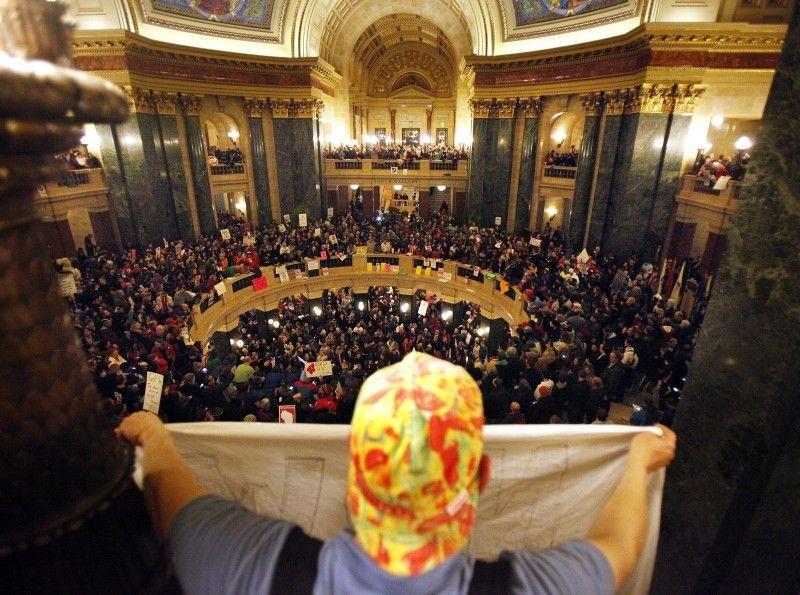 Troopers confer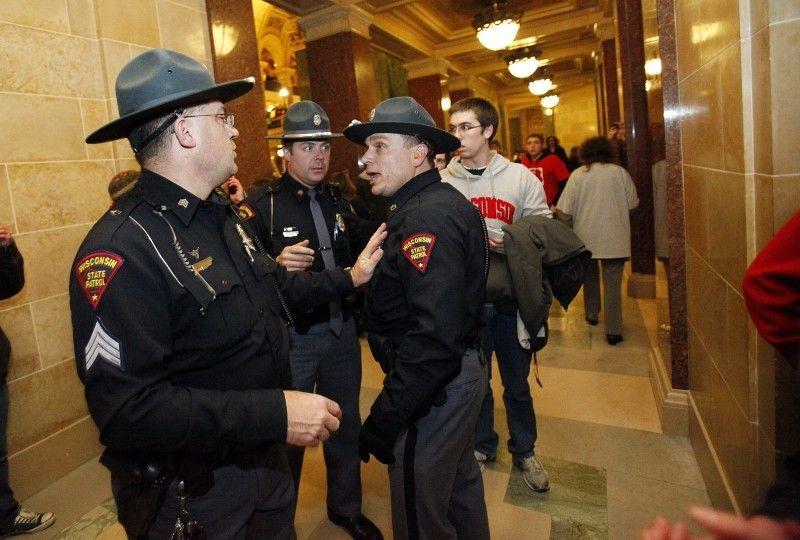 Watching protesters
Protesters