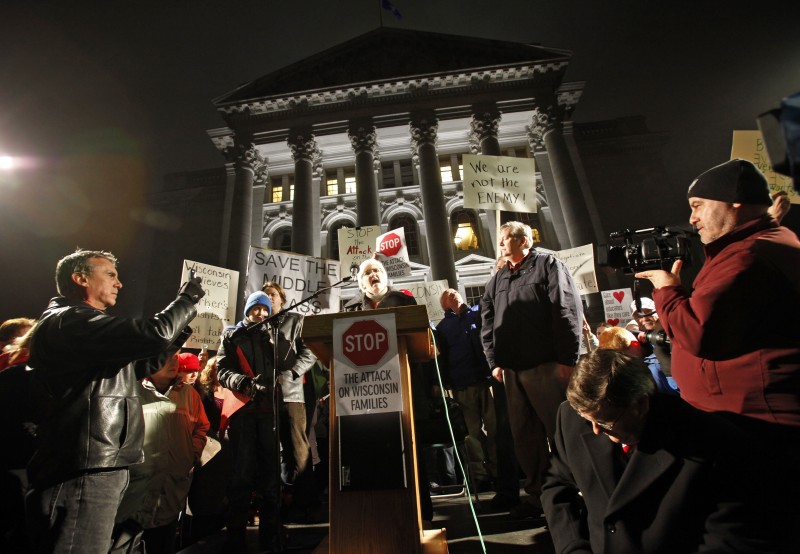 The state's two largest teachers unions will formally discuss a merger after the Wisconsin Education Association Council voted to do so at a special assembly in Madison over the weekend.
The WEAC Representative Assembly met Saturday at the Alliant Energy Center for the first time in special session since 1972 to discuss the future of the organization.
Leaders of both WEAC, an affiliate of the National Education Association, and AFT-Wisconsin, an affiliate of the American Federation of Teachers, say their membership has declined about 30 percent since the state's new collective bargaining law, known as Act 10, took effect.
A standing committee of both unions recommended merger talks, and AFT-Wisconsin approved participation in October.
"It's more useful to us to work together," WEAC president Mary Bell said. "We've had a relationship with AFT for decades, and that relationship has solidified over the past two years."
The special assembly also discussed proposed changes to WEAC's business model. Bell said the organization was built around collective bargaining, but that was challenged after Gov. Scott Walker and a Republican-controlled Legislature overhauled collective bargaining for public sector workers in early 2011. The law prohibited unions from bargaining over benefits and working conditions. It also meant union dues were no longer mandatory.
The law exempted unions with collective bargaining agreements in place until the agreements expired. The majority of the state's 424 school districts extended collective bargaining agreements into the 2011-12 school year, but many of those expired June 30.
Some of the state's largest school districts, including Madison, Milwaukee, Kenosha and Janesville, had agreements through this school year, so members of those unions haven't had the option of not paying dues.
WEAC executive director Dan Burkhalter said the organization has retained about 65 to 70 percent of members once dues become optional. The dues had been about $300 for the state organization and between $600 and $1,000 when adding in local and national dues.
WEAC membership, which was 98,000 before Act 10, also has declined over the past year as the state saw a reduction of more than 3,200 K-12 education positions.
"Our business model has been busted up," Burkhalter said. "We can't play on the field we've been playing."
WEAC now expects to focus on providing support to its local members as they advocate for certain policies at the school board level. Previously the organization had more of a regional and statewide focus, often ranking among the top campaign contributors and lobbying forces in the state.
In a statement, WEAC said among the 1,000 members who attended the special assembly, many said there are benefits to merging both Wisconsin chapters of the national unions, but the most important reason is to strengthen and unify the voices of public education advocates. Other benefits discussed included having additional resources at the federal level.
"It's about building local union power," Kenosha teacher Michael Orth said. "That's what we need to do."
If the organizations agree to merge, the soonest it would take effect would be fall 2014. There are four other merged state affiliates in New York, Montana, Minnesota and Florida, and one planned for next September in North Dakota.