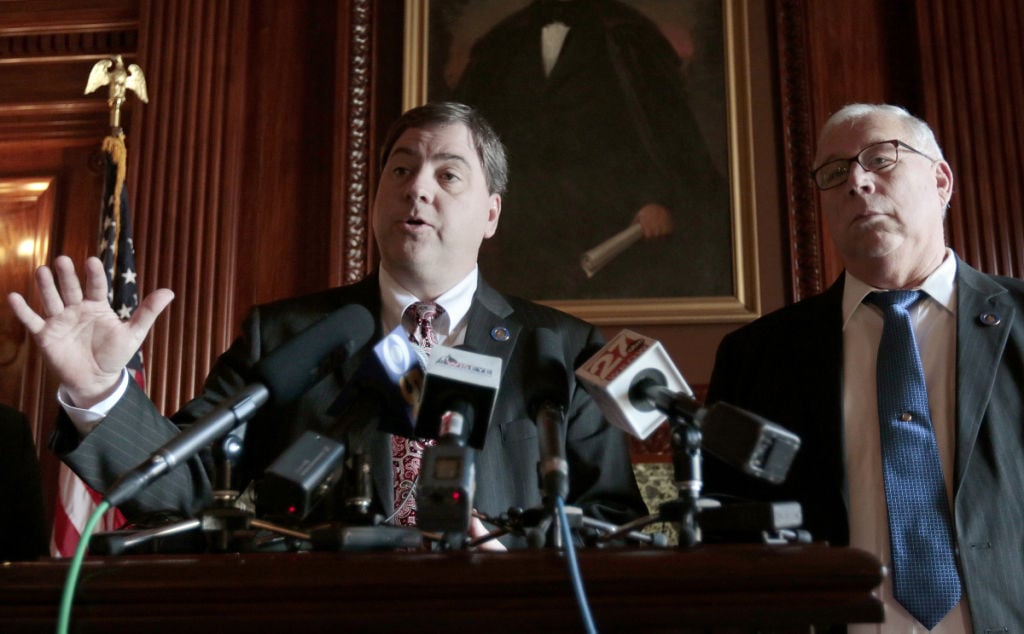 State Sen. Paul Farrow has asked state schools Superintendent Tony Evers not to use student test scores from the Smarter Balanced exams for school ratings, sanctions or teacher evaluations.
The Smarter Balanced exam is aligned to the Common Core State Standards, which Wisconsin adopted in 2010. Some conservative lawmakers, along with Gov. Scott Walker, oppose the academic standards, and some, including Farrow, have proposed giving schools' another test option, most recently because of higher-than-anticipated costs.
In a letter Wednesday, Farrow, R-Pewaukee, asked Evers to ask the U.S. Department of Education to allow Wisconsin not to use test scores from the spring exams in any high-stakes way, saying the Smarter Balanced tests may not be used after this spring.
High-stakes uses include school ratings, sanctions for low performance, and in teacher evaluations that are supposed to be partially based on test scores starting this school year, Farrow said in an interview.
Department of Public Instruction spokesman Tom McCarthy said in an email that Evers does not support the request, but added "we've never supported high-stakes decisions being made based on the results of standardized tests alone."
McCarthy said the Department of Education would need to approve such a request, but noted that the Smarter Balanced test is specified in Wisconsin law.
U.S. Education Secretary Arne Duncan last year gave state education chiefs the power to delay using teacher evaluations based on test scores for personnel decisions until the 2016-17 school year.
In his letter, Farrow pointed to a waiver New York received last year, which allowed the state's schools to use alternative tests this school year.
Farrow wrote that it is "irresponsible" for DPI to use the data from the Smarter Balanced exams because they "may only be utilized for one school year" because of "unforeseen cost increases."
Jeff Pertl, a DPI policy adviser, said Tuesday the agency is exploring using tests other than Smarter Balanced exams because of the possibility that the Legislature will not fund its budget request to fully pay for the tests, about $2.1 million more over the next two years than the $9.4 million originally expected.
Farrow blasted DPI for what he characterized as blaming the Legislature "because of (DPI's) inability to forecast effectively the costs of funding the state assessments."
"My guess is they've known about this for more than a month — I think more than six months. If they had alluded we were going to have a cost issue at the end of last session, that would have been in the best interest of the schools, so the schools knew how to get prepared for this year," Farrow said in an interview.
In response, McCarthy said, "The information we have was made available through the department's biennial budget request in November. Assessments are but one part of that request.
"We look forward to discussing these requests, which also included increased local revenue authority and aid along with additional commitments for high-need areas such as (English Language Learners) and special education, as the budget process continues," McCarthy said.
Annual testing is a requirement of the current federal Elementary and Secondary Education Act, known as No Child Left Behind.
Farrow's letter also asked Evers to come up with a plan for finding a new assessment for the 2015-16 school year that is cost-effective.