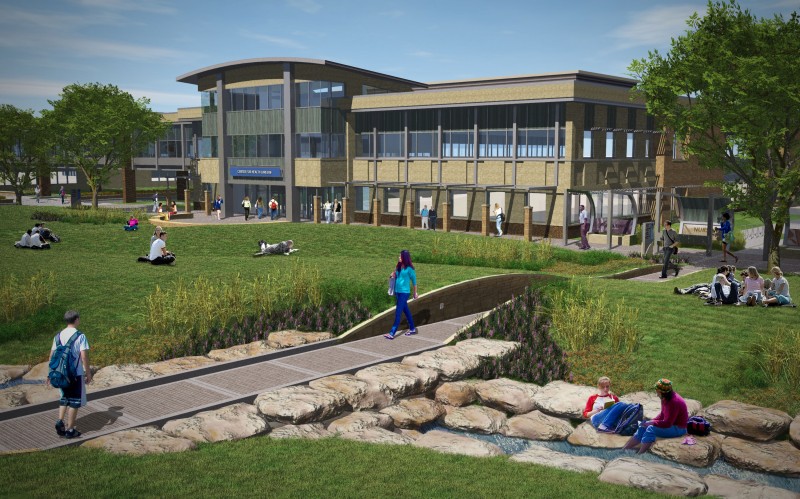 With a proposed 30 percent cut in state aid and no ability to raise property taxes, Madison Area Technical College officials are worried about how they will be able to afford to operate the slate of new buildings that voters approved in November.
Under Gov. Scott Walker's proposed budget, the college can still raise taxes to construct the buildings — valued at $133.8 million — but campus leaders can't levy more taxes to operate them.
"That's a double whammy for us," said Roger Price, vice president for infrastructure at MATC. "How we pay for the operating costs is something we're concerned about."
MATC officials have been moving forward with plans to build a new health education center and clinic, police and fire training facilities, and expansions to current buildings. The first building could break ground as early as July.
The space will help accommodate a 22 percent increase in enrollment over the past five years, college leaders said.
Price said the plan was to raise taxes to pay for running the new buildings, estimated to cost around $1.5 to $2 million a year.
But Walker's budget proposal would freeze them at current tax levels for operating costs.
It would also cut state aid to technical colleges by $71.6 million, or about 30 percent. That works out to about a $5 million reduction for MATC. MATC's total operating budget is around $147 million.
Currently, the state Legislature sets a cap on the amount of taxes that technical colleges can collect at $1.50 per $1,000 of property value in the college's district.
MATC officials had intentionally stayed beneath the cap, Price said, collecting about $1.33 per $1,000 of property value. Price said he feels like he's "being penalized for being prudent in the past," he said.
Students worry that the result of possible cuts will be higher tuition. The Wisconsin Technical College System board sets tuition rates, averaging annual increases of about 5 percent over the past decade.
A smattering of MATC students took part in a walk-out Tuesday, leaving class to protest budget cuts at the Capitol and carrying signs with the message: "We care about our teachers."
"I think we're going to see an increase in our tuition, larger class sizes and less interest from teachers in teaching in the state," said Jacob Weigandt, a 23-year-old MATC student.