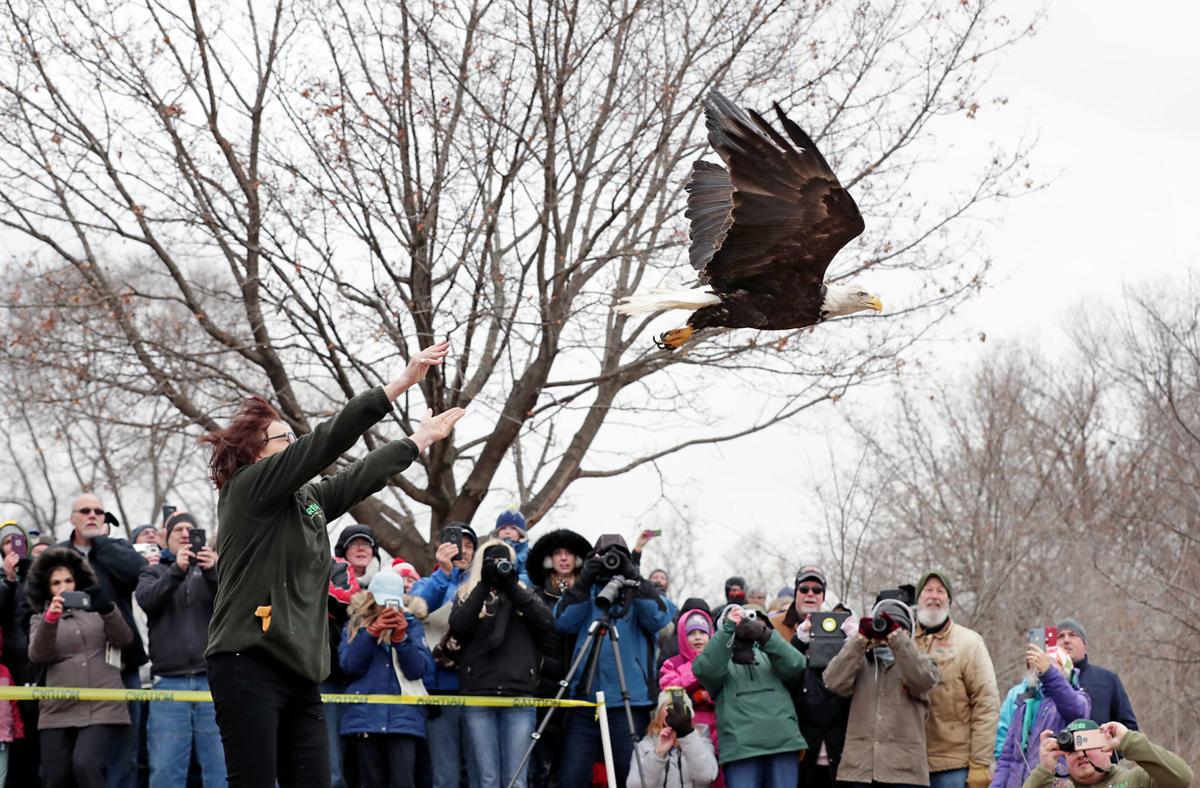 PRAIRIE DU SAC — About 200 people bundled against a frigid east wind and armed with cameras and binoculars had come to the VFW's Veteran's Memorial Park here to take in the release of four bald eagles.
Had they stuck around a little longer they could have seen how Marge Gibson and her volunteers at Raptor Education Group Inc. (REGI) in Antigo go about capturing an injured eagle.
One of the four eagles, a 2-year-old male that was found injured and emaciated in a wastewater treatment plant in Merrill in early 2018, was re-injured shortly after its release Saturday, forcing Gibson and her crew into action with blankets and sheets as they ultimately corralled the bird near a fence on the west end of the park's campground about 40 minutes after its release.
It was a rare instance in which a release has not been a success for Gibson, an internationally renowned raptor rehabilitator. The good news is that the bird suffered only a scratched cornea when it flew into a wooded area. After two or three more weeks in Gibson's northern Wisconsin facility, the eagle should be ready to go again, she said.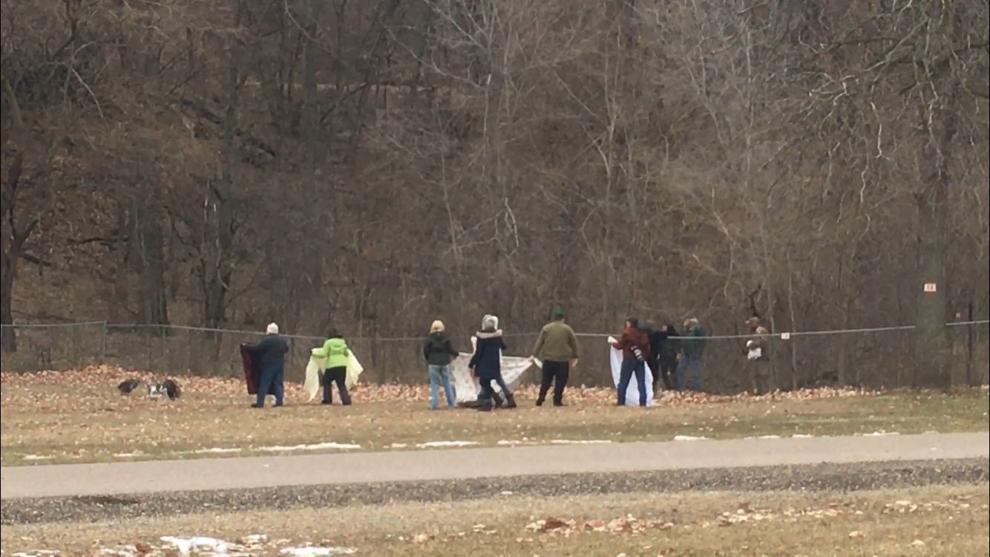 "It's a young bird. The people were a problem for him," Gibson said. "He was freaked out."
The bird had only been in the wild for a little over a year of its life before it was injured last year. When it was released on Saturday, the eagle tried flying toward the Wisconsin River but the wind pushed him over the crowd of people which added to the stress of the day. It was then approached by bystanders and chased briefly by a dog before flying into the woods.
The bird exited the woods and flew a short ways north but returned and landed near the playground before making a short flight and landing on the ground near the fence. That gave Gibson and a crew of about 10 other volunteers an opportunity to capture the eagle and place him in a dog crate for a return trip to the North Woods in Gibson's Grand Caravan.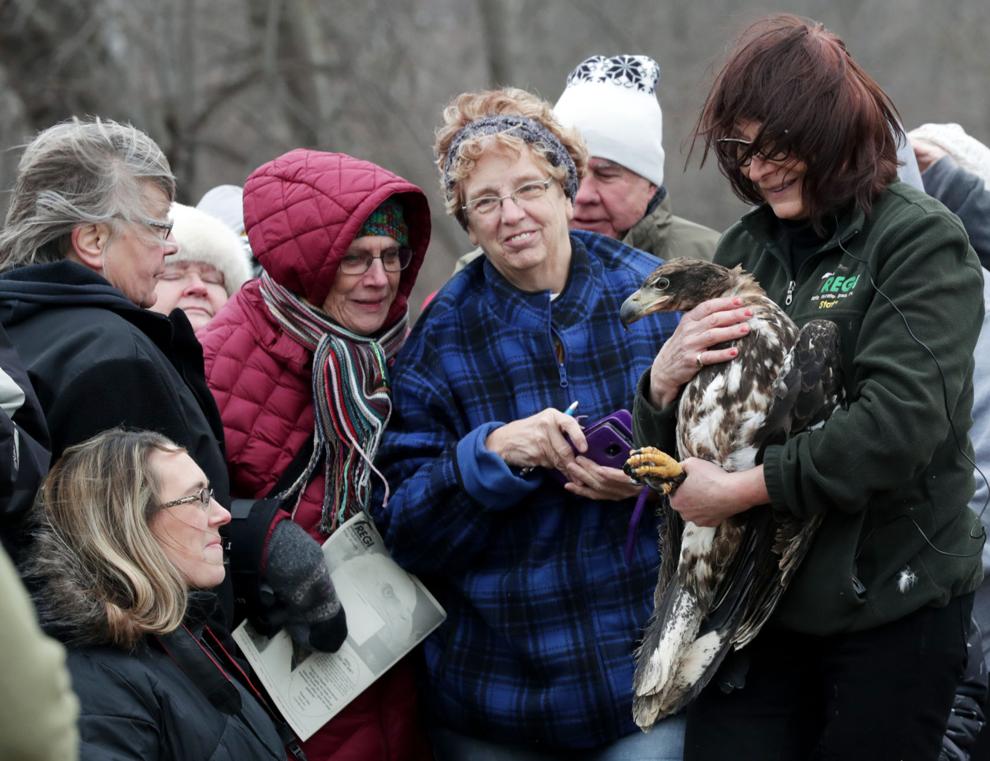 The incident provided a glimpse into the frailty of the majestic birds and the dedication of REGI to help sick and injured birds that can include hummingbirds, turkeys, owls, loons and hawks.
Saturday's event was a prelude to Friday and Saturday's Bald Eagle Watching Days sponsored by the Ferry Bluff Eagle Council. The two-day celebration of all things eagle will include a show at 7 p.m. Friday at the River Arts Center with David Stokes, an educator, naturalist and humorist. Saturday's schedule includes a pancake breakfast, bus tours to prime spots to view eagles, a birds of prey show, wine tastings and at 1 p.m., the release of up to three eagles by Gibson at the VFW Park, an event that in the past has drawn 2,000 spectators.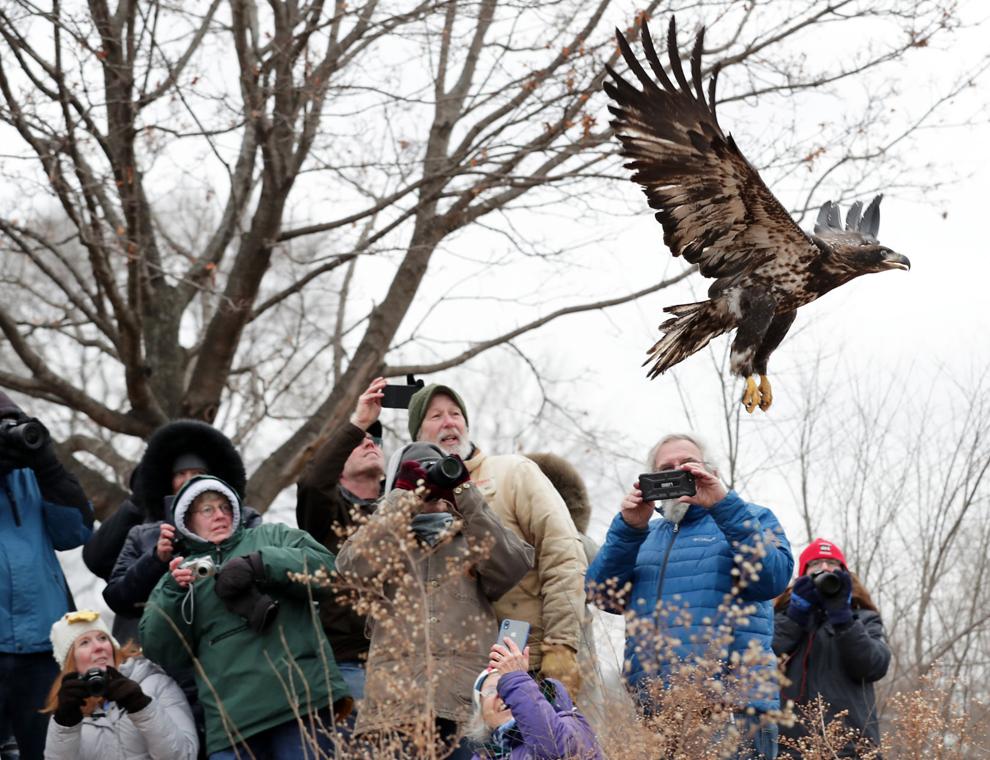 "When you get a chance to get so close and meet an eagle up close, you can feel their power. You can feel their spirit," said Donna Schmitz, a Sauk City resident who has volunteered with REGI for nearly 30 years. "The eagle is the symbol of our United States and I think with everything that's going on this is a good way to bring people together and to remember that there's more than the crap going on in Washington."
REGI was founded by Gibson and her husband, Don, in 1990. Marge Gibson grew up in Antigo but moved away for 28 years. She worked with condors in California and, in 1989, was instrumental in helping rescue birds affected by the Exxon Valdez oil spill in Alaska.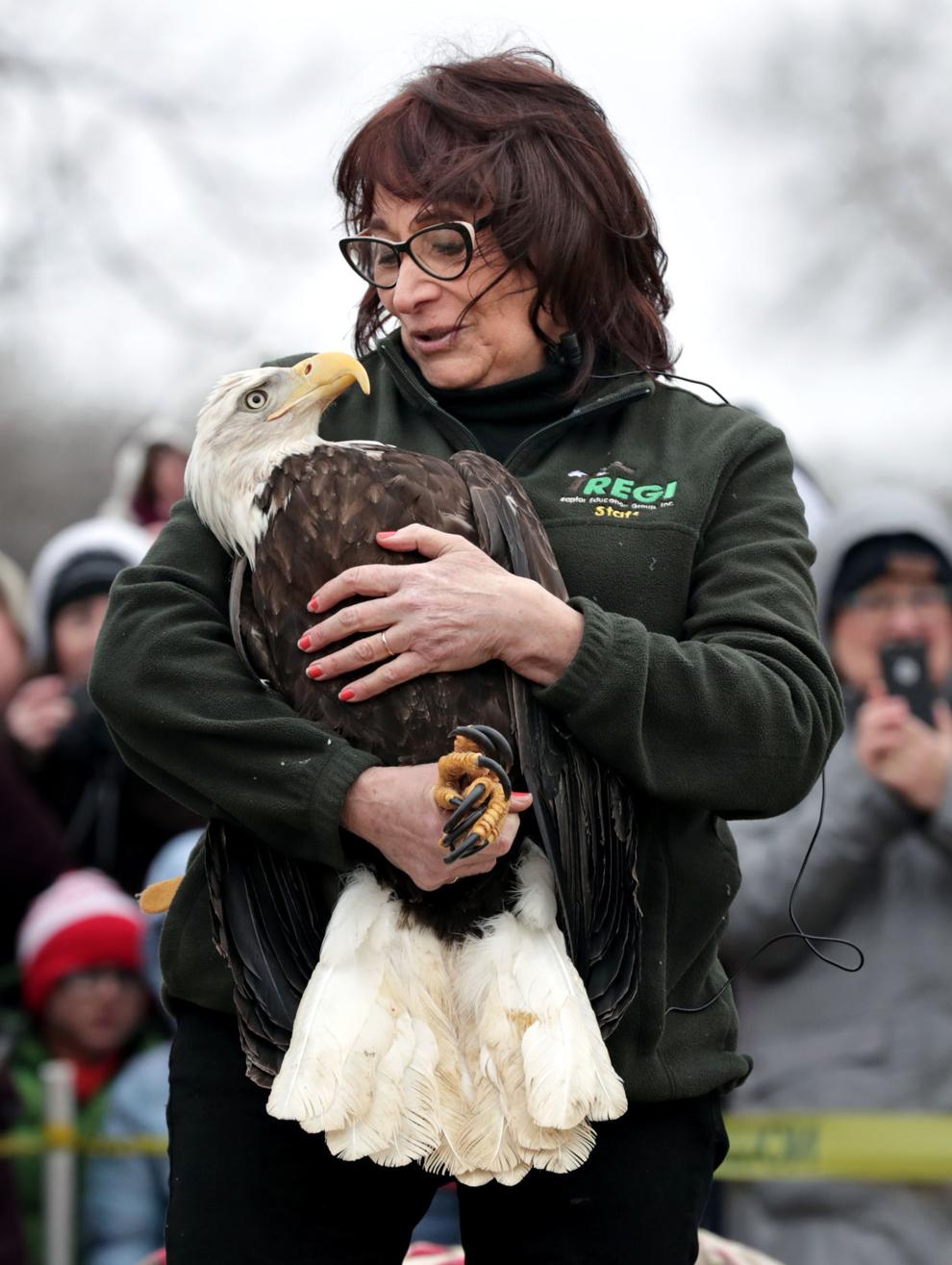 Her Langlade County compound 34 miles northeast of Wausau is the largest of its kind in the state and is licensed by the U.S. Fish & Wildlife Service but gets no federal or state money. Funding for staff, food, medical supplies and facilities comes from donations.
The centerpiece of the facility is the flight building that allows birds to exercise their wings. At 120 feet long and 60 feet wide with 28-foot-tall ceilings, it's one of the largest facilities of its kind in the world, according to Gibson. There are padded perches and a floor with 8 inches of pea gravel to help soften the landings for birds trying to fly. The facility is divided into multiple enclosures, but the largest is reserved for bald eagles.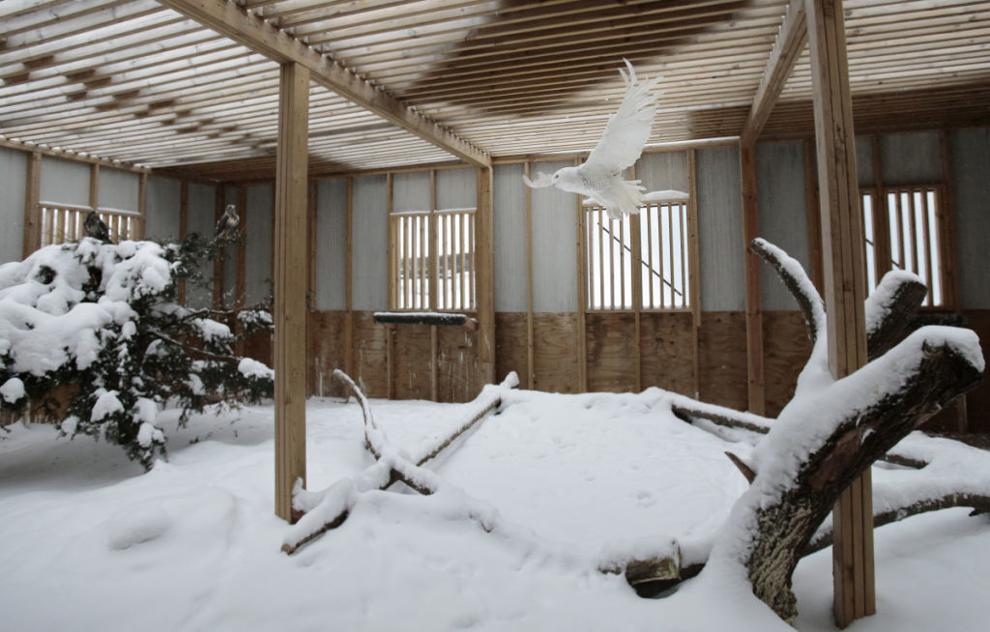 They come from throughout the Midwest and included two rescued as eaglets in May by farmers in Grant County. Both were thin and dehydrated when they were admitted to the Dane County Humane Society's Wildlife Center. They were recently shipped to Gibson's facility so they could use the flight building, something Dane County lacks and is essential for preparing a bird for reintroduction to the wild. The birds could be released this week.
"REGI not only has adequate eagle flight pens for their conditioning, but they also have foster eagle parents to care for nestlings or fledglings," said Tessa Collins, a licensed wildlife rehabilitator at Dane County Humane Society's Wildlife Center, which treats about 20 eagles a year. "Unfortunately, the transfer and transportation process is long and stressful on our eagle patients, and as the number of eagles we admit each year to DCHS increases, we are in great need of our own 100-foot-long flight pen."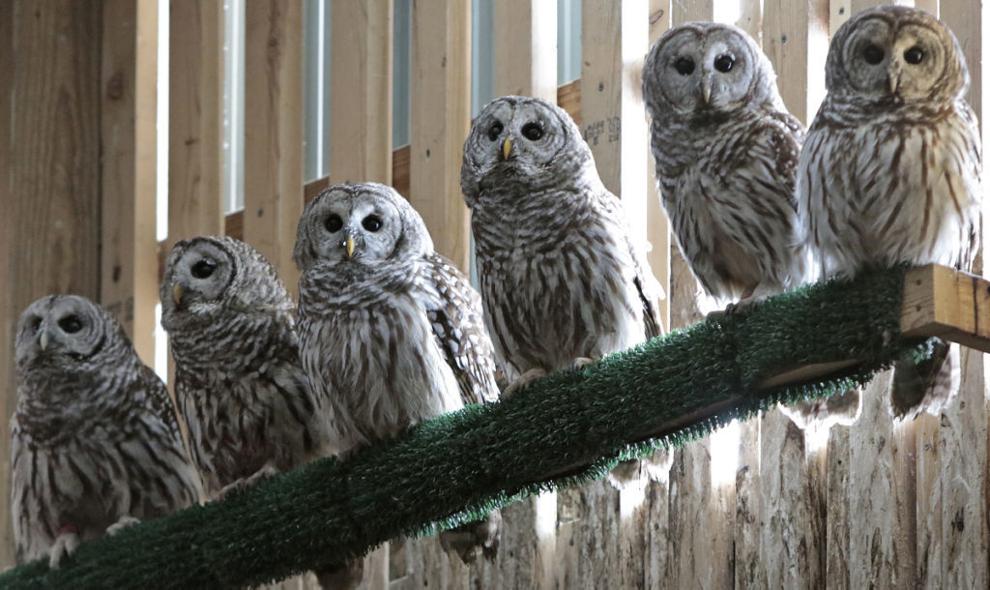 REGI, which cares for up to 900 birds a year, including about 100 eagles, is expanding with the addition of a 1,500-square-foot medical center scheduled to open this spring. The $175,000 facility will offer separate rooms for patient examinations and housing for different bird species, a quarantine room, separate space for food preparation and an X-ray room. The larger space will also accommodate summer interns during their training and medical experts during their visits, Gibson said.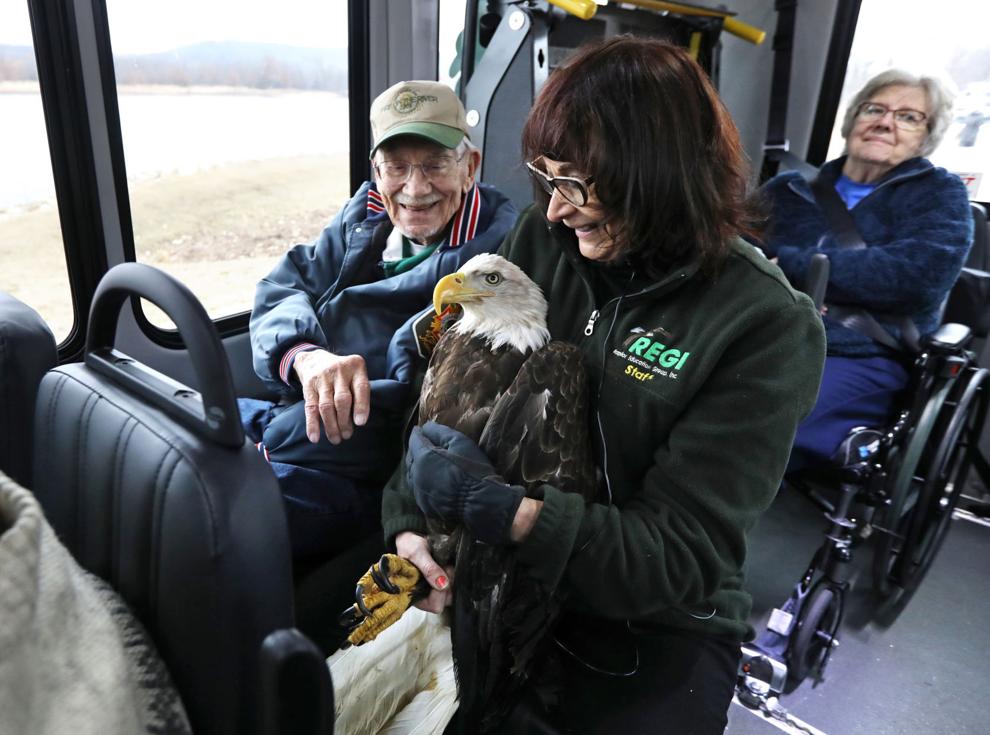 The demand for care is likely only going to increase since the eagle population in the state continues to climb and expand. The state Department of Natural Resources reported last week that the number of bald eagle nests in Wisconsin for 2018 increased 6.6 percent over 2017 to a record 1,695 nests occupied by breeding adults. A 2011 DNR survey showed there were 1,300 eagle nests in the state, while in the late 1970s there were just 108 eagle nests. Today, Milwaukee County is the only one of the state's 72 counties without a documented nest.
"You don't look into an eagle's eyes without realizing there's so much behind them, the intensity and the intelligence," Gibson said. "They're really incredible and working with them is an incredible honor."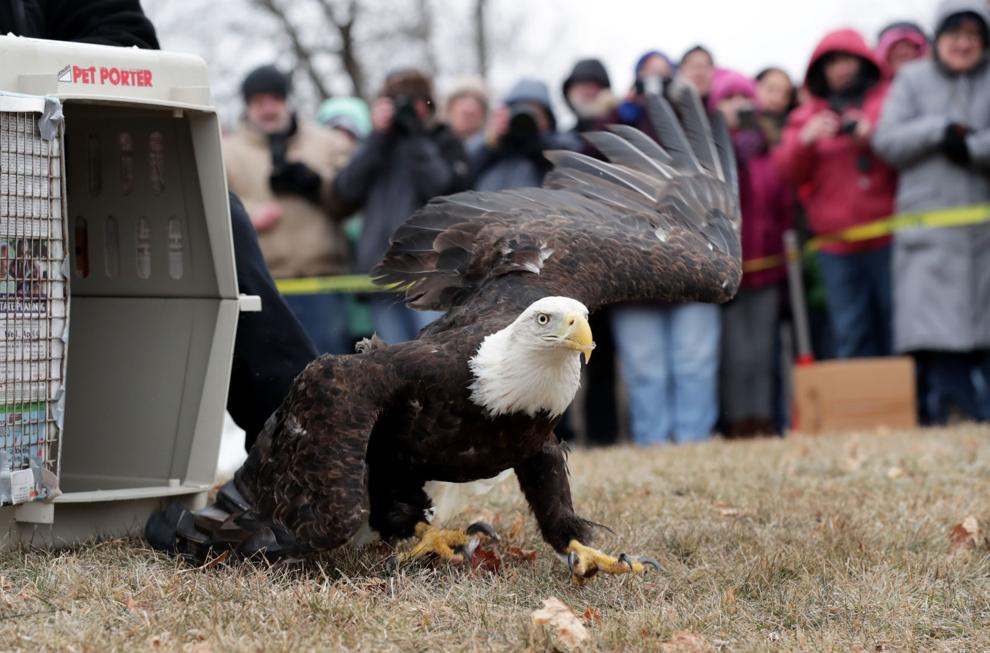 Eagles are drawn to this stretch of the Wisconsin River each winter as lakes, streams and rivers throughout the state freeze. The open water below the Alliant Energy power dam offers prime fishing opportunities, while the nearby bluffs provide ideal roosting spots.
And, as if on cue, the birds cooperated on Saturday. Some swooped and soared near the dam, while others rested in trees on both sides of the river. At the dam, most people stayed in their vehicles but others ventured out for better views, something discouraged by wildlife officials.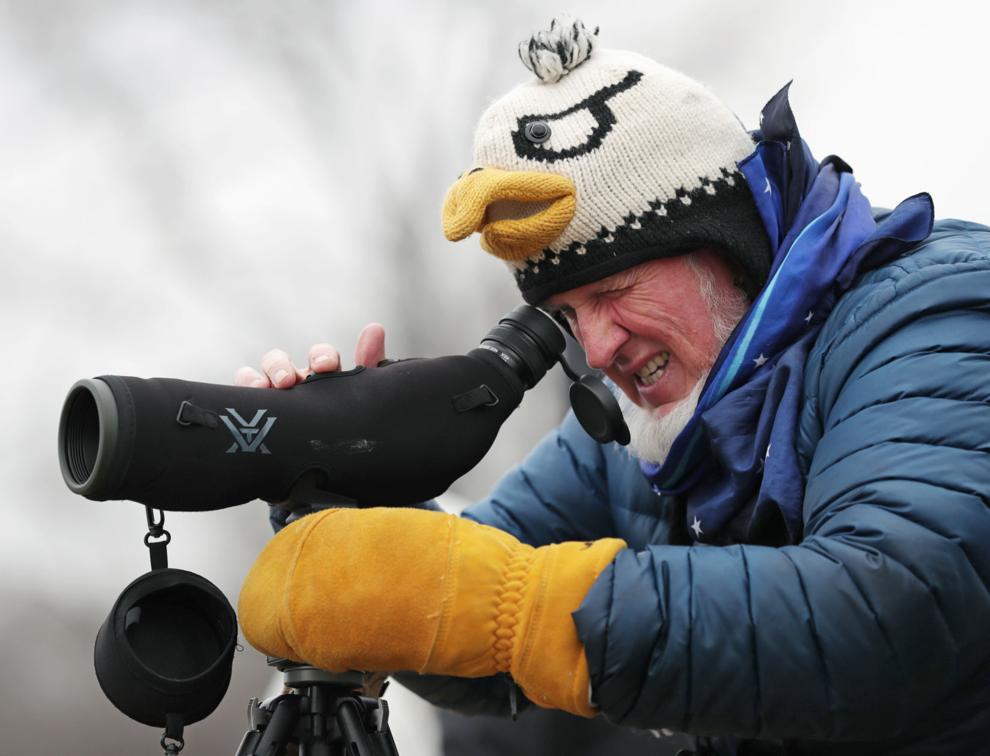 But at the VFW, it was a mob scene where spectators had a chance to come within inches of the birds as Gibson gently cradled two of the four eagles on separate occasions. She slowly walked in a semi-circle with just yellow police tape separating her and each eagle from the cheesehead paparazzi.
Two of the birds, both of whom recovered from lead poisoning, were released directly from their cages without Gibson holding them. An adult found near Antigo made a beeline toward the river after the cage door was opened. But for a 2-year-old male from St. Germain, the bird took a quick left and headed straight for Robin Ziemke, of Richland Center, who was standing in the crowd. The bird came within a foot or so of Ziemke before it veered up and headed to the southeast before circling around to the northwest.
"My camera was trying to focus. I don't know if I got a picture or not but it was pretty cool," said Ziemke, who sees eagles nearly every day near her home. "We see eagles all the time but every time we see them it's still exciting. There's just something about seeing an eagle."
Barry Adams covers regional news for the Wisconsin State Journal. Send him ideas for On Wisconsin at 608-252-6148 or by email at badams@madison.com.