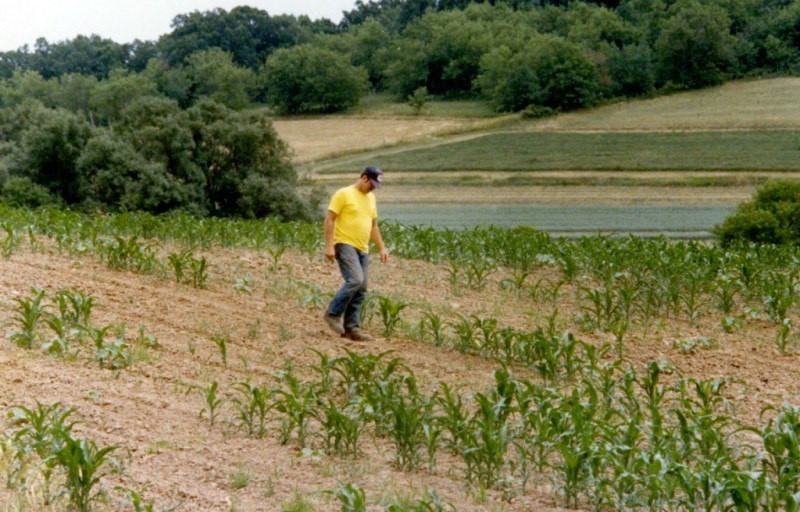 This summer's dehydrating blend of extreme heat and sparse rainfall have quickly created conditions that invite comparisons to 1988, the state's worst drought in recent memory.
It's too early to know exactly how thoroughly 2012 will squeeze the moisture from the soil. And the stress on crops, people and the natural world are so broad and varied that comparison is complicated.
In 1988, the whole state was hit. Dry conditions began the previous year and continued into 1989.
This year's drought just started in June, when the rain essentially stopped and the temperatures cranked up toward the 100s in Wisconsin's southern third.
"A drought can be an agricultural drought, and even if it lasts just a few months it can be life or death for farmers," said assistant state climatologist Ed Hopkins.
While early hay and many acres of corn are ruined already, the rains of late July may help with remaining corn, soybeans, a late hay crop and other produce.
But forecasts call for lower-than-average rain through October, and there's no way to know if timely, adequate doses — an inch or so a week — will materialize.
"That's what gives me the willies," Hopkins said. "These rains in July are very valuable and might be a million dollar rain for some farmers, but by itself it's not a drought buster."
Drought conditions in 1988 and this year were caused by big bubbles of hot air that parked in the middle of the country and refused to budge.
In 1988, a longer dry spell killed crops, with abnormal heat playing a secondary role.
This year after a temperate spring, the hammer came down in June with extraordinary heat baking moisture from the soil, and almost no relief from cloudless skies.
Several droughts have hit the state since 1988. At the end of July 2006, nearly 13 percent of Wisconsin dipped briefly into the "extreme" category.
By comparison, for the last two weeks, the U.S. Drought Monitor has rated the southern fifth of the state as extremely dry, with bands of severe and moderate drought edging steadily northward.
Worse droughts occurred in southern Wisconsin briefly in the 1970s and 1940s, and for longer periods in the 1960s and the Dust Bowl years of the 1930s, according to a long-used index of heat and precipitation maintained by the state climatology office.
While the full tale of 2012 has yet to be told, statistics compiled by the government measuring temperature, rainfall, stream flows, fire risk and other factors show that each drought has its own parched claim to fame.