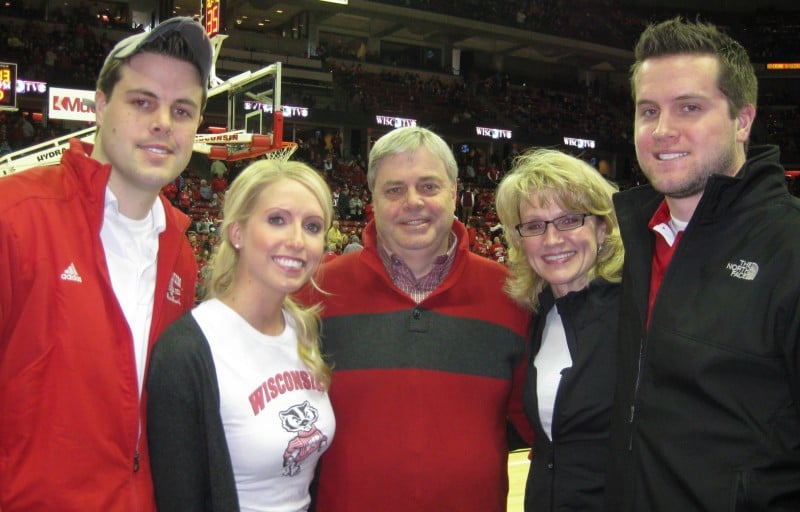 There haven't been many dynasties in the long history of University of Wisconsin athletics. Some good — even great — teams, to be sure. But dynasties?
From 1937 until late last month, there existed within UW athletics a kind of maintenance dynasty. Three different members of the same family passed the baton across the decades in helping care for Camp Randall Stadium, the Field House and finally the Kohl Center.
When Roger Schuster worked his last home basketball game Dec. 29 — the UW men vs. Samford — it marked the end of a great run. Insiders knew it. A day earlier, there was a party at the Kohl Center. For the game itself, Bo Ryan arranged tickets behind the bench for Roger's family.
"It was emotional," Schuster, 56, said.
Over the years, he met legends — bantering with Elroy Hirsch, helping North Carolina's Dean Smith prepare a basketball coaching clinic.
His last job title was maintenance mechanic. Schuster worked every basketball game, with just one or two exceptions, dating back to 1983. With football, he went back even further. Schuster started as a teenager and worked every Camp Randall game since 1973.
Yet the string really unwinds all the way to 1937, the year Joe Betlach, Roger Schuster's great uncle — he was Roger's grandmother's brother — started as superintendent of athletic buildings and grounds at UW-Madison.
During his tenure, Betlach was close to the athletes. It was said Alan Ameche — the 1954 Heisman Trophy winner — cooked spaghetti in a makeshift kitchen next to Betlach's Field House office. Other times, Joe and his wife, Ruth, had the players to their home for Sunday dinner. One time, the entire basketball team came over to help the Betlachs' young daughter celebrate a birthday.
Joe took care of the Camp Randall field before it had artificial turf.
When he retired, the celebrated State Journal sports columnist Roundy Coughlin noted: "Joe Betlach, who was groundkeeper at Camp Randall for years, was the best I ever seen. What a worker Joe was — he knew more about sod than anybody in Ireland did."
By the time of Betlach's retirement in 1965, his nephew, Bernie Schuster — Roger's uncle — had himself been working in maintenance for UW athletics for a quarter-century.
Bernie started in 1939. By 1974, when the State Journal featured him in a long story titled, "Big Man at the Field House," Schuster was head of maintenance at the beloved (by some) old barn.
Bernie had stories to tell. Of how Milt Bruhn invited him to accompany the football team to the 1963 Rose Bowl. Of getting from the Alumni Association's Arlie Mucks a slab of the Camp Randall bleachers when they were replaced in 1973. Of readying the Field House for big Homecoming shows, featuring stars like Bob Hope and Fred Waring and the Pennsylvanians. Of how the biggest crowds were for boxing, before it was discontinued following a tragedy in 1960.
When Bernie Schuster retired in 1983, his nephew, Roger, already had a decade in with UW athletics. He started doing odd jobs at Badgers football games when he was still attending Sun Prairie High School.
Roger went full time in 1975 — "it wasn't nepotism, I had to pass a state test" — working first in the equipment room at Camp Randall, then moving to general maintenance. He shifted to the Field House in 1983, when his uncle Bernie retired.
"The Field House was a lot of work," Roger said, "but it was rewarding. If a coach asked you to do something, he knew when you did it. The department was a lot smaller then. You felt you were a part of it all."
He liked the Kohl Center, too — Dick Bennett asked he be brought along with the move — but a little fun went out of the job as the department grew and became, inevitably, more corporate.
It was at the Field House, Schuster recalled, that a coach once yelled at him, and a player had his back.
Stu Jackson, the basketball coach, upset over a loss, complained about the lack of heat in the Field House, shouting at Schuster in front of the team.
Tracy Webster, the star guard, said, "You shouldn't be yelling at Roger."
It blew over quickly. Jackson left Madison for the NBA. Roger Schuster, in the family tradition, endured.
Contact Doug Moe at 608-252-6446 or dmoe@madison.com. His column appears Monday, Wednesday, Friday and Sunday.