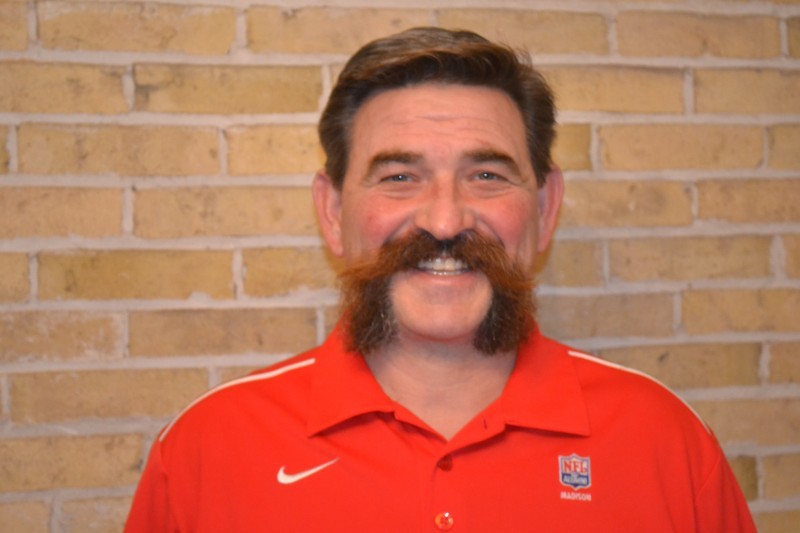 Last week in golf, player of the year awards were handed out. Luke Donald won on the PGA Tour, and Tom Lehman on the Champions Tour.
My golfer of the year is Ziggy.
Actually, that's too limiting. Ziggy is my character of the year.
Robert Ziegelbauer, 49 — Ziggy, to those who know him, and multitudes do — just happens to live on what, for a golf nut, may be the best two acres in the world. 
Living within him is the boisterous personality of a born showman, and those two things taken together — OK, throw in a third, his eye-popping mustache — make Ziggy an unforgettable presence.
"You go somewhere with Ziggy," his friend Denny Rundle of Dodgeville said this week, "and in 10 minutes he knows everybody, and everybody knows him."
Sometimes it doesn't even take that long. Go back to a Thursday night in Augusta, Ga., early last spring. It was a week before the start of the 2011 Masters golf tournament. Rundle and Ziggy had arrived early to play some courses around Augusta.
That night they sought refreshment in an Augusta pub called the Cue & Brew. Ziggy, who had never been to the Masters, spotted a familiar face. It was his friend Bleacher Bob, who sets up the bleachers at big time golf events across the country.
Ziggy knew Bleacher Bob because Ziggy, for the last decade, has lived in a home on the doorstep of Whistling Straits, outside Kohler. The golf world has come to Whistling Straits for major championships three times in the last seven years, which means the golf world has come to Ziggy.
At the Cue & Brew, Bleacher Bob asked Ziggy, "What are you doing Saturday?"
Ziggy said he rarely made plans that far in advance.
You have free articles remaining.
Bleacher Bob invited Ziggy to tour the hallowed Augusta National course with him while he gave the Masters bleachers one final check.
That kind of thing just seems to happen to Ziggy, who was born and raised in the Sheboygan area, graduating from Sheboygan North High School. For the last 20 years, he has worked for the Sheboygan County Highway Department. In 2001, an old friend of Ziggy's decided to sell the home and two barns he owned on two acres in Haven, an unincorporated community north of Sheboygan. The land happened to be about 400 feet north of the entrance to Whistling Straits.
Herb Kohler, Whistling Straits impresario, would have liked to have it. There isn't much in the area Kohler doesn't already own. But the owner sold to his friend Ziggy instead. "It was never on the market," Ziggy said.
Ziggy gets along with Kohler, and especially with the staff and grounds crew at Whistling Straits. He has done masonry work on the course (and at Blackwolf Run in Kohler) so he gets to play at a reduced rate.
Everyone knows him in Haven, which isn't saying much, since the population is 26. When they had an informal mayoral election at the Haven Bar and Grill, Ziggy's rooster won.
Ziggy's profile was raised immeasurably in 2004, when Whistling Straits hosted the PGA Championship for the first time. One of the tournament volunteers suggested Ziggy set up an RV park on his property. Ziggy got the permits and hosted eight RVs from seven states. Phil Mickelson's parents rented a room in the old brick farmhouse Ziggy shares with his wife, Julie, and their children.
"Couldn't meet nicer people," Ziggy said.
The Mickelsons came back in 2010 when the PGA Championship returned to Whistling Straits. By then Ziggy had a website — zigsgolfhaven.com — and he hosted his full allotment of 18 RVs.
Ziggy had also been hired earlier by CBS Sports to help the network lay 240,000 feet of fiber optic cable across Whistling Straits. At night, during the tournament, the network crew repaired to Ziggy's. The host had arranged live music and large TVs with replays of the day's golf. There was also a beer tap — proceeds to the Boys and Girls Club — that raised $2,000.
The CBS folks liked Ziggy so much that they flew him down to Atlanta this past August to help with the 2011 PGA Championship.
It was fun, but it wasn't Haven. Back in 2010, on Sunday night, the tournament over at long last, Ziggy hired an Old West re-enactment troupe from Indiana to entertain at his place. The actors dressed up like legendary gunslingers.
Denny Rundle laughed at the memory. "Annie Oakley shot a balloon off Ziggy's head."
Contact Doug Moe at 608-252-6446 or dmoe@madison.com. His column appears Monday, Wednesday, Friday and Sunday.