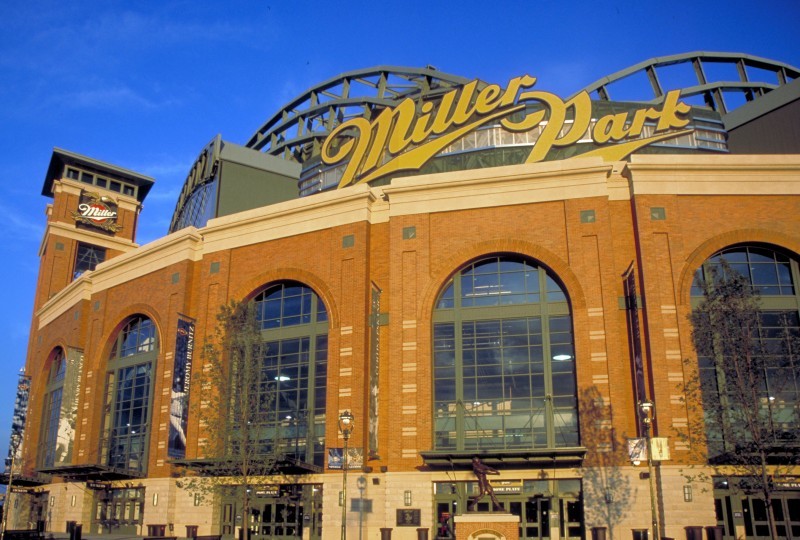 I am pleased to report that not everything in the world is going haywire.
In one important area — food at Major League Baseball parks — sanity is being restored.
I base that statement on the news last month that the Milwaukee Brewers are adding two items to the menu at Miller Park this season, and neither of them is foie gras.
A decade ago, when Miller Park opened, the Brewers announced a menu that included coconut shrimp with teriyaki sauce and a balsamic-marinated portobello mushroom sandwich.
To some of us, that seemed like an assault on the natural order of things, or at least on the beloved bratwurst, which has long been the centerpiece of fine dining at the ballpark.
This season, the Brewers got it right, maybe because they put it to a vote of the fans.
The winner of the Brewers' "Create a Concession" contest was Courtney Ring of Sauk City, whose concoction — "Klement's famous racing sausage kabobs" — will feature pieces of a hot dog and four sausages (Italian, Polish, chorizo and brat) on a kabob stick.
I only wish they thought to name the item for Mandy Block, who became a hero in my eyes in 2003. Block was dressed as an Italian sausage during the Miller Park sausage race when she was knocked down by Pittsburgh Pirates first baseman Randall Simon, who tapped her with his bat.
Block stunned the world by declining to file a lawsuit. Instead, she laughed, and asked Simon only for an autographed bat, which he provided. Brewers fans began wearing T-shirts that read "Don't whack our wiener!"
The Brewers are adding a second menu item this season — again by fan vote — that made me nervous when I heard its name: poutine.
I had never heard of poutine, but it sounds like a French pastry.
Happily, it is instead french fries topped with cheese curds and covered with brown gravy — you know, health food.
To get further word on ballparks and ballpark food last week, I called Harry Argue, a former banking executive and retired president of the Graduate School of Banking at UW-Madison.
In the fall, Argue and his son, Brad, completed an adventure that involved seeing a game in all 30 major league ballparks across the country.
In 2005, father and son planned a "six games in six days" tour of the East Coast that included a memorable Memorial Day in Boston's Fenway Park when the Tuskegee Airmen were honored on the field.
They had so much fun they decided to try for all 30.
They saw a World Series game in freezing temperatures in Detroit in 2006, and saw Brewers star Ryan Braun get his first major league hit in a game in San Diego in 2007.
They were in the new Yankee Stadium in New York on Independence Day last summer.
Harry sent me a copy of his and Brad's written reflections on the parks, and it reminded me of an updated, more concise version of Robert Wood's 1989 classic book "Dodger Dogs to Fenway Franks: The Ultimate Guide to America's Top Baseball Parks."
Wood was a Michigan high school teacher who in 1985 visited all 26 major league parks and rated them on everything from layout and upkeep to food. (Wood gave Milwaukee — then County Stadium — an A+ on food, with special notice to the bratwurst).
Harry Argue lives with his wife, Linda, in Middleton. He said they are frequent visitors to spring training in Arizona — this is a family that really loves baseball.
When we spoke last week, Harry mentioned the parks he liked best: Nationals Park in Washington, D.C., and PNC Park in Pittsburgh, though "Miller Park doesn't have to apologize to anybody."
Harry laughed and said Brad, who now lives in Wauwatosa, is more dedicated to sampling the food at the parks.
Among Brad's favorites: the soft pretzels at Progressive Field in Cleveland; the barbecue at Kauffman Stadium in Kansas City; and the Skyline Chili at Cincinnati's Great American Ballpark.
Harry said in 2012, father and son will go to Florida, when a new stadium for the Marlins is scheduled to open.
In the meantime, why not a trip to Miller Park to sample the poutine?
Contact Doug Moe at 608-252-6446 or dmoe@madison.com. His column appears Monday, Wednesday, Friday and Sunday.