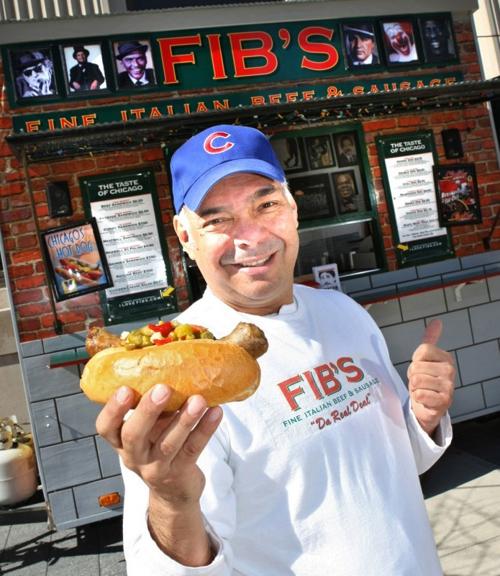 Very little good happens at 4 a.m., but there are exceptions.
There was, for instance, the moment a few years ago when inspiration struck John Handley.
His eyes snapped open and he poked his wife, Rita.
"Fine Italian Beef and Sausage," Handley said. "Get it? FIB'S!"
Rita's response is lost to history, but the result of Handley's epiphany is not. Weekdays at noon it sits on Martin Luther King Boulevard, just off the Capitol Square, drawing chuckles and — increasingly — customers. They're lured by the music, aroma and — yes — the funny name.
As any good Wisconsin resident knows, a FIB is an Illinois resident who comes north and, well, bothers us.
"Part joke, part local legend, part real-life offender," the Chicago Tribune wrote, in explanation, several years ago, "the FIB stands accused of driving like a maniac, making too much noise, indulging in a wide range of rude behaviors and, last but by no means least, hailing from Illinois."
The Tribune observed that the acronym FIB "sandwiches Illinois between two common profanities."
Well, it did, until John Handley — a FIB transplanted to Madison in 1994 — had his pre-dawn revelation. Now FIB'S is a food cart that features photos of famous FIBs; recorded music by famous FIBs; and, most notably, famous FIB cuisine — Chicago hot dogs, Italian beef and Italian sausage sandwiches.
One day last week, former Madison mayor Paul Soglin, himself a famous FIB, made his first stop at the FIB'S cart.
You have free articles remaining.
Handley admitted later he was nervous serving Soglin a Chicago hot dog, not only because Soglin is a well-known Chicago hot dog freak, and a tough critic, but there was also the fact that Handley — operating on the old Navy theory of begging forgiveness instead of permission — had put Soglin's photo on some of his small to-go menus without asking.
A question on the menu below a photo of a very young Soglin asks, "What FIB was a student activist, attended the first Mifflin Street Block Party and became mayor of Madison?"
Soglin grinned when he saw the menu. He also insisted on paying for his hot dog, even though Handley tried to make it a freebie.
Soglin sat on a nearby bench, ate his hot dog and pronounced it worthy of a "B" — high praise from the discerning Soglin.
"I was happy he didn't punch me in the face," Handley said later.
Handley, 54, has been dreaming for a decade about getting in the food business.
He grew up in Elmwood Park, a village bordering Chicago's northwest side. The family of the late Green Bay Packer Ray Nitschke were neighbors (and Nitschke is on a FIB'S menu). Cubs third baseman Ron Santo lived down the block.
Handley attended a prestigious California art school and worked at several top Chicago advertising agencies after graduating, creating campaigns for clients like McDonald's, Schwinn and Sears.
But 15 fast-paced years had Handley looking at smaller markets, and he accepted an offer from the Hiebing Group in Madison in 1994. He would eventually move to Kennedy Communications, and then out of advertising altogether when he had his 4 a.m. moment of inspiration.
The FIB'S cart debuted on Library Mall in April 2008, but it was only with the move to Martin Luther King Boulevard last October that it really took off. Handley said people working in the Capitol or nearby offices enjoy his Chicago-themed music — Sinatra and the Blues Brothers — as well as the photos of prominent Chicagoans that decorate the cart.
It's hard work — he also sets up the cart in McFarland every weekday evening, and he's across the Capitol Square on Farmers' Market Saturdays — but Handley said he's never been happier.
"Every day," he said, "people take photographs of my cart. They smile, and that makes me happy."